In recent years, Aldi has become a popular place to shop for groceries. It's no surprise why – prices are low and products are great quality. But the grocery store is also becoming known for their unique flavors of potato chips!
The latest two new flavor releases have been inspired by backyard barbecues, so get ready to fire up your grill because it's time to take a taste test!
Pulled Pork Kettle Chips
When pulled pork is done right, it's the ultimate comfort food. The meat has been slow-cooked and pulled apart to add in its own flavorful juices so even just a bite will make you feel warm from your head down to your toes.
It was only natural for Aldi to take this favorite dish and transform it into a snack! And these chips don't disappoint – they have that same smoky BBQ flavor with every crunchy bite.
Braised Beef Kettle Chips
When braising beef, it's all about the method and timing. The meat is slowly cooked for hours in a pot with potatoes or onions to create that rich flavor that can't be replicated with any other cooking technique.
These chips are made to taste as if they were just pulled out of the oven, so you'll enjoy every bite.
The two new flavors of Clancy's Krinkle Cut Kettle Chips will be an Aldi find for the week of Aug. 25 — just in time for your Labor Day picnic!
They will be priced at $1.89 per bag.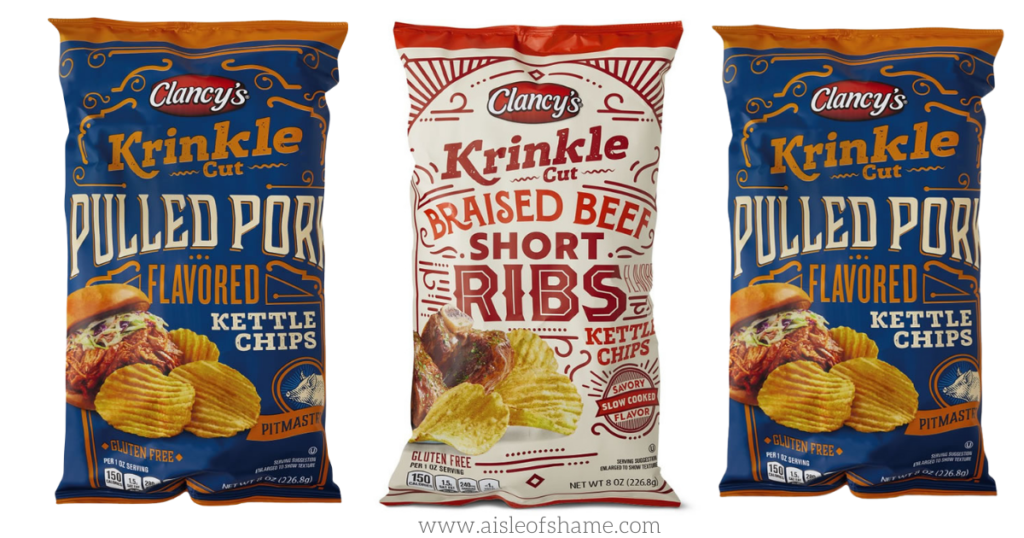 We can't wait to try these new flavors of kettle potato chips from Aldi! Labor Day is coming up, and that means picnics with family and friends. If you are planning a picnic, you may want to pick up some of the pulled pork or braised beef potato chips for an extra tasty side dish.
What about your favorite flavor? Let us know in the comments below what your go-to snack would be at a Labor Day picnic.
Follow Aisle of Shame on Instagram for more Aldi Finds!