You can buy gas grills at Aldi this week — just in time for Memorial Day weekend!
First things first, Aldi — and most other U.S. retailers — are experiencing supply chain disruptions. Ads are planned many months in advance, so Aldi is giving us a heads up that certain advertised items may not be found at your store this week. These items, in particular, are not going to make it to all the stores:
Belavi Double Glider
Belavi 23 Inch Planter
Belavi Boho Hanging Chair
What's that? A boho hanging chair?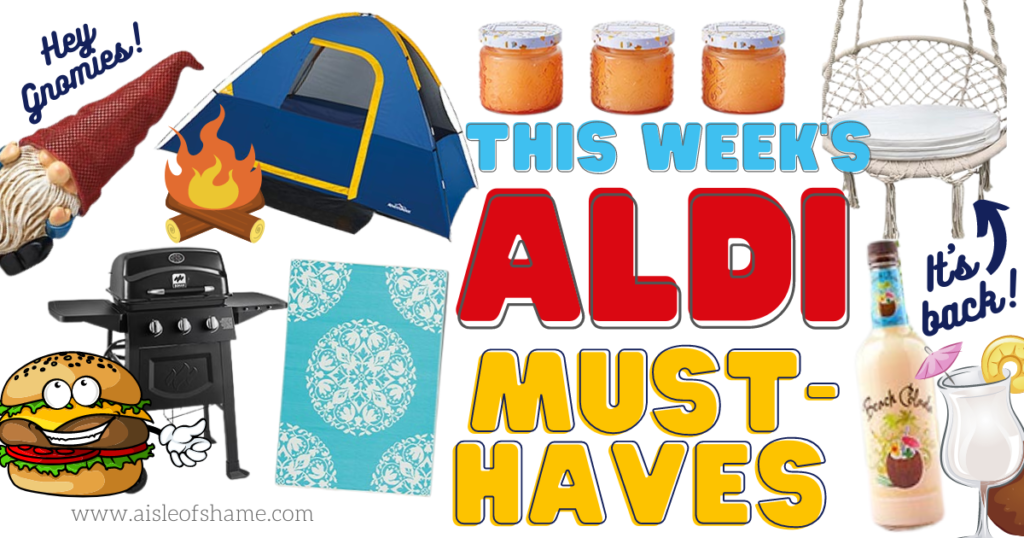 Read on for your Aldi must-haves this week!
Belavi Boho Hanging Chair – $39.99
Aldi has said this hot item won't make it to all stores, but we know for a fact that it will be appearing in some. This chair was a HUGE hit last year, and it sold out quickly everywhere. Have you seen that viral pic of the upcycled swing set with lights on the poles and the macrame chairs hanging from it? Yep, those are these chairs. In fact, that project was created by a member of our Aldi Aisle of Shame Facebook Group last year!
Range Master Gas Grills – $94.99
A 3-burner gas grill for less than $100? It does exist! This 30,000 BTU grill has accessory hooks, a temperature gauge, and 450 square inches of cooking area.
Beach Colada Wine Specialty – See Price in Store
If it seems like we're talking about a lot of wine this week, we're talking about a lot of wine this week. Aldi is bringing us some sweet summer favorites, including this Beach Colada. We enjoyed this last summer blended up with ice.
Are you wondering if your Aldi store sells alcohol?
Step2 Rain Showers Water Table – $59.99
Aldi can be a great place to find toys, including some rugged Step2 items that can be used indoors or outdoors. Water tables can be such a hit with summer fun-loving kiddos!
Huntington Home Reversible Rugs – $14.99
These indoor/outdoor rugs can brighten up any outdoor living space. They come in a variety of bright, summery colors including this aqua, red, and yellow. These measure 5×7. Can you believe the price?
Massimo Mango Moscato – See Price in Store
Aldi's seasonal summer fruit wines include a Mango flavor, but this week, there's also a Mango-flavored wine as an Aldi Find. If you don't know, Aldi Finds are items that stores just get one shipment of — when they're gone, they're gone. Thus the Aldi slogan "Here today, gone tomorrow!"
Serra Ladies' Sleep Shirt – $7.99
OK, so they're not the wine pajamas, but those are too warm to wear in the summer. If you love a good sleep shirt, you can't beat the price for them at Aldi! There are a couple of prints available, and they come in a tank style or one with sleeves. Heads up! There are matching robes available for these – great gift idea!
Huntington Home Mini Glass Candles – $6.99
If you prefer lighting candles to lighting gas grills, Aldi also has us covered. These cute, 3.8-ounce candles come in a 3-pack. They have embossed jars with printed tin lids, and they are available in four scents:
Sweet Lilac & Lavender
Sea Salt & Sands
Island Mango & Zest
Ruby Pomegranate & Yuzu
Southern Grove Pine Nuts – $4.79
If you're like us, summer brings an overabundance of garden basil each year. What do you do with it? Make pesto! Aldi is bringing us pine nuts just in time.
Huntington Home Chindi Rug – $9.99
These handwoven rugs come in multicolor or denim versions. They measure 48 inches by 66 inches.
Belavi Garden Figurines – $9.99
We all know by now that Aldi fans love their gnomes. This week, Aldi is bringing us two different resin versions for your garden decor. If you are on gnome overload, you will also find a fairy, bear, fox, and pelican in stores.
Tuscan Garden All-Purpose Ranch Seasoning – $2.99
Where is the ranch? In the Aldi Finds food aisle this week! While Aldi carries bottled ranch dressing and small ranch dressing mix packets yearround, you can buy this 5-ounce container of the powdered stuff this week, to sprinkle on whatever you want.
Almondo Almond Sparkling Wine – See Price in Store
This sparkling wine with almond flavoring is a dupe of a very popular wine at Trader Joe's. It should pair well with lighter summer dishes.
Adventuridge 6-Person Tent – $49.99
There's that popular meme about going to Aldi for bread and milk, and leaving with — among other unexpected items — a tent. Well, happy campers, this is your week! This tent has a 72-inch center height and a removable rain fly.