Behr paint is a trusted paint brand offering quality interior and exterior paints, primers, stains, specialty paints, and decorative finishes for over 75 years. They are known as one of the most reliable brands in the paint industry, with their products trusted by professionals in various fields.
Lowes does not sell Behr paint. You can only buy Behr paints and products exclusively at Home Depot.
Lowes stocks paint from other top brands such as Rust-Oleum, Cabot, Purdy, KILZ, Valspar, and so on.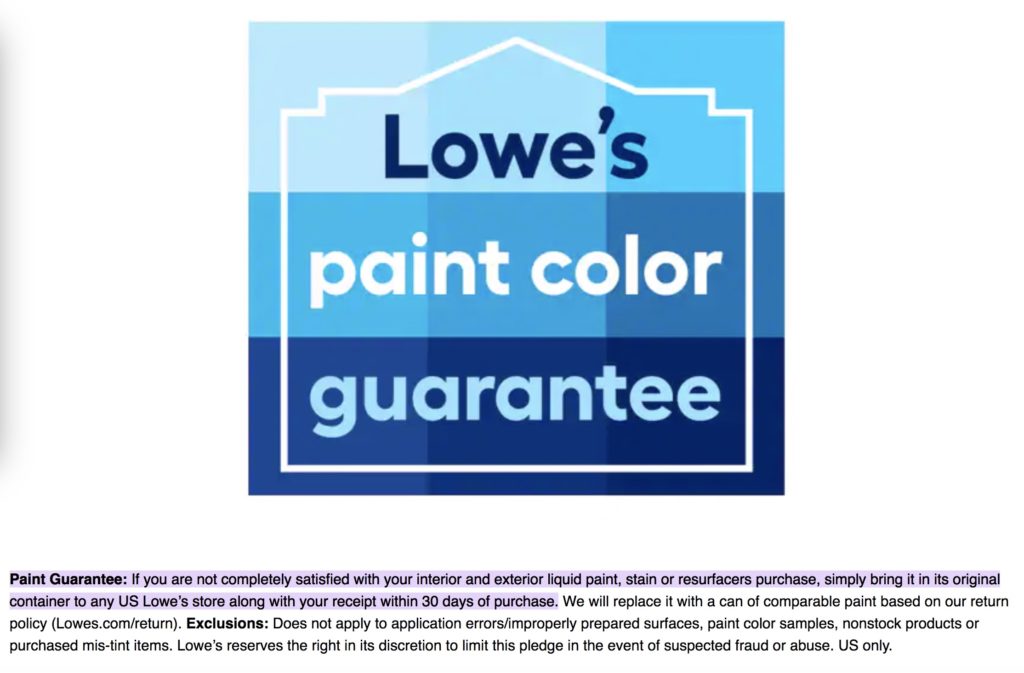 Why Does Lowes Not Sell Behr Paint?
Lowes does not stock Behr paints because Behr Paint Company has an exclusive partnership with Home Depot, making it the only seller of Behr paints and products.
The two companies have been in this retail partnership since 1978. Lowes prefers to sell other top brands that rival Behr due to their intense business rivalry with Home Depot.
What Paint Brands Do Lowes Sell?
Lowes offers an array of paint brands, including
HGTV Home® by Sherwin-Williams

– is available in various

sheens

such as satins, eggshell, high-gloss, semi-gloss, and so on. You can get Sherwin Williams paints from $10-$400

 

Rust-Oleum

– you can choose from

different

colors and sheens with prices starting at $10-$400

Cabot

– comes in

various

paints, sealers, stains, and satins. Prices start from $1-$400 depending on the product and container size

Thompson's Water Seal

– is

available

in brown and clear versions with prices ranging from $5-$200

Valspar

– you can get various interior and exterior paints, paint samples, stains, floor coatings, and specialty paints. These

paints

are available in different container sizes and retail from $1-$400

Magnolia Home

– the

brand

has different sheens such as matte, satin, semi-gloss, and super-mate. The paints are pretty affordable, with prices starting from $5-$100 depending on the type and container size

Purdy

– you can choose between satin and semi-gloss varieties with prices ranging from $50-$200
Is Valspar Paint Better Than Behr?
Valspar and Behr are paint brands that come in many colors. However, they are different in terms of application process and durability. While Behr is found exclusively at Home Depot, you can only get Valspar at Lowes.
Valspar contains top ingredients that make it a reliable and long-lasting paint. The paints also dry fast, are low maintenance, and spread easily. Valspar paints are also quite affordable and retail at slightly lower prices than Behr.
However, due to the thin nature of Valspar paints, they require several coats of paint to cover the painted surfaces evenly. They also tend to dry too fast, leaving the surface with brush marks which alters the look of the area you are painting.
Behr paints have excellent coverage, requiring fewer coats than Valspar paints for complete coverage. They also dry fast and smoothly without cracking. Behr paints use premium products and fillers, giving you superior and long-lasting paint.
However, Behr paints take time to dry, delaying your project's completion. They are also quite hard to clean and not as durable as Valspar paints.
Both Valspar and Behr paints are good options for your next DIY projects. Behr paints require fewer coats but are slightly more expensive than Valspar paints. Valspar paints are a long-lasting, easier to clean, and cheaper option.
Overall, Behr paints tend to perform better than Valspar paint. If you are looking for the best paint in terms of coverage, you can't go wrong with Behr.
How to Buy Lowes' Paint
When shopping for paint in-store, the first step is determining the type of paint you need. Then, head to your nearest Lowes store paint section and choose your desired color. You can get the nearest Lowes store by using their store locator tool on the website.
A Lowes store associate may help you choose your desired paint and color. Lowes may also be able to match your paint if you bring a sample.
To buy paint online;
 

Log in to your account at lowes.com

On the Home page, click on

Shop

and scroll down to

Paint.

You can also enter the word

Paint

in the search area and click on search

Shop for your paint using either the name or color code, whether interior or exterior paint, color collections, or room visualizer

Filter the paint by brand

Select your paint and add it to the cart

Once through, click on the shopping cart icon to check out

Choose your delivery method

Enter your payment information, billing address, and contact information

 

Click on

Submit order
Does Lowes sell returned paint?
When you return paint to Lowes, the paint is re-tinted and offered for sale for a markdown. Lowes re-tints the paint to discourage customers from returning it and then buying it at a discount.
Does Lowes Sell Good Paint?
Lowe's offers its customers a wide range of quality paints at competitive prices. However, not all paints are created equal. Some brands are more expensive than others but still offer high standards of quality control and consistency in their products. One of the most popular paint brands in Lowes is Valspar paints.
Generally, customers have negative ratings about their paint purchases at Lowes. Most of them complain of poor customer service and unclear Lowes paint return policy. Below are some of the customer reviews and feedback.
FAQs
Can Lowes match Behr paint colors?
Lowes can match Behr paint colors. Lowes stores have a spectrophotometer in their paint department for matching paints even from different brands.
Can Lowes mix Behr paint colors?
Yes, Lowes can mix your Behr paint colors. Lowes provides free custom color mixing and computerized color matching.
Does Lowes carry Behr marquee paint?
Lowes does not carry Behr marquee paint. The paint is available exclusively at Home Depot. However, you can find other comparable paint brands such as Valspar, Rust-Oleum, and so on.
Does Lowes sell Behr stains?
Lowes does not sell Behr stains since Home Depot is the exclusive retailer of Behr products. However, you can get other stain brands such as Minwax, Valspar, WATCO, Zinsser, and Howard.
Conclusion
Lowes does not sell Behr paint due to a retail partnership that gives Home Depot exclusive sale rights to the Behr brand of paints. However, you can find other comparable paints at Lowes, including Valspar, KILZ, Magnolia Home, Rust-Oleum, and more.
Lowes paints are affordable and offer excellent finishes. The retailer also stocks various brands of stains and finishes.