This Aldi Strawberry Bellini won't last long!
Many Aldi fans can agree on one thing: We love the wine.
While it may not be the best wine you can buy, in many instances, you get amazing quality wine for the money you spend.
Aldi has its staple wines that are stocked year-round or at least on a seasonal basis (like these Pacific Fruit Wines for summer or the German Mulled Wine for the holidays), and then there are the Aldi Finds — those wines that are brought in as a one-time purchase.
One "cult favorite" in the Aldi wine aisle is the bottled peach bellini.
The original bellini is a wine cocktail that originated in Italy. It is traditionally made with prosecco and peach puree. Aldi's bottled version is made in Germany, and includes sparkling wine and peach juice.
This week Aldi is bringing in a new flavor of this popular wine cocktail — Aldi Strawberry Bellini!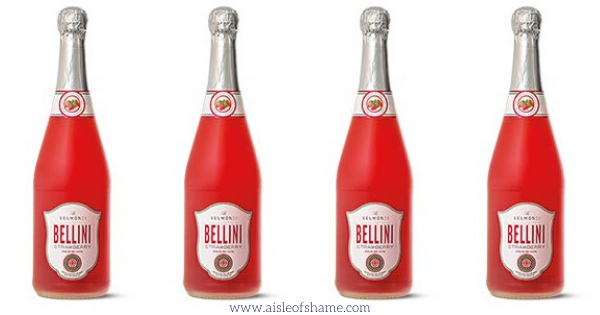 Aldi Strawberry Bellini
This strawberry version of the bellini is being sold under the Belmonti brand. Aldi says it is also bottled in Germany, and promises "fresh and bright strawberry flavor."
We will be on the hunt for the Aldi Strawberry Bellini this week — it's due in stores on July 22! Keep in mind that not all Aldi stores sell wine, though — it's dependent on local and state regulations in your area.