Aldi German Week runs Sept. 16-22, 2020 – Here's a look at our favorite German sweet treats available at Aldi!
Prost! Another German Week is upon us!
It's time to stock up on all of our German favorites, including pork schnitzel, pretzels, cornichons and, of course, the mustard.
It's German Week at Aldi, which is like Christmas for mustard fans

— Andrew Beaujon (@abeaujon) March 20, 2019
But while you're filling your cart with all that German goodness, don't forget the sweet treats in store!
Aldi German Week Sweets
Aldi's German goods are sold under the brand name Deutsche Kuche, which means German cuisine. Straightforward enough, eh?
Doppel Keks
First up, Doppel Keks. Think of these German classics as giant sandwich cookies. People rave about the super-chocolatey cocoa filling! $2.49
Domino Cookies
These Deutsche Kuche Domino cookies are a traditional treat in Germany, where they are called Dominosteine. They were reportedly invented as a cheaper alternative to other chocolates sold in German bakeries at Christmas. These cookies are gingerbread flavored, with layers of apple jelly and persipan. They are coated in your choice of milk or dark chocolate. $2.49
Jaffa Cakes
Jaffa Cakes in orange and raspberry flavors are also available during Aldi German Week. They have a sponge base, a layer of jam, and a layer of chocolate. Orange Jaffa Cakes even inspired this Aldi Jaffa Cake Candle! $2.49
Sugar Roasted Almonds
Sweet sugar roasted almonds are an Oktoberfest and German Christmas Market staple. Candied coated and delicious, each bag is only $2.49.
Fruit Strudel
In the freezer section, keep an eye out for the Deutsche Kuche Imported Strudels. They come two to a box and bake from frozen for a delicious warm dessert treat. For this Aldi German Week, apple, caramel apple, fruits of the forest and chocolate raspberry strudels are available. $2.49
Frangipane Tarts
Aldi has a selection of frangipane tarts this German week in blackberry, apple and cherry. Each tart features an almond cake topped with fruit and roasted almond pieces in a shortcrust pastry. $2.99
Cream Cakes
Also sold frozen, this Deutsche Kuche Strawberry Cream Cake looks amazing! It has layers of cake mixed with strawberry cream, decorated with whole strawberries, strawberry sauce, vanilla cream rosettes, and white chocolate curls. I got a sugar rush just typing that! A chocolate cream cake is also available. $6.99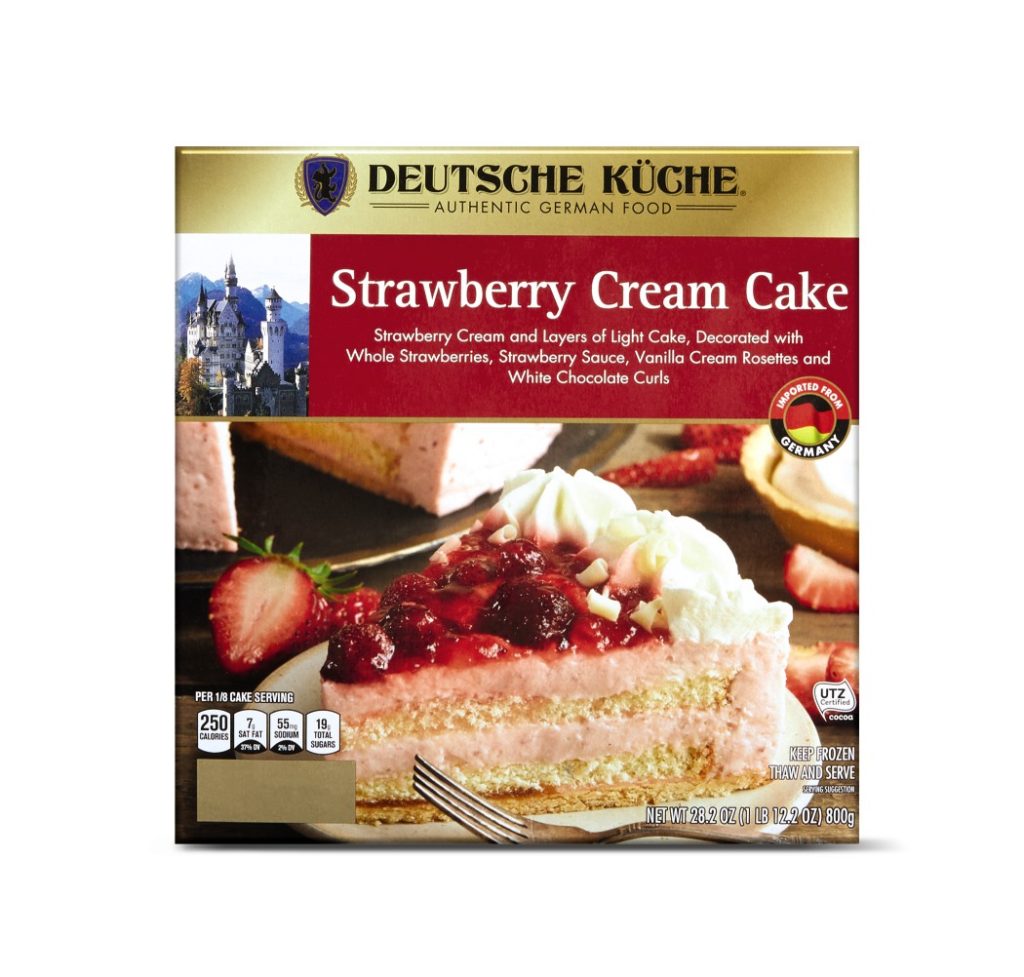 Whew! All of these sweet treats have our heads spinning!
Which German Week sweet treats do you plan to buy?