These sets of Wine Pairing Chocolates would be a hit with anyone who loves wine!
It's time to gear up for holiday shopping season, and one of our favorite places to shop for gifts is — you guessed it — Aldi.
What? You've never shopped for holiday gifts at a grocery store before?
Well, friends, you have been missing out!
Aldi is a wealth of great gift ideas throughout the season — from candles to throws to toys to Advent Calendars, and so much more!
We particularly like to give gifts that are consumable — especially when the recipient is someone we don't know really well. A co-worker, a party hostess, a neighbor … we think the best gifts for those folks are often food and/or drink. You know, a special treat they may not buy for themselves. That way, you're not trying to guess at their home decor style or clothing size.
And the week of Oct. 21 (Oct. 18 in stores with a Sunday ad switchover), we're definitely going to be grabbing several of these Specially Selected Wine Pairing Chocolates!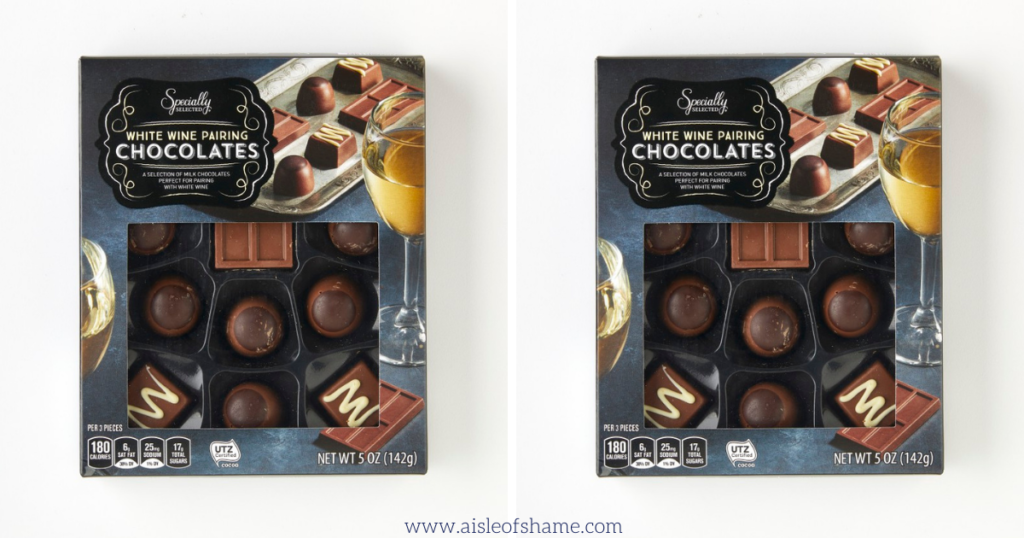 If you haven't tried wine with chocolate before, you definitely should. When paired up right, the chocolate deepens the sweeter flavors of most wine.
The basic rule of thumb is white wines with white or milk chocolate, and darker chocolates with red wines.
Aldi is bringing us two sets to make this easy — one for white wine pairing, and one for red wine pairing.
And these sets are just $4.99! We have seen very similar packages at retailers such as Williams-Sonoma for $25-$40!
We will definitely be picking up several of these wine pairing chocolates to keep on hand, along with some bottles of white or red. What a perfect combo for a gift!
Follow Aisle of Shame on Instagram for more Aldi Finds!