Many people assume that Lowe's and Home Depot are one and the same, but this isn't true.
They're two different companies that operate in the home improvement niche and target the same set of customers. They also sell similar products and services.
Here, we'll explain who owns these two home improvement giants and highlight a few differences between them.
Read on;
Are Home Depot and Lowe's Owned by the Same Company?
No, Home Depot and Lowe's aren't owned by one company. They are both publicly owned by different entities.
Neither Lowe's nor Home Depot own each other. Their shares are publicly available on the stock market and anyone who wishes to buy stock in either can do it.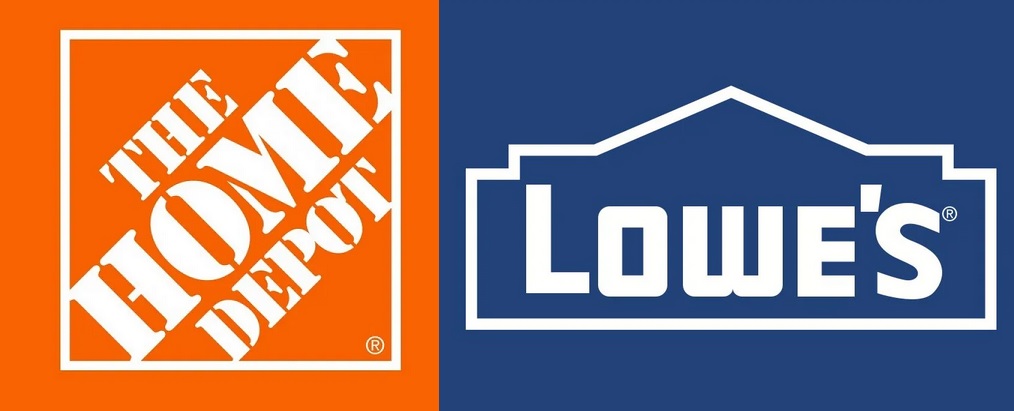 Home Depot went public in 1981, selling its shares at $12 each. Its top five shareholders are;
The Vanguard Group – 8.3%
SSgA Funds Management Inc – 4.52%
BlackRock Fund Advisors – 4.36%
Capital Research and Management Company – 3.67%
Fidelity Management and Research Company – 1.68%
From this list, there's no entity that owns more than 50% stock in Home Depot, so it operates independently and not as a subsidiary.
Lowe's went public in 1961 with shares going at $12.25 each. Its top five stakeholders are;
The Vanguard Group – 7.96%
SSgA Funds Management Inc – 4.44%
BlackRock Fund Advisors – 4.35%
Fidelity Management and Research Company – 3.11%
JP Morgan Investment Management – 1.89%
The top three owners of Lowe's and Home Depot are the same, but they're all minority owners. As such, they don't have majority control.
History of Home Depot
The idea to form Home Depot was conceived in a coffee shop by Bernie Marcus and Arthur Blank in 1978. The two were strong DIY believers, and they envisioned a superstore that would offer customers a wide collection of merchandise at great prices and offer excellent support.
In 1979, the first two stores were opened in Atlanta, GA with help from investment banker Ken Langone and merchandising expert Pat Farah. By the end of 1979, they had set up three stores, hired 200 staff members, and recorded an average weekly sales of $81,700.
Home Depot went public on NASDAQ on September 22, 1981. In 1989, they ‌opened their 100th store, in Monrovia, CA, and became the largest home improvement retailer in the US in 1990.
In the coming years, the company acquired other businesses to help penetrate new markets, for instance, Aikenhead's stores in 1994 to create the Canadian division.
Today, Home Depot has over 2,200 stores in three countries.
History of Lowe's
Lowe's started as Lowe's North Wilkesboro Hardware in 1921. L.S. Lowe was the owner and he dealt in dry goods, groceries, and sewing notions, among others.
Jim Lowe took charge of the store in 1940 after his father, L.S. Lowe passed on. He ran it through World War 2 and offered his brother-in-law, Carl Buchan, part-ownership shortly after.
Modern-day Lowe's was born in 1946 after Carl anticipated an increase in construction after WWII and focused on home improvement merchandise. The second store was opened in Sparta, N.C in 1949.
Carl wanted to make Lowe's a national company and he terminated joint ownership with Jim Lowe to pursue this vision. The company grew steadily and eventually went public in October 1961. It was listed on the NYSE and London Stock Exchange in 1979 and 1989, respectively.
In 1982, Lowe's hit its first billion-dollar sales year, a landmark in the company's growth plan. It also launched lowes.com in 1995 and ventured outside the United States in 2007, ‌opening its first stores in Canada.
Today, Lowe's is the second-largest home improvement store in the United States.
Five Differences Between Home Depot and Lowe's
Home Depot stores feature an orange and black color scheme with tall shelves, some of which are only accessible by forklifts. Lowe's stores employ a blue and white color scheme with more elaborate floor displays and themed products.
Home Depot's strategy is to boost profitability by increasing distribution centers, while Lowe's strategy is to strengthen its bottom line by closing underperforming stores.
Home Depot brings in more revenue and sales compared to Lowe's. In 2020, Home Depot garnered 132.11 billion U.S dollars in sales whereas Lowe's got 89.6 billion U.S dollars.
Home Depot has enjoyed international success with stores in Canada and Mexico, whereas Lowe's has seen very little success in its international ventures as it's been forced to close most of those stores.
Home Depot leads in contractor services, while Lowe's has the edge in DIY services thanks to its focus on staff assistance for amateurs.
Is Lowe's Bigger than Home Depot?
No. Home Depot is the largest home improvement company and Lowe's comes in 2nd place.
Home Depot operates more than 2,300 stores in the U.S, Canada, and Mexico, while Lowe's runs about 2,000 stores in U.S and Canada.
Home Depot has a market cap of $365 billion, while Lowe's has a market cap of $150 billion.
From the financial valuation, it's clear that Home Depot is bigger than Lowe's.
Why are Lowe's and Home Depot Generally Next to Each Other?
Both of these companies have to abide by city zoning rules. They're large establishments and the laws that apply to them are stricter, compared to those that apply to small businesses.
They require large lots to set up stores and don't have many options to get this space in the cities. After an analysis on the best places to set shop, they often settle on similar locations.
Home Depot and Lowe's would probably prefer to be in different locations, but the laws don't give them much room to have it their way.
Who are Home Depot's Competitors?
Home Depot's primary competitor is Lowe's. However, these two players aren't the only ones operating in this niche, as there are other companies that give Home Depot a run for their money. They include;
Conclusion
Home Depot and Lowe's are the largest home improvement retailers that share a lot of similarities but are different. Some of these differences have been explained above, and be sure to understand them so that you no longer confuse the two anymore.