These solar garden stakes will be on shelves at Aldi on July 8!
One of the first Aisle of Shame crazes of the summer was the now-famous "solar bugs." These little light-up cuties were all the rage in our Aldi Aisle of Shame Facebook Community, as people snatched them up to decorate their yards and patios.
The bugs sold out everywhere, and people were clamoring for more!
Next up, the kinetic wind spinners on stakes. The peacock design was especially popular, with folks still scouring the aisles hoping to find one.
Well now Aldi is back with the next "must-have" item for our lawns and flower beds. Ladies and Gentleman, I present to you these Gardenline Solar Garden Stakes!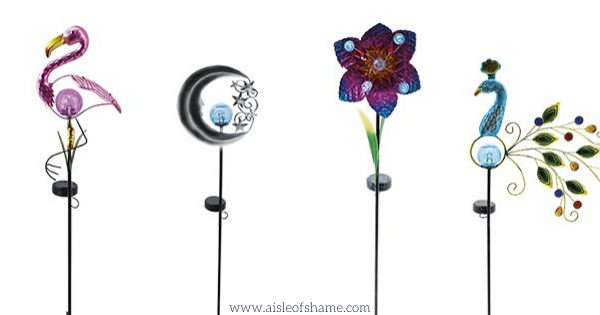 These decorative stakes come in four designs, and they all include a solar globe for light-up fun at night.
There are four designs available:
Flamingo
Moon
Flower
And, of course, our beloved Peacock
These decorative garden stakes are due in stores on July 8. They are going to be priced at just $9.99!
These stakes measure in at just under 3 feet — 32 inches tall. They charge with sunlight during the day and turn on automatically at night.
Aldi says they will provide up to 8 hours of light each evening!
Which solar garden stake do you want most?
Have you seen this week's Aldi Must-Haves?