This is the news we've been waiting an entire year for— Aldi Wine and Cheese Advent Calendars are returning for 2022….and we have a date!!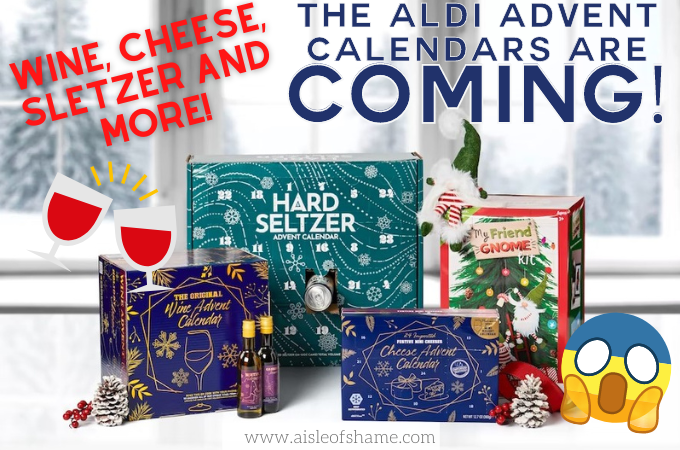 We couldn't be more excited to announce that Aldi advent calendars will be back for the 2022 holiday season! The news was released on Aldi's Instagram page with a sneak peek and release date.
The 2022 Aldi Wine and Cheese calendars (among others!) with hit stores starting Wednesday, November 2nd, 2022.
And if Aldi releases Advent calendars as they did in past years, additional calendars will continue to launch throughout November and December as we count down to the holidays! …And we are here for it!
Here's a SNEAK PEEK at FOUR Aldi Advent Calendars: Wine, Cheese, Hard Seltzer, and My Friend Gnome Kit!
2022 Collection Advent Calendar
And the biggest must-have…
2022 Collection Wine Advent Calendar
Here's the pricing we currently have (subject to change):
2022 Aldi Wine Advent Calendar – $59.99
Emporium Selection Advent Cheese Calendar – $16.99
Hard Seltzer Advent Calendar – $39.99
Merry Moments My Friend Gnome Kit – $29.99
If you're curious, this was the wine and cheese calendar offered for the 2021 holiday season:
2021 Collection Wine Advent Calendar
The 2021 Collection Wine Advent calendar retailed for $59.99. However, prices may have varied by location.

Emporium Selection Advent Cheese Calendar
Red Leicester, Gouda with a fiery bite, Truffle Cheddar, Edam, and Double Glouchester cheeses were included (as well as others) in the 24 imported mini cheese collection.
Stay tuned for more Aldi sneak peeks, and be sure to join the Aisle of Shame Facebook Community for all the latest finds.