Aldi's new Boozy Cheese Collection includes cheese infused with vodka, whiskey and Irish creme!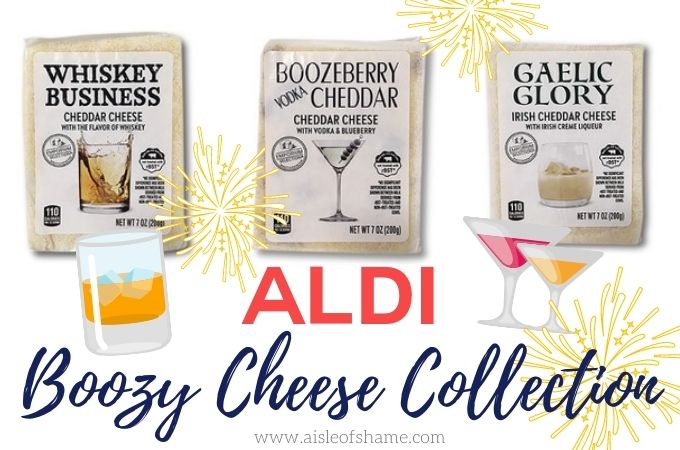 It's widely known at this point that we here at the Aisle of Shame LOVE our cheese! It's a large part of the reason we adore Aldi so much.
So imagine our excitement when Aldi came out with a line of boozy cheddar cheeses in 2019– Yes, you heard us. Boozy. Cheddar. Cheese. Well, guess what? The Aldi Boozy Cheddar Collection is back!
Aldi Boozy Cheese Collection
The Aldi Boozy Cheese collection, which includes 3 varieties of cheddar, is a must-have if you love cheese and a good cocktail.
Let's take a look at each member of this fun collection, shall we?
First up is this Whiskey Business Cheddar Cheese. Sold under the Emporium Selection brand, this cheese weighs in at 7 ounces.
The next Emporium Selection cheddar in this collection is Boozeberry Vodka Cheddar. Like a fruity martini, this cheese has vodka and blueberry in it. It is also sold in a 7-ounce package.
The third and final boozy cheese is Gaelic Glory. It's an Irish cheddar cheese that contains Irish Creme Liquor. Also 7 ounces, this cheese is the one we are most curious about as far as taste.
How much?
These cheese are priced at $3.99 each. We are excited to try them all. We especially like that with this collection, all of the cheeses are cheddar. In many Aldi collections, there are different types of cheese involved. Starting with the same variety of cheese will make tasting the different flavors more interesting, don't you think?
So tell us, what kinds of boozy cheese would you want to try most?
Cheers to another Aldi cheese collection!