If you're getting ready for a birthday party or business meeting, Costco party platters are an easy way to source a large amount of prepared food, even on short notice.
But finding out what kind of party platters Costco sells (and how to order them) can be difficult with so much misinformation floating around online. Rest assured that the information in this article has been well researched and verified with Costco for 2023.
Types Of Catering Platters Available At Costco
As of 2023, Costco sells four different types of party platters in their stores, which can be picked up in the deli when supplies are available or pre-ordered ahead to be ready on a specific date. The different types include a croissant sandwich platter, a chicken and swiss pinwheel platter, a meat and cheese platter, and a shrimp platter.
Despite inaccurate claims online, Costco does not sell a sushi party platter through their catering menu. Costco does sell pre-made fruit trays and other large food trays in their deli section. However, these are not available for pre-order and supplies vary by season and location.
Unfortunately, Costco's signature party platters are not available on Costco.com. To place a Costco catering order, you must visit a Costco Warehouse location in person or call the store directly.
Costco party platters are designed to feed between 16 and 24 people depending on which platter you order. They are most effective when combined with other snack trays or entrees, as they are not designed to replace a full meal service.
Does Costco Cater Events?
While Costco sells a variety of party platters that can be used to "self-cater" a party or event, Costco does not offer formal catering services.
Catering typically involves preparing food for a specific event and serving that food in person via a staff of trained servers. Instead, Costco prepares pre-ordered party platters for customers, who are responsible for picking up those platters in store and transporting them to their own events without the assistance of Costco.
Benefits

The main benefit of pre-ordering a party platter from Costco is that you can designate exactly when you want to have your platter. This way, you can pick up your platter at your convenience before your event, and trust that it will be fresh and ready to go exactly when you need it. Ordering party platters from Costco also saves you the effort of having to prepare a party platter yourself.
Note: Costco party platters are only available for pre-order to those with active Costco memberships.
Costco's Catering Menu (With Prices)
For some reason, the internet is swirling with misinformation about what kind of party platters Costco offers for pre-order. That's why we've gathered only the most accurate information available to provide you with a definitive menu, including pricing.
| | | | |
| --- | --- | --- | --- |
| Platter | Price | Serves how many? | Available for pre-order? |
| Croissant Sandwich Platter | $32.99 | 16-20 people | Yes |
| Chicken & Swiss Pinwheel Platter | $32.99 | 20-24 people | Yes |
| Shrimp Cocktail Platter | $39.99 | 20-24 people | Yes |
| Meat & Cheese Platter | $26.99 | 16-20 people | Yes |
While the Costco deli does sell other large food platters, these are the only four party platters available for pre-order year round as of March 2023.
How To Order A Costco Catering Platter 
There are two ways to order party platters from Costco–by visiting your local Costco Warehouse in person to order directly from the deli, or by calling in to place your order. To find the number for your local Costco, use this store locator tool. If you call ahead, simply ask to speak with someone in the deli, and let them know you'd like to place a catering order.
To order a Costco party platter in person, visit your local Costco and head to the deli section, which is usually located toward the back of the store. 
There, you will find a display to the right of the main deli coolers that reads "Deli Order Selection" above a detailed party platter menu…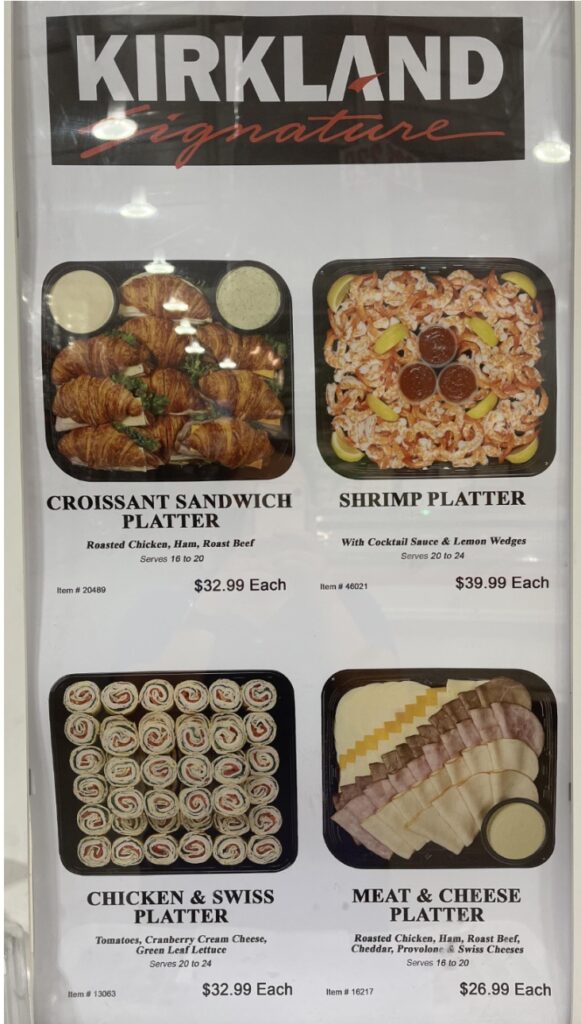 Below this sign, you will find a stack of order forms. Grab a form, fill it out with your order, and then give your form to a Costco deli associate. To receive your party platter, arrive back at Costco at your designated pickup time and date.
Party platter orders should be placed at least 24 hours before your desired pickup time. You can place your order anytime during Costco's opening hours, which typically run from 10 AM to 8:30 PM during the week and 8 AM or 9 AM to 6 PM on the weekends.
Costco Party Platter Reviews
Overall, Costco's party platters are seen as a convenient and relatively affordable way to cater a small event on short notice. However, they're not known for being the most amazing platters ever made.
Many people have also pointed out that, if you have the time, you can put together your own party platters for less money by purchasing ingredients separately at Costco. When you order a party platter from the deli, part of the cost you pay is for the service and convenience.
This Reddit user shares some honest feedback about Costco's party platters…
It's also worth noting that if you put your own party platter together, you can choose higher quality ingredients than what Costco uses, if you choose.
Other Places That Offer Catering Services
The following stores sell catering platters similar to the ones available at Costco…
Safeway

Whole Foods

Kroger (includes QFC and Fred Meyer)

Sprouts Farmers Market
Surveyed shoppers have often shared that Whole Foods and Sprouts Farmers Market offer some of the tastiest and freshest party platters available, which are generally thought to be of higher quality than the Costco platters.
If you're looking for full-service catering, try using your search engine to search for "catering companies" in your area.
FAQs
Does Costco make fruit trays?
No. The Costco fruit trays are purchased from other suppliers and arrive at Costco pre-made and ready to sell.
How many people can a Costco platter feed?
It depends. Costco platters are designed to feed anywhere from 16 to 24 people when combined with other foods. However, if you're trying to feed people with a Costco platter alone, it will feed fewer people.