If you've never had a cake from the Costco bakery, you're in for a literal treat. Well known for being massive, delicious, and rich in flavor, Costco's wide variety of cakes have a reputation all their own. But how exactly does one go about ordering a cake from Costco? Can they be ordered online? Keep reading to find out.
To order a cake at Costco, you need to either call your local Costco Bakery or visit the bakery in person to place your order. Unfortunately, Costco does not accept online cake orders as of November 2022. In fact, none of Costco's in-house bakery items can be ordered online.
To find the phone number for your local Costco Bakery, use this store locator tool. When you call, follow the prompts to speak with the bakery department. The Costco employee you speak to will be able to walk you through the process of ordering your cake. 
Here's an example of the special order cake form you will be asked to fill out in person or over the phone when you order a custom cake from Costco: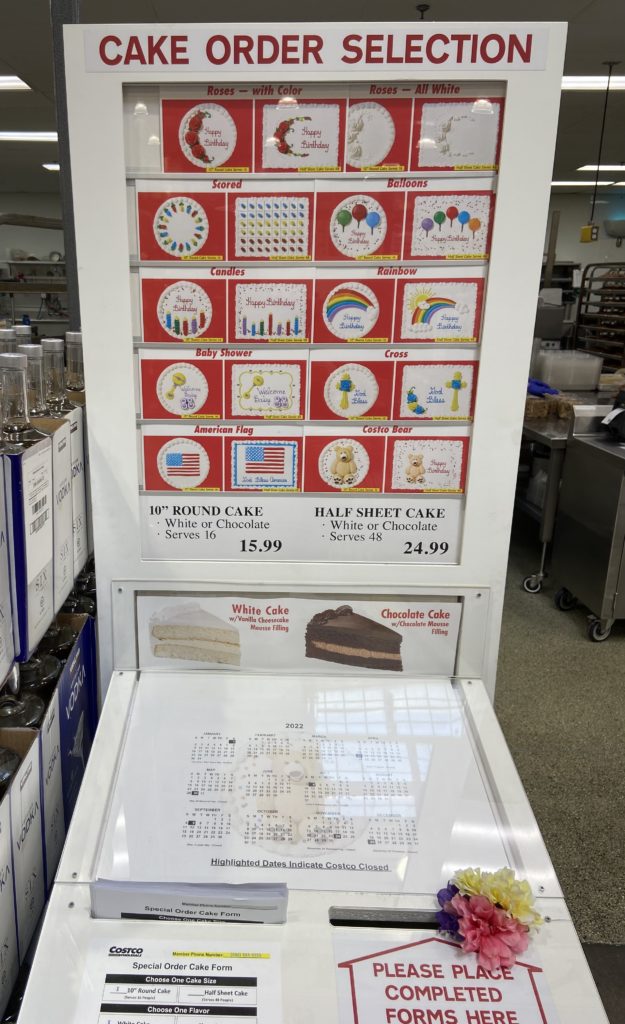 Keep in mind that if you aren't ordering a custom cake, you can simply request whatever kind of cake you want, such as a cheesecake or carrot cake. These cakes may not always need to be pre-ordered, however, as Costco often keeps these in stock. 
Pick Up & Delivery Services
Unfortunately, Costco does not provide a delivery service for their cakes. This is mostly due to the fact that Costco cakes cannot be ordered online.
When your Costco cake is ready, you will need to pick it up from the bakery directly. Costco does not charge any additional fees for custom cake orders or pickup. 
Costco Cake Menu
The following table shows a sampling of some of the prices and sizes you can expect to find for Costco's most popular cake types.
| | | |
| --- | --- | --- |
| Type  | Size | Price |
| Sheet cake | ½ sheet (feeds 48) | $19.99 |
| Round cake | 10" | $12.99  |
| Cheesecake | 12" | $16.99 |
| Tiramisu | 33.8 oz. | $15.99 |
Costco offers a wide range of cakes in various flavors and designs, so this is not an exhaustive list. However, this gives you a good sense for just how affordable Costco's cake offerings are. 
All of Costco's cakes are priced under $20. Wow!
Costco's Top Selling Cakes
Some of Costco's most popular cakes include:
Cheesecake
Chocolate mousse cake
Carrot cake
Tiramisu
Tuxedo cake
Unfortunately, one of Costco's most legendary cakes of all time, their All-American Chocolate Cake, was discontinued in 2020. Why this cake offering hasn't been brought back yet is unclear. 
Personalized Cakes
If you're in the market for a personalized cake for a wedding, birthday, or other special event, Costco has you covered.
Costco offers a range of designs for special-occasion cakes that can be personalized with messages and baked to a variety of specifications. To learn more about Costco's personalized cake options, contact your local Costco bakery. 
How Long Does A Costco Cake Order Take?
Costco recommends ordering your cake at least two days in advance. Some Costco Bakeries even request 72-hours notice for custom cake orders.
But of course, you can always place your cake order further in advance to ensure your cake(s) will be ready on time and baked exactly how you want them. 
Costco Cake Reviews
Costco cakes definitely don't have any trouble flying off the shelves into the hands (and mouths) of hungry customers. If anything, Costco cakes are known for being too good.
On the one hand, they're extremely high in calories, sugar, and fat, but they're also just downright delicious. 
Here, one Reddit user assures a skeptic that Costco's chocolate mousse cake is "amazing":
If it's any indication, many Costco shoppers have put Costco cakes on their "do not buy" list specifically because of how temptingly good they are!
FAQs
Can you freeze a Costco cake?
Yes. Costco cakes freeze well. 
Can you order a ½ sheet cake at Costco?
Yes. Costco sells half-sheet cakes which are 12" x 16" and can feed up to 48 people.
Does Costco make a carrot cake?
Yes. The Costco Bakery makes a delicious 10" carrot cake covered in walnuts.
Does Costco store stock cakes?
Probably. There's no real way to know whether Costco bakes every cake to order or whether they simply decorate pre-baked cakes. However, due to food safety guidelines, you can rest assured that the cake you receive will have been baked within a few days of you receiving it.
What desserts does Costco have?
The Costco Bakery offers a wide range of desserts including cakes, cookies, cheesecake, pies, cupcakes, croissants, bagels, tiramisu, brownies, muffins, and more.