One of the most popular items available at Costco by far is their famous cheese pizza. Whether you're buying it from the Costco food court or bringing home your own box from the frozen section, Costco cheese pizza has a reputation all its own.
Today, let's find out just how good Costco cheese pizza really is and how to make it even better.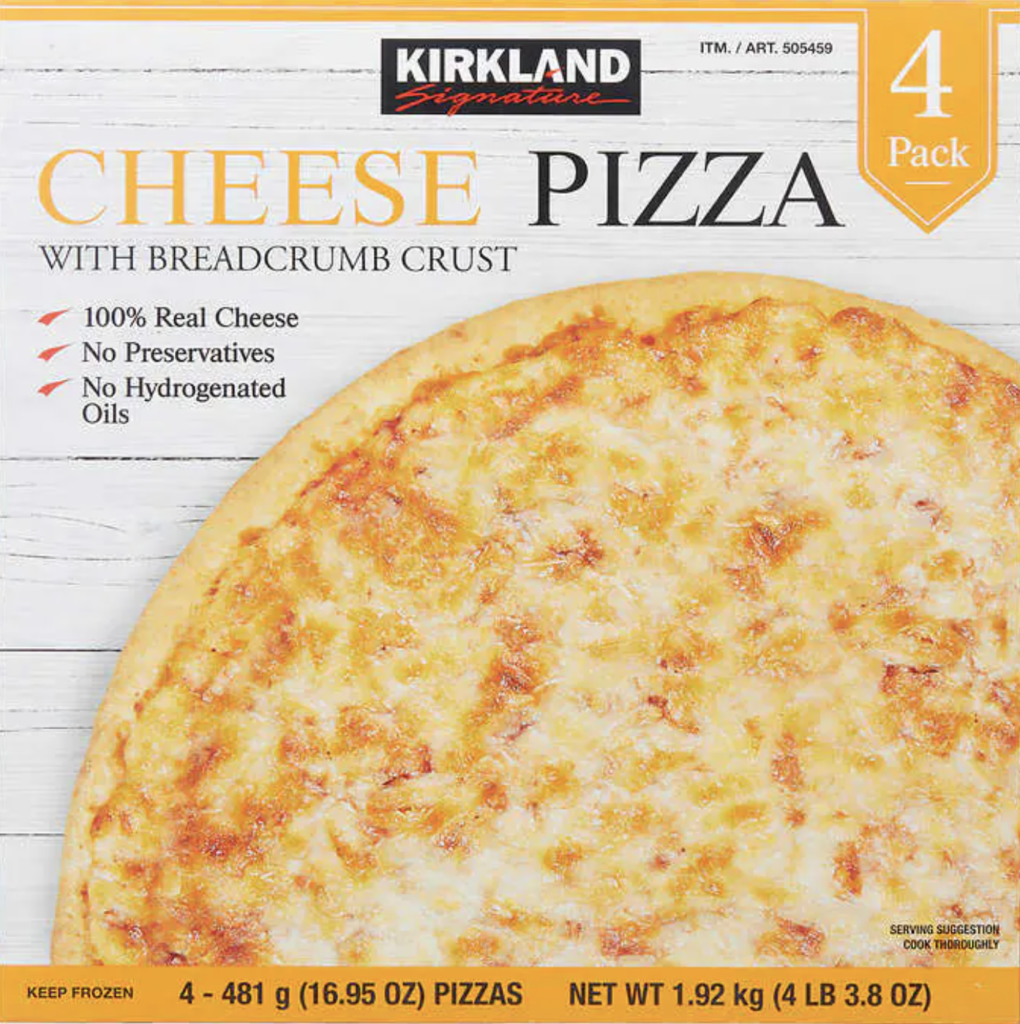 Types of Cheese Pizza at Costco
As of 2023, Costco sells two types of cheese pizza year round at all of their locations–an 18" cheese pizza at the food court (available as a whole pie or by the slice) and their frozen Kirkland Signature Cheese Pizza (available both in store and online).
Even though the food court pizza comes at a good bargain, the best deal on cheese pizza you can find at Costco is their four pack of Kirkland Signature Cheese Pizza. These pizzas are available for just $13.99 in the frozen section, which comes out to about $3.50 per pizza. You really cannot beat that.
A whole Costco cheese pizza from the food court costs just $9.95, and one slice is an impressively affordable $1.99 (which is the same price it's always been).
Today, we're diving into the details about Costco's Kirkland Signature Cheese Pizza.
Kirkland Signature Cheese Pizza
Costco's Kirkland Signature Cheese Pizza (item number 1008499) can be found in the frozen section, usually located to the far right of the store about midway towards the back.
Each box comes with four individually wrapped 12" pizzas topped with cheese and tomato sauce.
Ingredients & Nutrition
Of course, none of us expects pizza to be particularly healthy, but it's still worth looking at just how unhealthy this pizza is… I'm open to being pleasantly surprised.
According to the nutrition label, ⅓ of the pizza (2 slices if you cut it into 6 slices total) contains 390 calories. However, when I made my Costco cheese pizza, I cut it into 8 pieces.
So, the nutrition information below is based on ⅛ of a Kirkland Signature Cheese Pizza…
Each slice of this pizza (⅛ of the total pie) contains 146 calories from 4.5 grams of fat, 7.5 mg of cholesterol, 288 mg of sodium, 19.5 grams of carbohydrates, 4.5 grams of sugar, and 7 grams of protein.
Admittedly, I ended up eating three pieces anyway, so I definitely got more than my share of "nutrition" at this meal.
Now let's look at the ingredients…
As you can see, this pizza contains both wheat and dairy, meaning that it is neither gluten free or vegan. However, this pizza is completely vegetarian as it does not contain any meat. Because this pizza is made with soft cheeses such as cheddar and mozzarella, it does not contain any rennet, which is a potential allergen for some people.
Unfortunately, there is not enough valid information available online to confirm whether or not this pizza is halal.
It's worth noting that this pizza contains quite a bit of sugar, as it's been added to both the crust and the sauce. Personally, I've never thought sugar belonged in pizza or tomato sauce, but that's just me.
Cooking Instructions
According to the box, this is the best way to prepare a Kirkland Signature Cheese Pizza…
According to HalfScratched.com, you can also prepare your Kirkland Signature Pizza in the air fryer in just 6-8 minutes.
I personally decided to follow the instructions on the box, and I found that they were very accurate and didn't require any adjustments.
Costco Cheese Pizza Gourmet Hack
Now for the fun part!
I couldn't just let my cheese pizza go without any toppings, so I decided to dress it up with the most gourmet ingredients I had in my fridge.
Behold… my Kirkland Signature Cheese Pizza with fried shiitake mushrooms, caramelized onions, avocado, and balsamic glaze.
I won't lie–I'm pretty proud of my creation.
I mean, just look at it…
Here's how I did it…
The Hack
While the pizza was baking, I thinly sliced half of a large yellow onion and set it to sautée in some oil over medium-high heat. To add some rich flavor, I drizzled the onions with some balsamic vinegar, sea salt, and black pepper.
Next, I started slicing the fresh shiitake mushrooms while keeping an eye on the onions and stirring them frequently. Once the onions were about halfway done caramelizing (5-7 minutes in), I added the mushrooms to the pan and stirred them all together.
Mushrooms take a bit more heat to cook through in my experience, so I added a bit of water to the pan and covered it for about 1-2 minutes, keeping the heat just above medium.
Once the mushrooms were steamed, I removed the lid and continued to cook and stir the mixture for about 3 more minutes.
At this point, the pizza was almost done cooking, so I took it out of the oven, added the slices of avocado to the top, and then topped that all off with the mushroom and onion mixture. I then replaced the pizza onto the oven rack and let it all cook for another 2-3 minutes.
When everything was ready to come out of the oven, I drizzled the whole pizza with a touch more of the balsamic glaze, sprinkled it with nutritional yeast and chili flakes, and voila! A perfect gourmet pizza that only took about 15 minutes to make.
Final Words

Overall, I think this Costco cheese pizza serves as a great base for a creative meal. It could also be a decent stand-in for a meal if you don't have much time to prepare anything else. But on its own, I'm not sure it's going to wow any major pizza connoisseurs.
Although my pizza had a lot of other toppings, I could tell that there wasn't nearly as much cheese as I would have hoped. That said, the flavor was good.
My only other complaint about this Costco pizza is that the crust is a bit too crunchy and bready for my taste. The box does state that it's a "breadcrumb crust," but I didn't entirely know what to expect from that. In my opinion, the crust is overly dry and crunchy, and not in the way you'd expect from a quality pizza.
That said, I enjoyed the sauce and the cheese. I just thought there could have been a bit more cheese and a different texture for the crust.
I'm not sure I'll keep my freezer packed with Costco pizzas all the time, but I definitely recommend them if you're catering a party, especially for kids. This pizza would be perfect for a children's party or any event where you need to feed a lot of people.
And again, at $3.50 per pizza, you really cannot find a better tasting deal!