Target and Amazon are two of the most popular retailers in the world for purchasing a wide variety of goods. So, it makes sense that customers would be wondering if they can snag Amazon gift cards from the checkout counter at Target. Keep reading to find out all the details.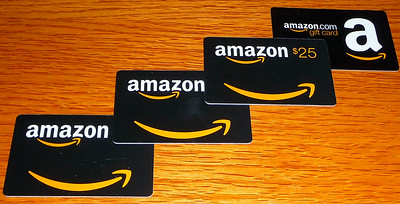 Unfortunately, Target does not sell Amazon gift cards at any of its locations or online. If you're wondering why, the answer is pretty simple. As the largest retailer in the world, Amazon is Target's main competitor, so the company has chosen not to stock their gift cards as an effort to retain customers.
Can You Use Amazon Gift Cards At Target?
Unfortunately not. Amazon gift cards are specific to Amazon, so they can only be used at Amazon.com and all physical Amazon locations.
What Gift Cards Does Target Sell?
Even though Target doesn't sell Amazon gift cards, they do sell a wide range of gift cards from other popular retailers. Here's a list of some of the most popular gift cards Target offers:
Target

Domino's

Chipotle

Hulu

Netflix

AMC

eBay

Cabela's

Apple

Google Play

Disney

Uber

Airbnb

Visa

Mastercard

American Express
For a full guide to Target's gift card offerings, check out this page on their website.
Where To Buy Amazon Gift Cards
It might seem inconvenient that you can't pick up an Amazon gift card on your next trip to Target, but there are still plenty of stores that do sell these popular gift items. Some recognizable locations that sell Amazon gift cards include:
7-Eleven

Best Buy

CVS Pharmacy

Cash & Carry

Dollar General

Fred Meyer

GameStop

Kroger

QFC

RadioShack

USPS

Walgreens
For a full list of the many locations selling Amazon gift cards, visit Amazon's website.
FAQs
How does an Amazon gift card work?
A gift card is pre-loaded with a set amount of money and can be used like any other form of payment during checkout on Amazon.com or at any physical Amazon location. Amazon gift cards can be loaded with up to $10,000 and are redeemable for anything sold by Amazon.
Can you buy an Amazon gift card at Target with a Target gift card?
Unfortunately, you cannot buy Amazon gift cards at Target. You can purchase other gift cards at Target or purchase Amazon gift cards at other locations, but you cannot use a Target gift card to purchase an Amazon gift card.
Can you exchange a Target gift card for an Amazon gift card?
There is no official way to exchange a Target gift card for an Amazon gift card, though there are some third party companies online that offer gift card exchange services. You could also find a friend to exchange gift cards with.
Can you use a Target Visa Card on Amazon?
Yes. The only exception to the information listed above is if you use the Target Visa Debit Gift Card or Mastercard Gift Card. These are both prepaid cards that can be purchased via Target but that are operated through Visa and Mastercard and work as valid payment forms anywhere Visa and Mastercard are accepted.
How do you buy an Amazon gift card?
You can buy Amazon gift cards online or at any participating retailer.
Conclusion
So, there you have it. Target won't be your go-to stop for picking up Amazon gift cards any time soon, but there are still plenty of other options. Plus, you can buy dozens of other gift cards at Target during your next shopping trip. Happy shopping!