This dill pickle popcorn has been popping up in Aldi stores!
If you're anything like us, you love a good pickle.
And we pickle people can get to where we like pickled, well, anything,
So, you can imagine our excitement when we stumbled on this little gem: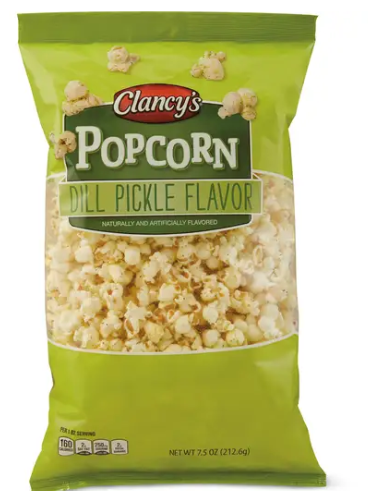 Aldi is carrying dill pickle popcorn!
Aldi is bringing in a whole new line of snacks as limited-time Aldi Finds, just in time for your Big Game party, and this Clancy's pickle popcorn is sure to be a big hit for the novelty alone.
A 7.5-ounce bag of this popcorn is priced at $1.69 (food prices may vary by store).
You will also find party-size dips including salsa, hummus and guacamole, chicken wings, frozen mac and cheese bites and more in stores beginning Jan. 22.
And for you pickle lovers among us, you might also want to pick up this Halftime Pickle Dip. You will find it in Aldi stores starting Jan. 29.