Some links in this post may be affiliate links. This means if you click on a link and purchase an item, we may receive a commission at no extra cost to you.
---
We're running to the freezer section for these Ben & Jerry's Cookie Dough Chunks!
Another week, another batch of delightful Aldi Finds to hunt for in U.S. Aldi stores! If you're a fan of Aldi's low-priced small appliances, you will have several to choose from this week. And judging from the posts in the Aldi Aisle of Shame Facebook Group, more than a few of us are going to blow our diets with that frozen cookie dough!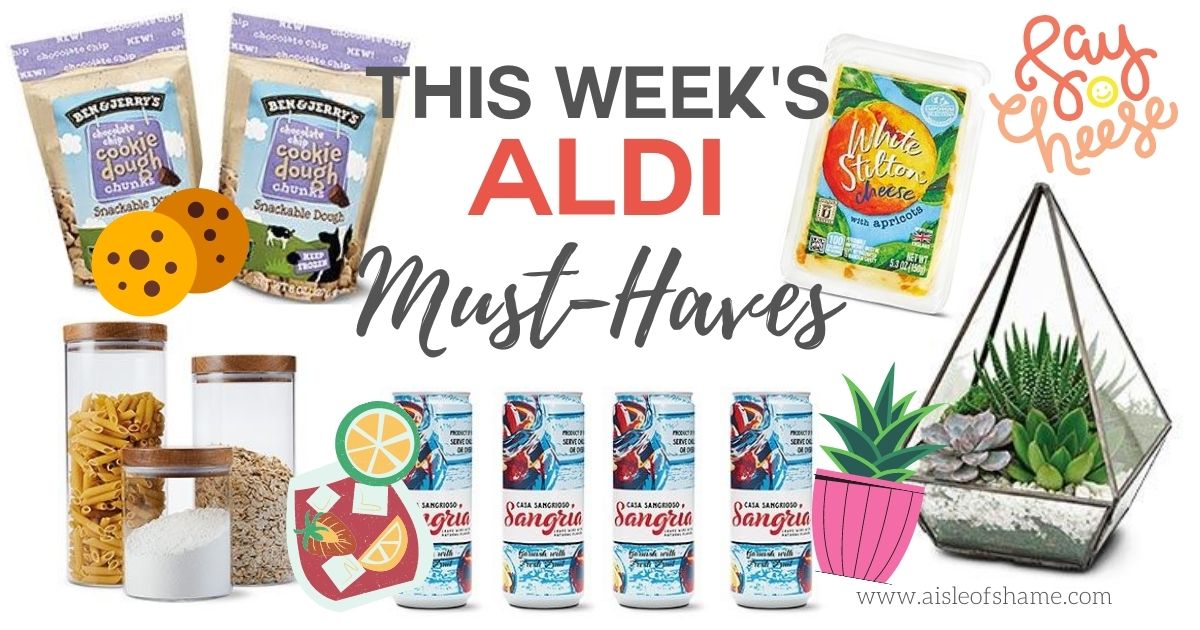 Here's a look at the top Aldi must-haves for the ad week starting Aug. 26 (Aug. 23 in stores with a Sunday ad switch-over).
Ambiano 9-in-1 6-Quart Pressure Cooker – $49.99
If you're interested in an Instant Pot, here's a lower-priced version to try. This 9-in-1 Ambiano Pressure Cooker has a 6-quart capacity.
Ambiano High Speed Blending System – $19.99
A high speed " bullet" blender for less than $20? Great solution for smoothie lovers, and a welcome gift for college kids!
Crofton Glass Canister Set with Acacia Lids – $12.99
We can't believe the price for this canister set! We would expect to pay more than that for just one in other stores.
Crofton 25-oz. Insulated Wine Carafe – $6.99
This vacuum-insulated carafe is designed to hold a whole bottle of wine!
Heart to Tail Pet Sweatshirt – $5.99

Aldi helps us take great care of our pets, and our pooches are either going to love us or hate us when we put them in these hooded sweatshirts this fall! These are available in four sizes.
Geometric Terrarium Assorted varieties – $12.99

We're crossing our fingers that we can find one of these cute glass terrariums filled with mini succulents. These are a great way to bring some green to your desk!
Ben & Jerry's Cookie Dough Chunks – $3.97
Um, what is there to say about these Ben & Jerry's Chocolate Chip Cookie Dough Chunks? There's so much yes here!
Emporium Selection Summer English Stilton Assortment – $3.49
We love the English Stiltons at Aldi, especially at their low price! This collection includes this White Stilton Cheese with Apricots, as well as varieties with blueberries or mango and ginger.
Casa Sangrioso Sangria Cans – see price in store
It's wine in a can! These Casa Sangrioso Sangria cans are great for taking to barbecues, the beach, or just about anywhere!