Last year Aldi brought us pumpkin shaped pizza for Halloween…This year we're getting ghost shaped pizza, too!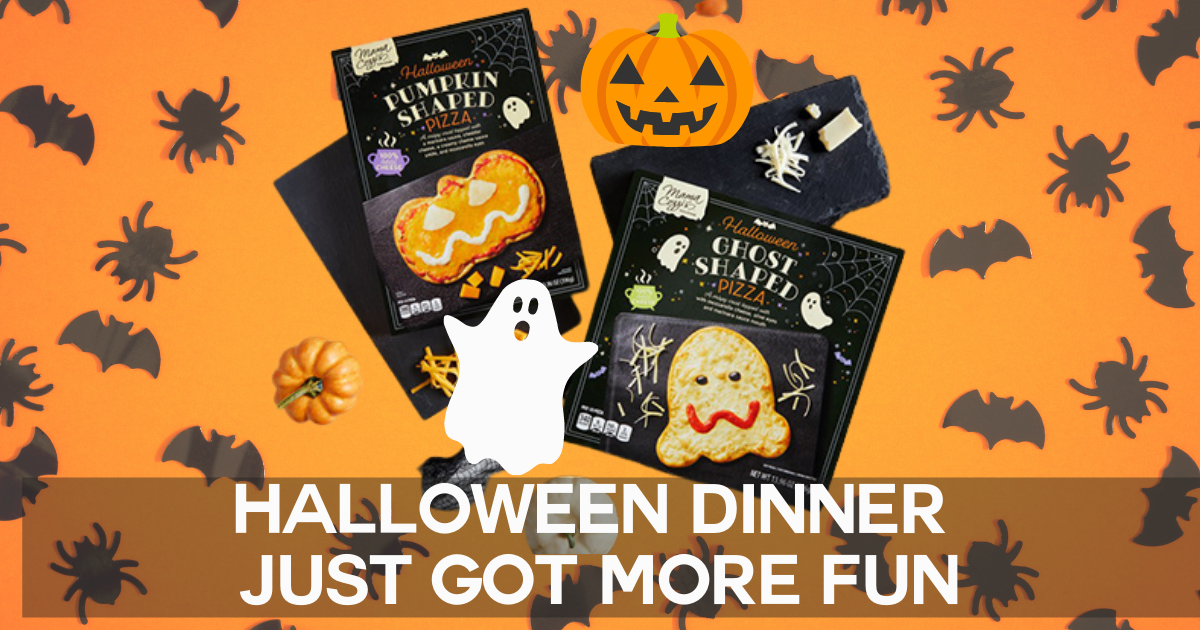 Aldi is bringing us plenty of Halloween fun as Halloweens foods, including our fave Halloween cheese collection, are hitting stores as early as October 6, 2021.
Now that we can gaze into our crystal ball (otherwise known as the "Sneak Peek" ad!), we know there is plenty more Halloween fun coming throughout the month.
We know how excited everyone was about the Aldi Halloween candles that debuted last week…and now we have another "treat" to look forward to—
Mama Cozzi's Pizza Kitchen Halloween Pumpkin or Ghost Pizza
If you were a member of the Aldi Aisle of Shame Facebook group last year, you already know how popular the pumpkin-shaped pizzas were. We're so happy to see them return for another season WITH a ghost-shaped friend!
Each Halloween boxed pizza comes frozen (so you'll find these guys in the freezer cases) and is individually sized for $2.49 each. That means if you have a family of four, you'll want to pick up four boxes of pumpkin-shaped or ghost pizzas. The pizzas should be stocked the week of October 13, 2021.
The Halloween pumpkin-shaped pizza has a crispy crust, butternut squash cream sauce, cheddar cheese, mozzarella eyes, and a mascarpone cheese sauce mouth.
The Halloween ghost-shaped pizza has a crispy crust, topped with mozzarella cheese, olive eyes, and a marinara sauce mouth. If you have pickier eaters, this is the pizza to go for.
And a word of warning here: These are Aldi Finds, which means your local store will typically get just one shipment. If you plan to serve them on Halloween, you'll want to buy them when you see them and stick them in the freezer, as they probably won't be around for that long!
Follow Aisle of Shame on Instagram for more Aldi Finds!