Are you ready for a SNEAK PEEK of some of the best food finds coming to Aldi this month!? Good— because June Aldi Food Finds have dropped…and there are some major must-haves!

June Aldi Food Finds
With summer on the horizon, Aldi is bringing us a selection of entree ideas, snacks, and desserts that pair perfectly with outdoor BBQs and summer entertaining. Let's take a look!
Specially Selected Everything Bagel Cold Smoked Salmon
Available June 2 – $3.99
Boom! Aldi kicks June off with a bang with an everything bagel seasoning version of their cold smoked Atlantic salmon. If you need an excuse to make eggs benedict…this is it! You'll find this smoked salmon in the cooler for $3.99.

Clancy's Grilled Ribeye Steak or Kentucky Smoked Bourbon Krinkle Cut Kettle Chips
Available June 9 – $1.89
If there's one snack we love at Aldi, it's their never-ending rotation of potato chips. This month, Aldi is featuring two new flavors of Clancy's krinkle cut chips: Grilled Ribeye Steak and Kentuck Smoked Bourbon. Can you say, yum!?
At $1.89 bag, it's a no-brainer to try each flavor, either as an easy barbeque side or for summer snacking.
Barissimo Vanilla Bourbon or Peach Bourbon Coffee Cups
Available June 9 – $5.79
Here's a new one: Peach bourbon flavored coffee K-Cups!! This is the coffee flavor we never knew we needed...just in time for summer. You can pick up a box of 18 Barissimo Peach Bourbon K-Cups for just $5.79.
Fremont Fish Market Seafood Boil
Available June 9 – $9.99
The Fremont Seafood Boil is a return item from last year, and let us be the first to tell you, this is a must-buy!
Each ready-to-boil bag is enough to feed two people, and contains shrimp, corn, mussels, potatoes and sausage. There's even a seasoning packet, but be warned, a little goes a long way!
If you're craving all the flavors of a seafood boil without the mess or price tag, this is definitely the way to go.

The Grill Master Collection
Available June 9 – $59.99
The Grill Master collection of boxed meat is a new product for Aldi and it gives us vibes of Omaha Steak. This big box of protein is perfect for Father's Day or whenever you want to fire up the grill and feed a crowd.
The Grill Master bix can be found in the freezer for $59.99 and include four 4.5-oz. classic steak burgers, four 4.5-oz. cheddar bacon beef patties, two 6-oz. choice top sirloin bacon-wrapped steaks, two 10-oz. choice boneless ribeye steaks, two 10-oz. choice Kansas City strip steaks, two 6-oz. boneless pork chops and two 7-oz. boneless skinless chicken breasts.


Park Street Deli Protein Snack Packs
Available June 9 – $3.49
We couldn't be more excited about the new lineup of protein snack packs featuring either Honey Brown Sugar Turkey Bites with Sharp Cheddar, Turkey Bites with Colby Jack or Beef Bites with Mild Cheddar. At $3.49 for 3 individual servings, they are easy to grab on the go and are super low in sugar and carbs.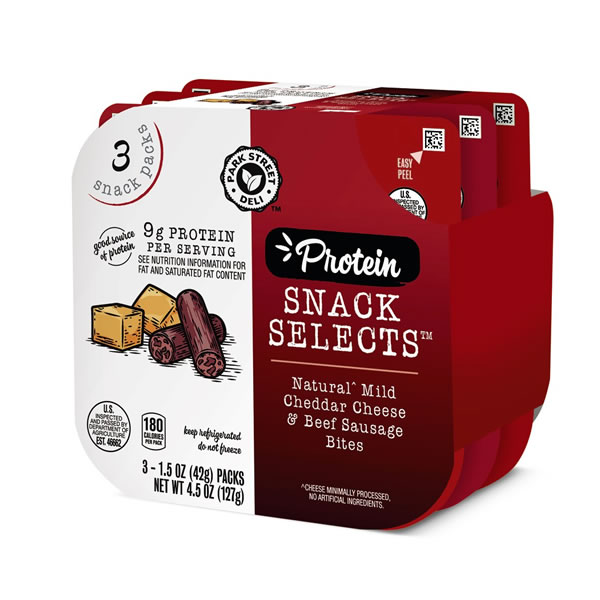 Park Street Deli Cocktail Hummus
Available June 9 – $1.95
Dessert hummus is back at Aldi with 3 new flavors inspired by cocktails. Mudslide, Piña Colada and Strawberry Daiquiri round out the trio and we're just as curious as you are!
We think these would be best served with pretzels, graham cracks or fruit dippers.

Emporium Selection Stars & Stripes Cheese Assortment
Available June 16 – $3.99
With the 4th of July just around the corner, Aldi is making sure our holiday charcuterie bars are themed for the occasion.
The stars and stripes cheese collection features Cheddar cheese, Red Leicester cheese with chipotle and peppercorns, and Wensleydale cheese with lemon curd and dried blueberries. Each cheese is $3.99 and can be found in the deli cooler.

Sundae Shoppe Unicorn or Galactic Cones
Available June 16 – $3.49
Another returning item from last season is Unicorn and Galatic cones, which are ALMOST too pretty to eat. These ice cream cones were highly recommended in the Aisle of Shame Facebook group and were somewhat hard to find last year.


Choceur Mini Peanut Butter Cups
Available June 16 – $2.29
BIG NEWS! The fan-favorite Aldi peanut butter cups are available in MINIS this month!! You tell us if this is a good or bad thing.
Specially Selected Everything Brioche Bun
Available June 16 – $2.49
Burgers and breakfast sandwiches are getting an upgrade this month with Everything Brioche Buns– Imagine a regular Aldi brioche bun (which are amazing on their own) topped with Everything Bagel seasoning! Each package of 4 buns is just $2.49.

Baker's Corner S'mores Cookie Kit
Available June 23 – $4.99
It's s'mores season! There's no need for a fire pit to get the flavor of s'mores with the Baker's Corner Jumbo Cookie Kit.
Each box has all the ingredients to make a 9″ graham cracker cookie topped with chocolate chunks and marshmallows…the pan is even included!

Wahlburgers Assortment
Available June 23 – Prices Vary
Every few months we see the Wahlburgers ground beef patties pop up at Aldi. Though they're not an Aldi exclusive product, they are insanely delicious, which is why we're excited to try some other products in the Wahlburgers lineup.
Enter Wahlburgers hickory smoked bacon, uncured beef hot dogs and fresh dill pickle chips. Wahl Sauce is also back.