If you've never tried a dried seaweed snack, you should definitely consider giving them a try. Crispy, salty, savory, and healthy, dried seaweed is a low-calorie, high-nutrient snack perfect for a little boost in the middle of the day.
Costco recently started stocking seasoned seaweed snacks from a company called Kimnori, so I decided to give them a try.
But first, I want to address some recent controversial news involving Costco's dried seaweed selection…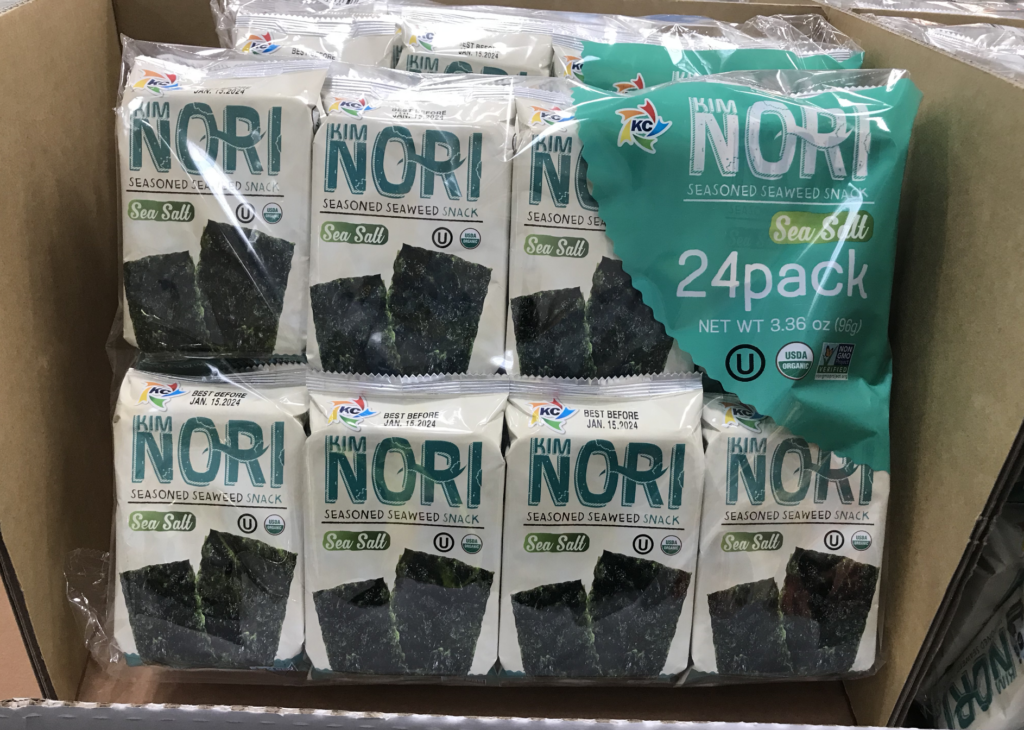 Costco's Seaweed Controversy
Up until fall 2022, Costco carried its own Kirkland Signature brand of Organic Roasted Seaweed Snacks in a recognizable bright green package. They were super popular among Costco customers, becoming a staple in many household pantries.
Unfortunately, these snacks came under fire recently when a class-action lawsuit was filed alleging that the product contained dangerously high (and undisclosed) levels of cadmium, a known carcinogen.
According to ClassAction.org, the 2018 case alleges that "Costco's failure to disclose the presence of cadmium in its seaweed product was 'deceptive, misleading, unfair, and/or false' and allowed the big box retailer to reap 'enormous profits' from consumers who paid a premium price for the snack." As TopClassActions.com reports, the case was ultimately dismissed in 2022 because the plaintiff was unable to provide sufficient proof that the product was unsafe for human consumption.
Despite the dismissal, Costco decided to pull the product from its shelves permanently and switch to a different supplier. Now, Costco carries Organic Seaweed Snacks from a California-based company called Kimnori.
Kimnori Seaweed Snacks At Costco
Seaweed might not be for everyone, but I suggest trying it before you decide you don't like it. It's salty, savory, and satisfyingly chewy. And if you're worried about the flavor, it doesn't taste fishy the way you might think. Instead, it has a rich umami flavor that reminds me more of a well-seasoned vegetable than something that came out of the sea.
It's also super good for you, as it's packed with trace minerals and vitamins that our bodies need to function at peak performance.
Kimnori Seaweed Snacks are made in California. You can read all about their production process on their website here.
Seaweed Bugak Chips
In addition to Kimnori Seaweed Snacks, Costco also carries a brand of Korean-style bugak seaweed chips from a company called C-Weed. 
C-Weed offers an organic and non-organic variety of their seaweed chips that are both majorly popular among Costco customers. Unfortunately, these chips are not available through Costco.com and can only be found at certain Costco Warehouse locations.
Pricing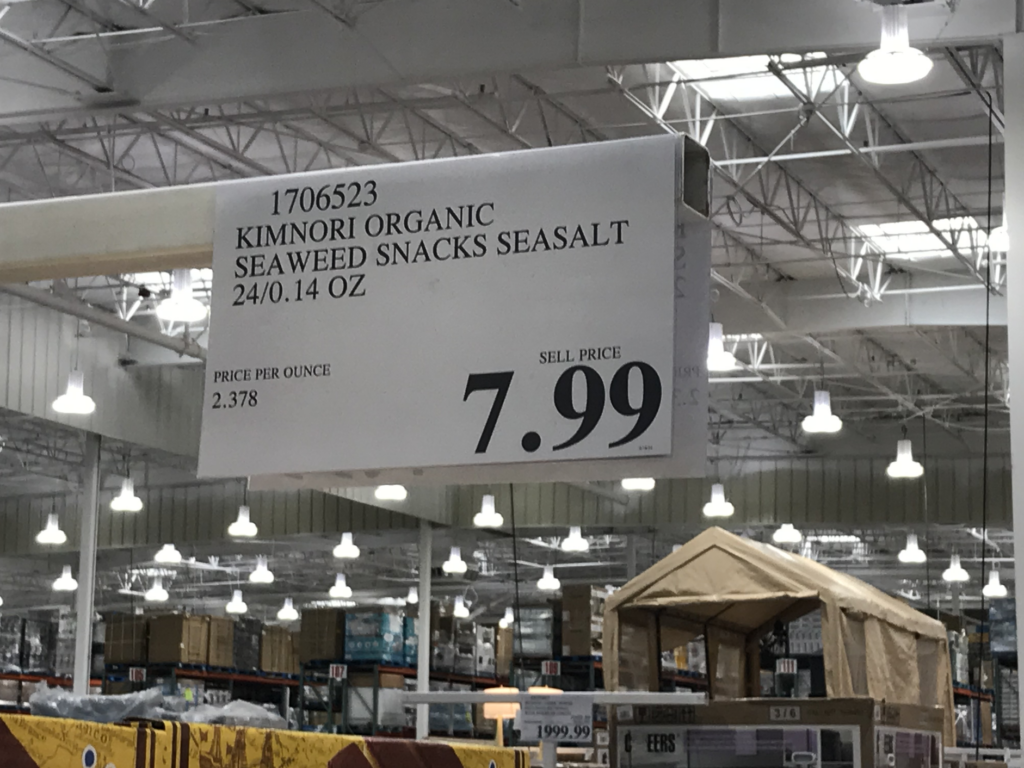 Each 24-pack of Kimnori Seaweed Snacks at Costco are priced at just $7.99. This means that each serving of this seaweed snack costs just 33 cents.
You can find these seaweed snacks near the snack food aisle at Costco, although they may be on special display elsewhere in the store. At my local Costco, I found them displayed between the snack aisles and the center of the store where the furniture and outdoor gear are staged.
As of February 2023, Kimnori Seaweed is not available on Costco.com. When shopping online, you can instead buy Organic Seaweed Snacks from a company called Ocean's Halo for $11.79. These snacks also come in a 24 pack and include two flavors–Maui Onion and Sea Salt.
Ingredients & Nutrition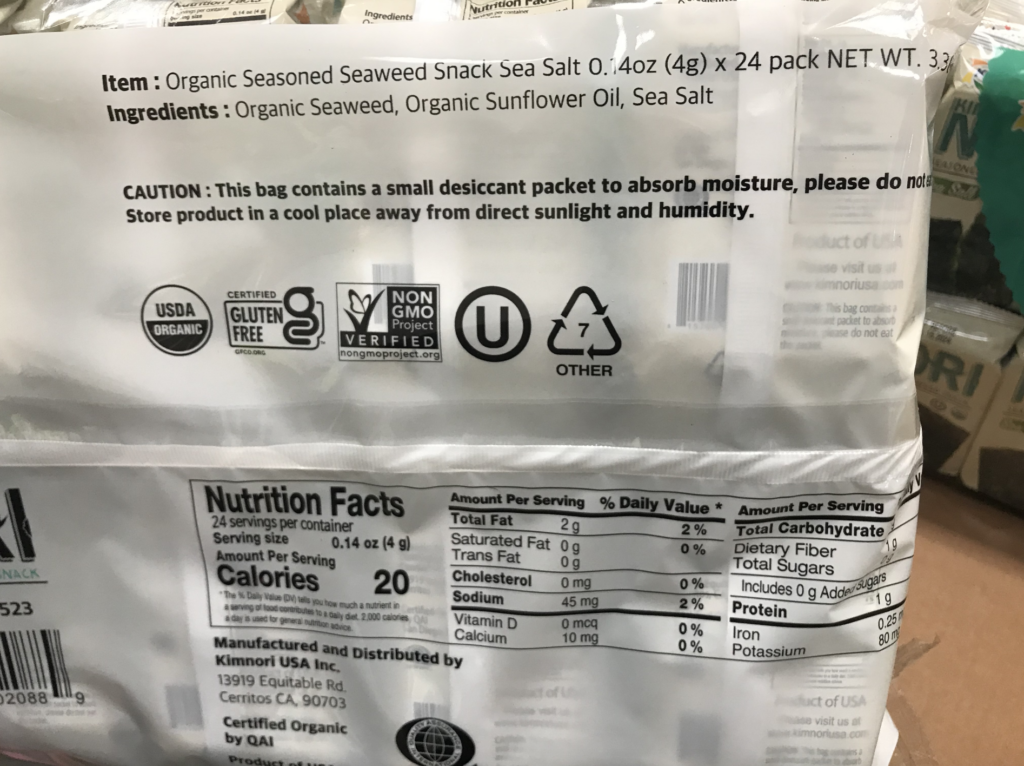 Kimnori Organic Seaweed Snacks are made with just three ingredients–organic seaweed, organic sunflower oil, and sea salt. That's it!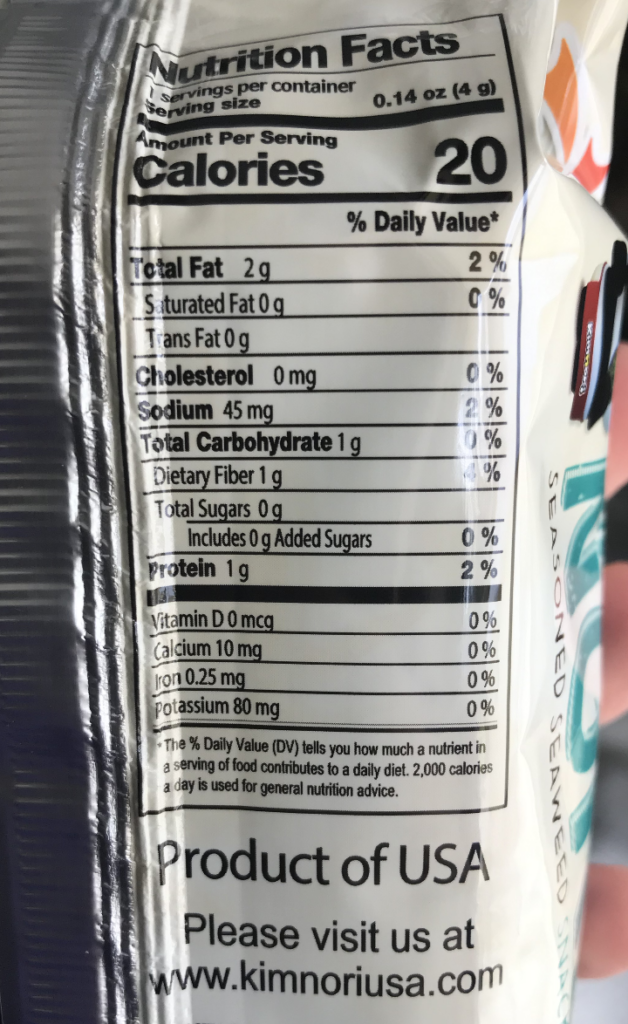 In one serving of seaweed (one individually wrapped package), you will be consuming just 20 calories from 2 grams of fat, 45 mg of sodium, 1 gram of fiber, 1 gram of carbs, and 1 gram of protein. Talk about a low-impact snack!
Granted, don't expect these seaweed snacks to fill you up. Rather, nori seaweed is rich in vitamins and minerals to help you get critical trace nutrients into your diet, including Vitamins A, B, and C. Nori also contains calcium, potassium, iron, magnesium, and zinc.
These seaweed snacks are certified organic, gluten free, non-GMO, and pareve, meaning that they're suitable for just about any diet, including kosher and keto.
Although the specific iodine content is not available for this Kimnori seaweed, "a 10-gram serving of dried nori seaweed contains up to 232 mcg of iodine" according to WebMD. However, to get even more iodine from your seaweed, try seeking out foods containing kombu or wakame seaweeds.
My Thoughts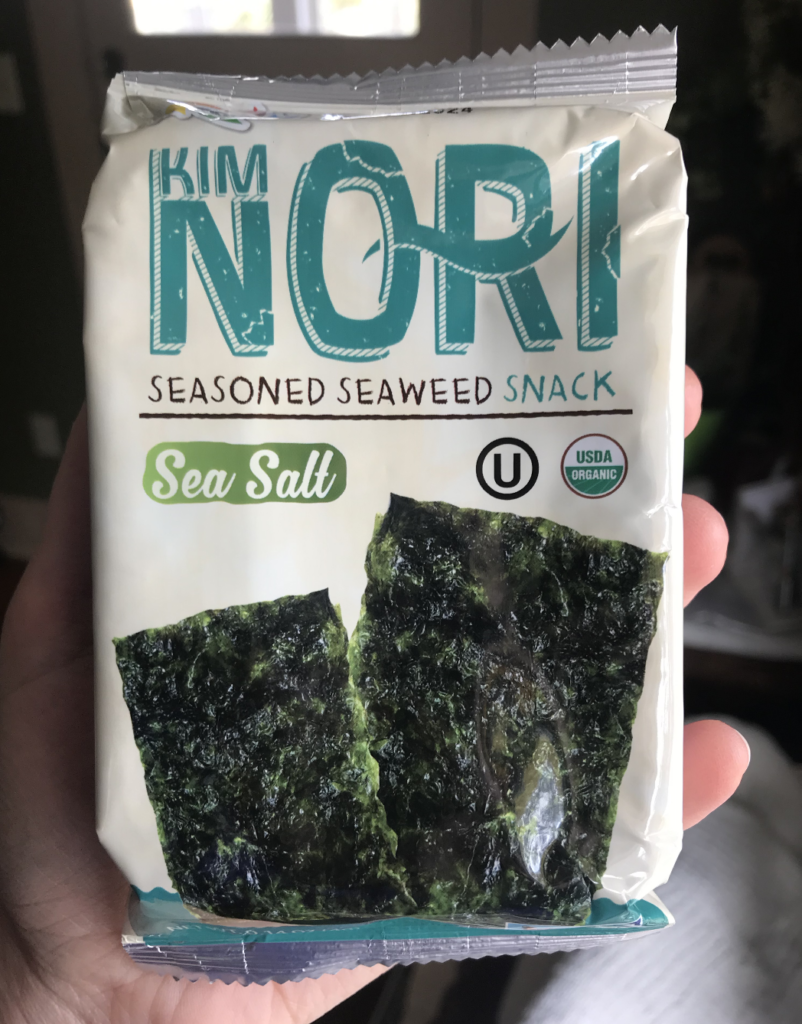 This was my first time trying Kimnori seaweed, and I'm happy to say I liked it!
(This is what each individual package of seaweed snacks looks like when you break open the 24 pack.)
And here's what each piece of seaweed looks like… (Kind of beautiful, right?)
I've tried several different types of seaweed snacks over the years, and these Kimnori snacks definitely hold up in my opinion.
They're not quite as salty as some of the other brands I've tried, but I see that as a pro overall because it means they're lower in sodium content.
The texture is perfectly crispy and chewy, just like you would expect from dried seaweed, and the flavor is honestly kind of amazing. It's not at all fishy or "oceany," and the fact that they're roasted gives them a rich, almost smoky flavor that's a little addictive.
After I opened my first package, I had eaten the whole thing before I was even done writing this review. So good!
My only big complaint about these seaweed snacks (and seaweed snacks in general) is the excessive amount of plastic packaging. Considering seaweed is so lightweight, I'm willing to bet that you're buying more plastic packaging by weight than actual seaweed when you buy this 24-pack.
That said, if you're looking for a quick and easy organic seaweed snack at a super affordable price, look no further than Kimnori Seaweed Snacks at Costco.