Are you ready for camping season!? With summer here and fall on the horizon, now is the time to get prepared with new and improved camping gear. Thankfully Aldi always comes through with an amazing selection of tents, air mattresses, and other camping essentials to get your family ready to explore the great outdoors!
Aldi sells tents and campaign gear seasonally. That means you'll typically see camping must-haves starting in May and they will continue to be offered as Aldi Finds throughout the summer season. We have seen so many items that are ideal for camping in the past few months, from the Adventuridge 6-Person Tent to Adventuridge Cold Weather Hooded Sleeping Bags and Adventuridge 4-in-1 Airbeds. 
Other items found at Aldi that can be used for camping (or tailgating and other outdoor activities) are traveling hammocks, lightweight portable chairs, rechargeable bug zappers, single-use portable campfires, lighted tent fans with remote controls and more. All of these items a sold under the Aldi Adventuridge brand.
Aldi Tent And Camping Special Buys
Tents and camping gear can be found in the center aisles of Aldi, also known as the Aisle of Shame, as Aldi Finds. Bigger items can sometimes be found at the entrance of the store when they are too big to fit on store shelves.
You can find the weekly Aldi ad right here on AisleofShame.com, along with an Aldi ad preview of the week ahead. If you are looking to buy Aldi tents and camping gear, these are the best places to look at the ads to see what is currently in stock before heading to the store. The Aldi official website is Aldi.us, where additional information on product availability and warranties can be found.
At the moment, Aldi does not have an option to order Aldi Finds online, including camping gear. Instacart is the best option for delivery as select Aldi Finds are featured for purchase through the app. There is no guarantee on availability, and like all Aldi Finds, once they are gone, they're gone and will not be restocked.
Aldi Tent Features
Adventuridge 6-Person Tent – $59.99
The most popular Aldi tent is the Adventuridge 6-person tent for $59.99 (at time of posting). This is the largest tent camping tent that Aldi offers with floor dimensions of 10′ x 8.5′. It is sold as a 6-person tent but members of the AOS community have commented that it better accommodates four people or a small family.
We love the look of this tent and this would be our first choice for a family camping tent.
Additional features include:
72-inch (6ft) center height
9-minute pitch time quoted
Made from water-resistant material
Removable rain fly
Mesh loft with lantern loop to store your gear
Four corner guy lines for added stability in wind and rain
Hooped fly pole over door gives improved ventilation and weather protection
Pin and ring-type setup for easy pitching and takedown
Large "D" style door
Includes E-Port for electrical cord access
Large sewn-in mud mat to help keep the mess outside your tent
12 steel ground stakes included
14.37-lb. carry weight
Color options: Blue with yellow trim or Green with red trim
Adventuridge 4-Person Tent – $32.99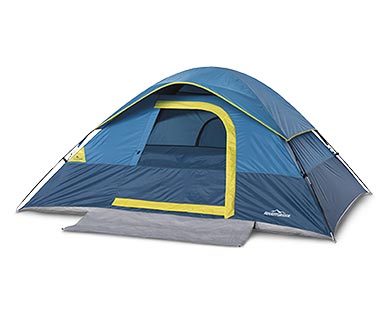 The budget version of the Aldi 6-person tent is the Adventuridge 4-Person Tent for $32.99 (at time of posting). This tent is sold as a 4-person tent, but once again it would be more suited for a couple for optimal space. This tent is dome style and has floor dimensions of 9'x 7′.
This tent is smaller in a lot of good ways. If you're into backpacking, this tent can easily be carried as it weighs less than 10lbs. This is not a ten we would recommend for a family, but rather solo or couple campers.
Here are the features for the Adventuridge 4-Person Tent:
48″ center height
7-minute pitch time quoted
Made from water-resistant material
Removable rain fly
Mesh loft with lantern loop to store your gear
Four corner guy lines for added stability in wind and rain
Pin and ring-type setup for easy pitching and takedown
Large "D" style door
Includes E-Port for electrical cord access
Large sewn-in mud mat to help keep the mess outside your tent
8.64lb carry weight
The pros and cons of each Aldi tent are dependent on use. If you need the largest amount of space, the 6-person tent is the way to go. If you want a tent that's lightweight and easy to travel with, the 4-personal tent is ideal. Each tent has a 2-year warranty and is easy to assemble.
How To Set Up & Put Down An Aldi Tent
Here are the instructions to set up and take down the Adventuridge 4-Person Tent.
Best Practices Take Care of Your Aldi Tent
It is best to assemble the tent once before going camping to become familiar with the assembly of the tent.
To prolong the life of the tent floor, select a level, clean area for the campsite.
To prevent damage to the zipper, unzip the doors to allow air into the tent.
To improve the weather resistance of your tent, it is advisable to use a seam sealer to coat all exposed seams. You should apply only to the inside seams of the tent and the underside of the tent fly. If applied to the outside seams, discoloration of the tent may occur.
Aldi Tent Reviews: Are They Good?
We have not personally tested any of the Aldi tents, however, we have purchased many other Adventuridge products and they all have been very good quality for the price. We believe these tests are for the basic camper, or for those who go camping occasionally as a family— they are perfect starter tents! When you buy one of these tents make sure to get some of the comfortable add-ons sold at Aldi, too! We recommend at least an air mattress and a lighted tent fan.
The Aldi Reviewer posted their review of the 4-person Adventuridge dome tent with positive feedback:
"Although there's a bit of a learning curve to it, the Adventuridge 4-Person 9′ x 7′ Dome Tent is a decent option for people looking for 1- or 2-person camping accommodations. It's a little shorter than many other 9′ x 7′ tents — which cuts down some on usable space — but it's also maybe the cheapest 9′ x 7′ we've seen anywhere, and it's backed by a 10-year warranty. That, combined with a nice feature set, makes this tent worth at least a look for the budget tent camper." 
Here's another review from the Aisle of Shame Community:
"I bought the 4-person tent last year on a whim as we were leaving for a camping trip. It rained hard and the tent we had leaked like a sieve. When it stopped raining we put up the new Aldi tent I had stuck in the trunk and it was nice for the price. Plus, it didn't leak when the rain started back up."
FAQs
Are Aldi Tents waterproof?
Aldi tents are made from water-resistant material and are not completely waterproof.
In minor rainy weather, they should not leak, however in a serious thunderstorm, as with any tent, there is a great possibility of leakage. We suggest using a tent sealer with any camping tent purchase, including those from Aldi.
Who makes Aldi tents?
Aldi tents are sold under the Aldi private label Adventuridge and manufactured by Wenzel.
How to get Adventuridge replacement parts?
There is a 2-year warranty for Aldi tents sold after 2021. You can contact Wenzel at (800) 325-4121 from 10am to 6pm ET to ask about tent replacement parts, subject to availability.
Is Aldi tent a quality material with a cheap price?
Aldi tents have the same quality as major competitors. Since they are made by a well-known camping company, the materials will be on par with other camping tents in the Wenzel product line.
What is the warranty policy for Aldi tent and camping gears?
Aldi tents released in 2021 and beyond have a 2-year warranty. Here is the information to contact support if you experience any issues:
Service Phone: (800) 325-4121
Service Hours: 10am to 6pm ET
Service Address: 1 International Court Broomfield CO 80021
Service Email: contactus(at)wenzelco.com