The Aldi May Food Finds include some interesting frozen pizzas and almond wine!
The theme for the Aldi May Food Finds could be "interesting pizza crusts." There's a pretzel crust, and a broccoli cheddar crust in the mix!
Read on for a look at some of the most interesting Aldi Finds coming to the grocery aisles this month. And remember, stores typically get just one shipment of these items. When it's gone, it's gone!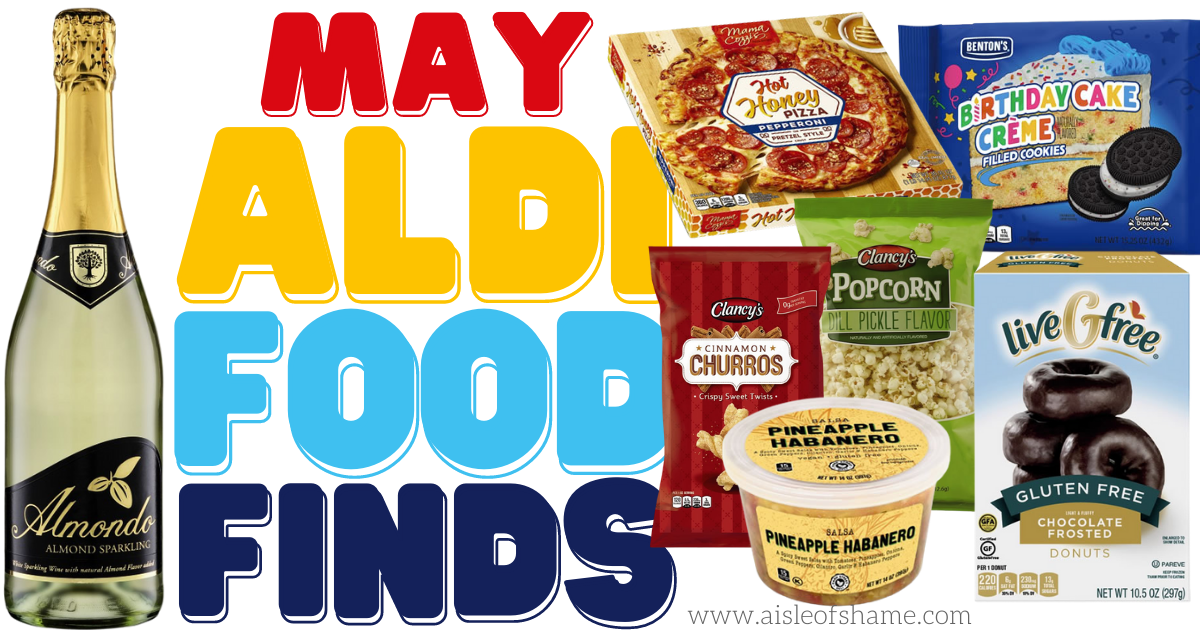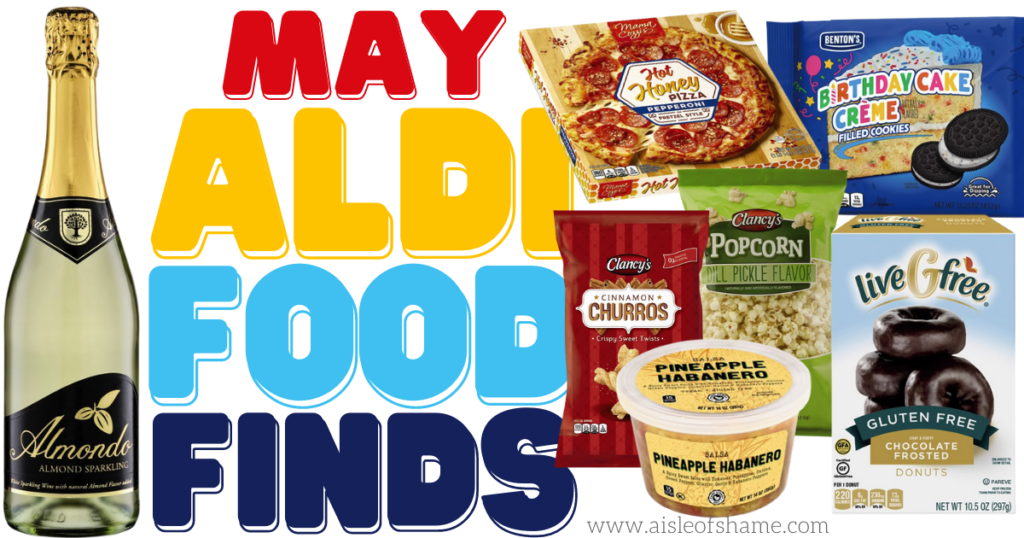 Mama Cozzi's Pizza Kitchen Hot Honey Pepperoni or Chicken Pizza with Pretzel Crust
The "Hot Honey" trend comes to frozen pizza, and we are here for it — especially on a pretzel crust! There is a BBQ Chicken pizza in addition to the pepperoni one shown here. These pizzas will be in stores May 19, priced at $4.99.
Specially Selected Creme Brulee
You'll find these Creme Brulees in the freezer section at Aldi beginning May 5. We're all about Creme Brulee, and this two-pack will be the perfect finale to a special dinner. Maybe you could serve them for a Mother's Day treat!
Clancy's Dill Pickle Popcorn
An Aldi Find favorite is back! This Dill Pickle Popcorn is popular with many members of our Aldi Aisle of Shame Facebook Group. It will be back in stores for the ad week of May 12, priced at $1.69.
Live gFree Chocolate Frosted Gluten Free Donuts
There are going to be several limited-time gluten free items among the May Aldi Food Finds, and we expect these donuts to be very popular! They are available in chocolate and also a glazed version for $4.49. These will be in stores for the ad week of May 5.
Emporium Selection Everything Goat Cheese
You're going to need this new Everything Goat Cheese log for all your summer charcuterie boards! Two additional flavors – Amarena Cherry and Mango Chili — will also be available. These items are seasonal, which means they should stick around for a few months. Available May 28 and priced at $3.69 each.
State of Brewing Dry-Hopped Sour Ale
Did you know Aldi does craft beer? This State of Brewing Dry-Hopped Sour Ale will be available in a 4-pack of cans in Aldi stores that sell alcohol. You will find this beer for the ad week beginning May 12, priced at $6.99.
Park Street Deli Pineapple Habanero Salsa
This pineapple habanero salsa is one of two Park Street Deli Spicy Fruit salsa coming to Aldi in May. You'll also find a Raspberry Chipotle version stocked for the ad week of May 19, priced at $2.49.
Fremont Fish Company Tandoori Marinated Shrimp
Aldi is bringing us some marinated jumbo shrimp to spice up our May dinners. There are three varieties available: Tandoori, Adobo, and Garlic & Herb. These will be in stores May 19, priced at $5.99.
Benton's Birthday Cake Creme Cookies
Aldi is really hitting it out of the park lately with the fun flavors of sandwich creme cookies, and these birthday cake cremes are the latest edition! Find these in stores May 5, priced at $1.95.
Mama Cozzi's Broccoli Cheddar Crust Pizza
We have had a cauliflower crust, we have had a broccoli crust, but we've never had a pizza crust made with broccoli and cheddar! We're thinking this thin crust frozen pizza will be a must-buy for our household. It is due in stores May 5, priced at $4.99.
Almondo Almond Sparkling Wine
This Almond Sparkling Wine seems to be a dupe for the popular version available at Trader Joe's. It's a sweet, bubbly wine flavored with almond. Seems like it would be amazing with the cake at summer weddings! Almondo Almond Sparkling Wine is due in stores May 26, priced at $5.99 – $1 less than the TJ's version.
Live gFree Gluten Free Egg Rolls
May is Celiac Disease Awareness Month, and in addition to the gluten-free donuts we already mentioned, Aldi is bringing in these gluten-free egg rolls! They are available in chicken or veggie for $4.99. These are due in stores for the ad week of May 5.
Clancy's Cinnamon Churros
If you are a fan of the Taco Bell cinnamon twists, you will love this Aldi dupe! These Clancy's Cinnamon Churros will be an Aldi Find for the ad week of May 19 for just 99 cents.
Which Aldi May Food Finds will you be adding to your grocery list?