Calling all green thumbs! If you've ever dreamed of having your own greenhouse, there's an easy and inexpensive solution for keeping your plants happy!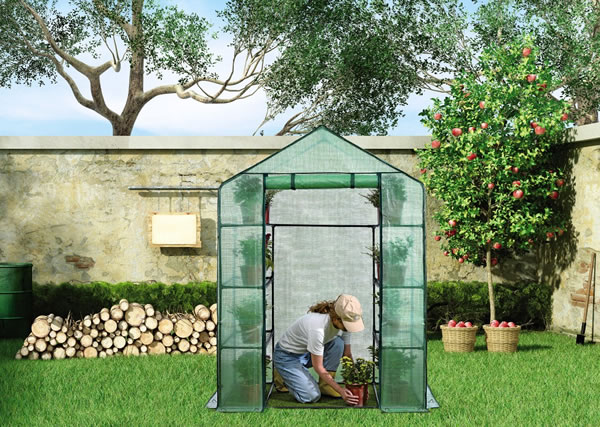 When springtime rolls around, Aldi often offers a variety of outdoor greenhouses. The great thing about an Aldi greenhouse is that has all the benefits of a fancy backyard greenhouse but it takes minimal time to set up (no tools required!) and doesn't require a lot of space.
Does Aldi Sell a Greenhouse?
Yes! Aldi sells greenhouses under their Gardenline brand. But they are not available on a regular basis and are ALDI Finds (Special Buys). That means when you see a greenhouse in stock— buy it, because they will not be restocked until the next season (or at all if they discontinue the product).
Aldi usually stocks greenhouses in the springtime, over the months of March, April, and May when they release a ton of backyard, patio, and gardening items. We have seen a few greenhouses pop up at the end of the summer, too, so you will want to watch the Aldi weekly ad if you're looking to buy an Aldi greenhouse.
We've seen a few different versions of the Aldi greenhouse over the years including the Gardenline 4-Tier Greenhouse, Gardenline Walk-in Greenhouse, Gardenline Drop-Over Greenhouse, and Gardenline Mini Drop-Over Greenhouse.
Aldi's Gardenline Greenhouse Products
1) Gardenline 4-Tier Greenhouse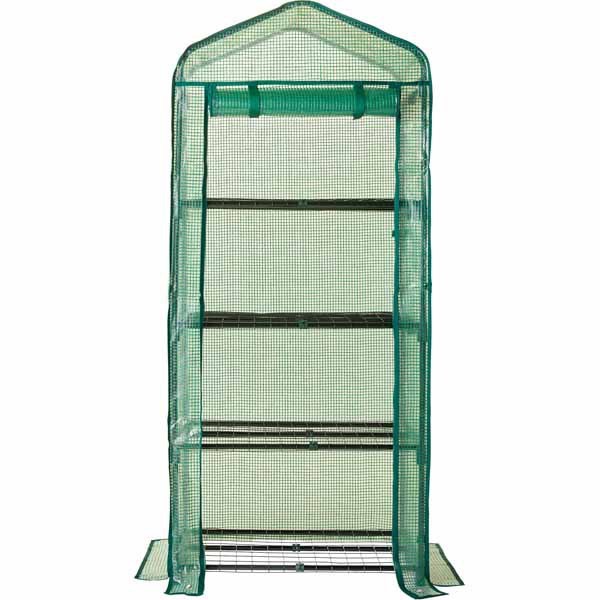 The Gardenline 4-Tier Greenhouse was available last year in May for $24.99. This greenhouse is vertical and has 4 shelves that can support small potted plants or seedlings, up to 22lbs per shelf.
We like this Aldi greenhouse because it's small in size and price, allowing first-timers who want to start gardening with a greenhouse to get their toes wet. It's also small enough at 63″ x 27.2″ x 19.3″ that it may be able to fit on a condo or apartment balcony that gets sun.
2) Gardenline Walk-in Greenhouse
The Gardenline Walk-In Greenhouse was available last year in April for $39.99. With 6 shelves included, there's plenty of indoor space for keeping all your plants safe.
According to Aldi, "This greenhouse protects your plants from the wrath of Mother Nature and takes no tools at all to assemble!" The dimensions are 4.7′ x 2.4′ x 6.4′.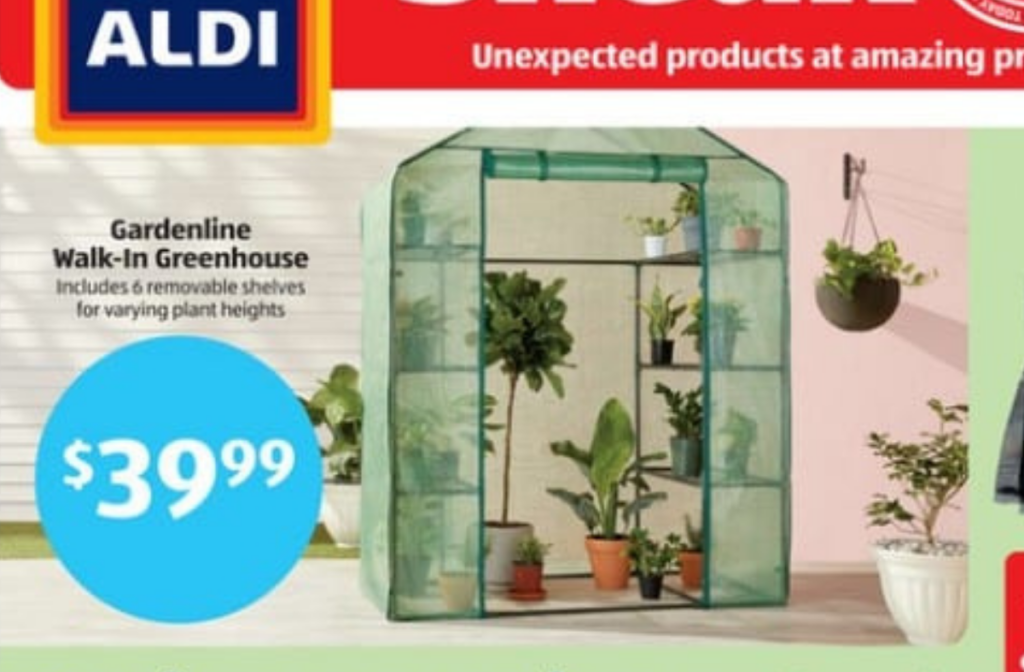 3) Gardenline Drop-Over Greenhouse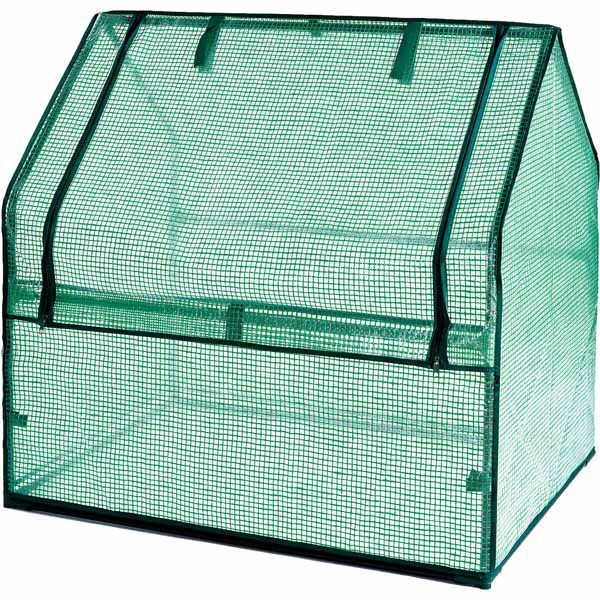 The Gardenline Drop-Over Greenhouse was available from Aldi last May for $24.99.
The Drop-Over Greenhouse measures 4.5′ x 4.5′ and has enough space to cover a raised garden bed or quite a few potted plants. This is not a full greenhouse but acts very similar in that it protects plants from weather and pests.
A drop-over greenhouse is more suited for seasonal use when plants are more susceptible to the elements and need a more controlled environment that can easily be removed.
Features of the Gardenline Drop-Over Greenhouse include:
No-tool assembly
Roll-up flap with zips and ties for access and ventilation
4) Gardenline Mini Drop-Over Greenhouse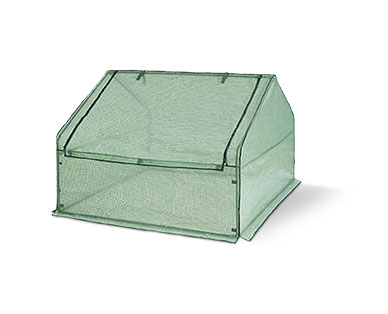 The Gardenline Mini Drop-Over Greenhouse was available from Aldi last year in August for $16.99.
The price point on this is much less because, once again, this isn't an entire greenhouse, it's simply a mini version of the Gardenline Drop-Over Greenhouse, which means it's meant to "drop over" potted plants to protect them from pests and weather. The dimensions are 34.64″ x 22.83″ x 32.28″.
Features of the Aldi Mini Drop-Over Greenhouse include:
A powder-coated steel frame
A roll-up zip frame for easy plant access
Aldi Gardenline Greenhouse Price And Deals
At the time of writing, Aldi Gardenline Greenhouses sold for the following prices. These are just general guidelines for future greenhouse offers at Aldi and prices usually increase slightly from season to season.
Gardenline 4-Tier Greenhouse – $24.99
Gardenline Walk-In Greenhouse – $39.99
Gardenline Drop-Over Greenhouse – $24.99
Gardenline Mini Drop-Over Greenhouse – $16.99
Where To Buy A Gardenline Greenhouse?
When greenhouses are offered at Aldi they are commonly found in the Aisle of Shame, AKA the center aisle of Aldi with Aldi Finds. For the larger greenhouse, the boxes can sometimes be found at the front of the store near the resisters.
Availability of Gardenline Special buys (do they still sell it?)
Aldi has released greenhouses seasonally for the past several years and there has been no indication that they are discontinuing them. We usually see Aldi greenhouse in the springtime through summer, as early as March and as late as August. We expect to see greenhouses offered again this year.
Aldi Greenhouse Reviews
We personally have not purchased an Aldi greenhouse, but we have heard amazing things from members of the Aisle of Shame Facebook community.
Here are some of the reviews:
"I found the greenhouse Aldi will have this week. It's much bigger than I thought but easy to put together." 
"I have the one that is the lower one from a few years ago. I have used it for 2 seasons and soon to be the 3rd. I love it. I live in Wisconsin and I like to early but we still have a chance of frost. My plants get the headstart and they need."
"Super excited about this Gardenline Mini greenhouse I got a week or so ago. Easy to set up but seems like great quality." 
"Money well spent (not too hard to build). Aldi walk-in greenhouse for the win. I built it inside cause it's raining here in Florida."
How Long Does the Aldi Greenhouse Last and is it Worth it?
For the price, it seems the Aldi greenhouses are definitely worth picking up if you enjoy gardening or want to give your plants the best chance at survival through inclement weather.
The length of time the greenhouse will last depends on how you take care of it (just like anything else). From the reviews, we've seen these greenhouses last through 3 or more seasons.
FAQs
Is Gardenline an Aldi brand?
Gardenline is an Aldi private label brand.
This means a major brand most like manufactures the product for Aldi, and Aldi puts their own name on it. This is a win-win for consumers. We get a great quality product from a well-known brand, and Aldi's buying power keeps costs low.
What is the Aldi mini greenhouse?
The Aldi Mini Greenhouse is a smaller version of the Drop-Over Greenhouse. This is the lowest price greenhouse that Aldi offers, and is a great starter greenhouse for beginners.
What sort of climate can we use Aldi greenhouse?
The Aldi greenhouse is designed to use in any type of weather as that's the purpose of a greenhouse (to keep temperatures regulated).
The only caveat is high winds, which can bring down any backyard portable greenhouse.
Do you do anything for ventilation in Aldi Greenhouse?
No – Aldi greenhouses are ready to go once set up properly. You don't need extra ventilation.
What is Aldi Greenhouse's warranty period?
There is a 3-year warranty on all of the Aldi greenhouses listed above.
Contact Name: Hegele Logistic
Phone: 1-855-754-8297
Hours: Mon – Fri 9:00 AM – 8:00 PM EST
Service Address: 1001 Mittel-Drive Wood Dale IL 60191
Service Email: Aldi-US(at)protel-service.com
Is the Aldi Greenhouse Going to Survive a Storm?
Aldi greenhouses can survive rain and small storms.
However, with heavy winds or extreme weather, the greenhouse could blow over, so it's ideal to secure it by weighing it down as much as possible, or taking it down if necessary. 
How easy is it to assemble the Aldi Gardenline Greenhouse?
Each Aldi greenhouse has a different assembly, so the setup will change depending on which one you purchase.
The instructions will come with the box, but one of the main benefits of all the Aldi greenhouses is that no tools are required. The frames that come with the larger greenhouse snap into place along with the shelves.