Adjustable dumbbells save space and money, and you can find them at Aldi this week!
Once again, friends, Aldi is onto us.
Aldi knows we fell off the diet train this past weekend eating all those delicious Super Bowl snacks. But our favorite store is coming through with new workout clothing and fitness equipment.
Here are the latest Aldi must-haves.
Crane Adjustable Dumbbells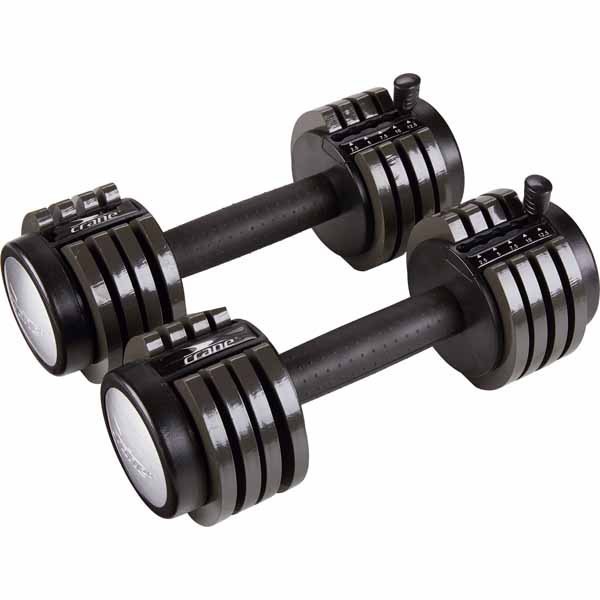 These Crane Adjustable Dumbbells are available in two variations — a pair of 12.5-pound dumbbells, or a single 25-pound dumbbell. Both are priced at $49.99.
Crane Sit-Up Bench
This sit-up bench folds away for easy storage. It is priced at $39.99.
Crane Ladies Athleisure Shirts
In addition to the workout equipment, Aldi is bringing us some Crane workout wear. This Crane Ladies' Athleisure Shirt has a crossover hem and is available in sizes S-XL. There's also an ivory tunic available in sizes M-XL. Both are priced at $11.99.
Serra Ladies' High-Waisted Leggings
If there's one item of clothing that inspires tons of conversation in our Aldi Aisle of Shame Facebook Group, it's Aldi leggings. These high-waisted leggings have side pockets and a brushed fleece interior. They are available in black, heathered gray, and heathered red.
Visage Bathroom Scale
This scale has a 400-pound capacity and a large-print LCD screen. It is available in a solid black or a transparent finish, priced at $12.99.
Spin Master 2-Lb. Kinetic Sand Bag
Aldi is bringing in a selection of toys this week, including these 2-pound bags of Kinetic Sand in four bright colors. This sand flows through your hand but stays wet enough to mold into any shape. It is priced at $8.99.
Hasbro Classic Children's Games
A selection of classic children's games are available in the Aisle of Shame at Aldi this week for $8.99. The selection includes Candy Land, Cootie, Connect 4, Guess Who, and Sorry.
Crofton Black & Gold Cast Iron Dutch Oven
Aldi is helping us redecorate our kitchens this week, with a collection of black and gold kitchen items. This 5.5-quart cast iron Dutch Oven is priced at $24.99.
Crofton Black & Gold Nylon Kitchen Utensils
Continuing the black and gold trend, these nylon kitchen utensils are priced at $2.49 each. A pie server, skimmer, meat fork, solid turner, and solid spoon are available.
Crofton Black & Gold Nonstick Pans
These nonstick pans are priced at just $12.99! A 10-inch fry pan and 2-quart saucepan are available.
Never Any! Pizza Lunch Kits
These Never Any! Pizza Lunch Kits will add some variety to lunch boxes! They are available in cheese and pepperoni varieties, for $1.99 each.
What Aldi Finds are on your list this week?