Back in 2022, the internet went crazy with rave reviews of the Lovesac couch bundles being sold at Costco. But this year, it's been difficult to figure out whether Costco is still offering this deal.
Unfortunately, Costco is no longer selling any Lovesac products directly through their website (as of April 2023). Instead, they sell Lovesac couches through special events commonly known as the Costco Roadshow. You can find the Lovesac Costco special event schedule here to find out if there's an event scheduled near you any time soon.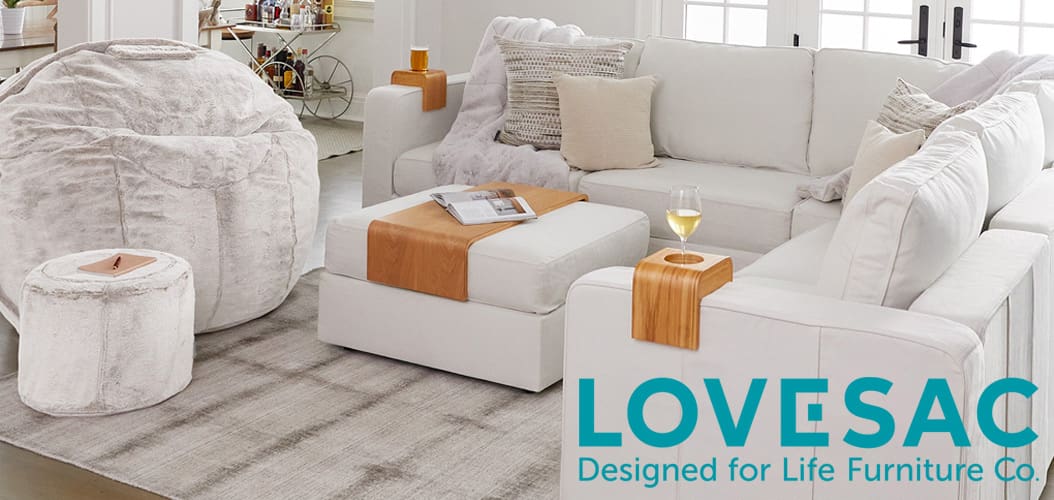 Will Costco.com Sell Lovesac Couches Again?
So far, it's pretty difficult to say whether Costco's going to start offering Lovesacs through their website again. But after doing some research, we suspect it's probably not going to happen for a while (if ever).
Over the past three years, Costco has offered a deal on Lovesac couch bundles through their website every spring. But in 2023, we have yet to see any Lovesac products listed directly on Costco.com.
For this reason, we suspect that Costco has transitioned to only offering Lovesac products through the Costco Roadshow. This likely simplifies the sales process for Costco, leaving most of the marketing and sales responsibilities to Lovesac.
Which Lovesac Couches Are Sold At Costco?
Unfortunately, it's unclear which Lovesac products are available through Costco's special events.
But according to this recent article from Apartment Therapy, the latest Lovesac bundle available through the Costco Roadshow includes a sectional (also known as a Sactional), an ottoman (also called a Squattoman), and a large bean bag chair. The bundle also appears to feature a few wooden cupholders, throw pillows, blankets, and a wooden lap table.
To find out exactly which Lovesac models are being sold through the Costco Roadshow, you will need to contact Lovesac directly or visit a Lovesac special event at a Costco near you.
How To Buy A Lovesac Couch At Costco
Unfortunately, buying a Lovesac couch from Costco isn't as simple as going onto Costco.com or showing up at your local Costco Warehouse.
Instead, you'll need to visit the Lovesac special events page on Costco.com here.
Once you've located a sales event happening in your area, you can arrive at the corresponding Costco Warehouse location during the designated dates to view the Lovesac bundle in person and speak with a Lovesac sales representative. 
The Lovesac salesperson will walk you through the process of deciding exactly which Lovesac products to buy, and you will be able to complete your purchase on the spot. 
Once you place your Lovesac order, you will be contacted by Lovesac directly within a couple of days to schedule your delivery. Delivery typically happens within about two weeks of making your purchase. 
Lovesac Pricing
Unfortunately, neither Costco nor Lovesac advertise their prices online for the Costco Roadshow.
But according to some comments on this recent Instagram reel, the current Lovesac bundle being sold through the Costco Roadshow is priced at about $7,000. However, prices may vary depending on the fabrics, fill, and seat arrangements and sizes you choose.
Customer Reviews: Is It Worth It?
Overall, the customer reviews for Lovesac sofas purchased at Costco are quite mixed. While many customers have been pleased with their experience, there are also quite a few who have felt disappointed. 
From what we've gathered, the customers who ended up returning their Lovesac purchases may not have fully understood exactly what they were purchasing. Customers who visited Costco in person to test out their potential purchase tended to be much happier with their sofa once they set it up at home. This is good news, since buying a Lovesac from Costco now requires visiting a store in person to test out the couch before purchasing.
This detailed review from a Costco shopper who bought a Lovesac bundle back in 2021 is super helpful. The reviewer is extremely happy with their Lovesac and recommends becoming very familiar with the product before purchasing. 
Here are some other positive reviews shared on Instagram…
Unfortunately, not everyone loves their Lovesac.
This Costco shopper bought a Lovesac couch only to decide they wanted a refund…
These shoppers weren't very happy either…
The comments under this Instagram reel are also full of Costco shoppers sharing about how much they dislike or even "hate" their Lovesac bundle…
So, it's really a toss up. There are enough negative reviews that we recommend testing out the Lovesac as extensively as you can before purchasing. Roadshow events typically last for about a week, so you'll have plenty of chances to visit Costco a few times before deciding whether or not to buy.
If you don't absolutely love the feeling of the couch when you sit on it at the store, then it's probably not worth spending $7k to bring it home.
FAQs
What is the average lifespan of a sectional sofa?
7-15 years. This depends a lot on the quality of your couch and how much use it gets, but the average sofa lasts between seven and 15 years before needing to be replaced.
Is it better to have a sectional or two sofas?
This depends on how you want to set up your living room. Sectionals are ideal for corner spaces or rooms where the sofa is the central feature. Two individual couches are best in rooms where you want the seating to be on two different sides of the room with other furniture in between.
Are Lovesacs guaranteed for life?
No. Lovesac's lifetime guarantee only applies to manufacturer defects. It does not cover wear and tear, owner damage, abuse, spills, etc. However, sofa pieces (including feet, frames, springs, clamps, etc.) do come with a lifetime warranty. Lovesac's standard product warranty lasts for three years from your purchase date. You can read more about Lovesac's policies here.
Can you return a Lovesac to Costco?
Yes. If you aren't satisfied with your Lovesac purchase, you can return it to Costco at any time. Costco Logistics will even arrange to have your couch picked up so you don't have to deal with it hauling it back to the store.