This viral feta pasta recipe is all over TikTok!
As TikTok's popularity has exploded, it has become a place to set trends in music, dance and fashion. But this social media platform is more than just teens dancing and comedy. There's a lot of food content on TikTok, too.
And one recipe has been all over our For You Page this week: Feta Pasta.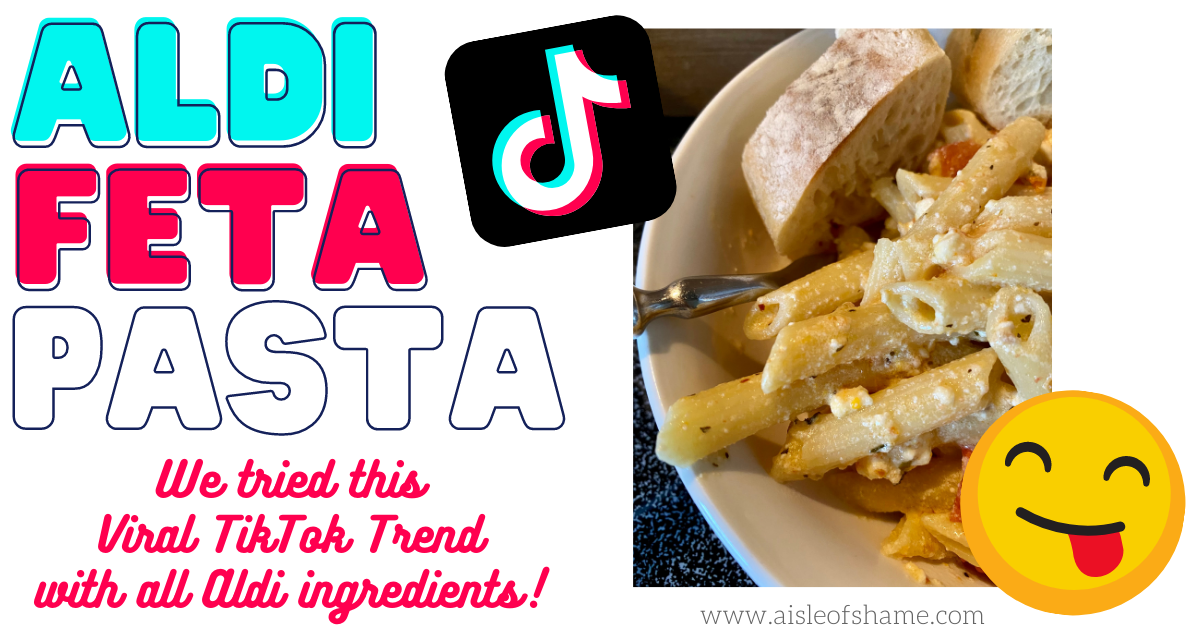 We love recipes where you can basically make the sauce in the time the pasta cooks, and this one is so hands-off that you'll have time to make a salad, too.
How To Make Feta Pasta
It all starts in a casserole dish. Toss grape tomatoes, garlic, olive oil and seasonings, and place a block of feta cheese in the middle. Bake until the tomatoes are blistered and the feta is melty (is that a word?). Stir it together to make your sauce, then stir in your choice of cooked pasta and some fresh basil.
The promise is a delicious, creamy sauce with just a few ingredients and a minimal amount of prep.
So of course, we decided to re-create this viral feta pasta food trend using only Aldi ingredients.
Feta Pasta Ingredients
[wprm-recipe-jump]
Right off the bat, we knew that we would have to make a few substitutions, as our local Aldi does not carry fresh herbs, nor blocks of Feta cheese. Dried basil and crumbled Feta would have to do. But otherwise, everything we needed was easily bought at our favorite store.
Our Aldi shopping list included Specially Selected Extra Virgin Olive Oil, Simply Nature Dried Basil Leaves, Emporium Selection Feta Cheese Crumbles, and Reggano Penne Rigate.
In the produce aisle, we made a last-minute decision to go with the Sunset Wild Wonders Gourmet Medley tomatoes, rather than the traditional red grape tomatoes. This winter, we have really enjoyed the flavor and color the gourmet medley brings to our salads and other dishes for just a few cents more.
Tips for Making This Dish
There doesn't seem to be any difference in substituting Feta cheese crumbles for the block of Feta in this dish. This is good to know, because we have heard that the blocks of cheese are temporarily hard to find in some places because everyone is trying this recipe!
We had seen people roast their cloves of garlic along with the tomatoes and Feta, but in our test, the garlic wasn't in the oven long enough to soften up and break apart when the sauce was stirred. We wound up fishing it out and chopping, then stirring back into the sauce. We're not entirely sure of the best way around this next time – mincing the garlic ahead of time could result in burned garlic in the dish. We may chop and stir in fresh garlic after basking.
We had to substitute dried basil for fresh because of what's available (and not) at Aldi. We do think the sauce would be better with a fresh, acidic element. We're considering adding the zest and juice of a lemon to the sauce next time.
Another addition we're going to try next time: Some kalamata olives to add another layer of salt and flavor.
We also plan to stir a bit of the pasta water into the sauce next time. We think it will add some additional silky texture.
All in all, we understand why this TikTok recipe is trending! It required just a handful of ingredients and very little time to make a crowd-pleasing dish.
Feta Pasta with All Aldi Ingredients
This quick and delicious dish will please your whole family. And with just a handful of ingredients and very little prep work, it's a great weeknight dinner solution.
2 pints Grape or Cherry Tomatoes
4-6 cloves Garlic, peeled
2 tbsp (approx.) Extra Virgin Olive Oil
1 tsp Salt
1.5 tsp Simply Nature Dried Basil
.5 tsp Stonemill Crushed Red Pepper Flakes
8 oz Emporium Selection Feta Crumbles
10 oz Reggano Penne Rigate (or other short-cut pasta)
Preheat oven to 375 degrees F.

In a shallow baking dish, toss grape tomatoes and garlic cloves with olive oil and salt.

Pile crumbled Feta cheese in the middle of the dish and drizzle with a little bit more olive oil.

Sprinkle dried basil and crushed red pepper over the dish.

Bake at 375 Degrees F for 30 to 35 minutes, until tomatoes are blistered.
While the sauce bakes:
Boil pasta in salted water, according to package directions.
When sauce is done baking:
Remove from oven, and with a large spoon, smash the tomatoes and garlic cloves and stir together with the cheese in the dish.

(Optional) Add a small amount (a few tablespoons to a half cup) of the pasta water for a silkier sauce.

Stir in the cooked pasta and serve.
TIPS:
Consider adding kalamata or another strongly flavored olive to the sauce before roasting, for an added layer of flavor.
Brighten up the sauce by stirring in lemon zest, fresh lemon juice or both after baking. 
[wprm-recipe-jump]