If you've ever shopped at Costco, you know the convenience of being able to return almost anything at any time. While it's an excellent policy, you may wonder what happens to all the returned items. This article will look at Costco's return policy and how the warehouse deals with different returns.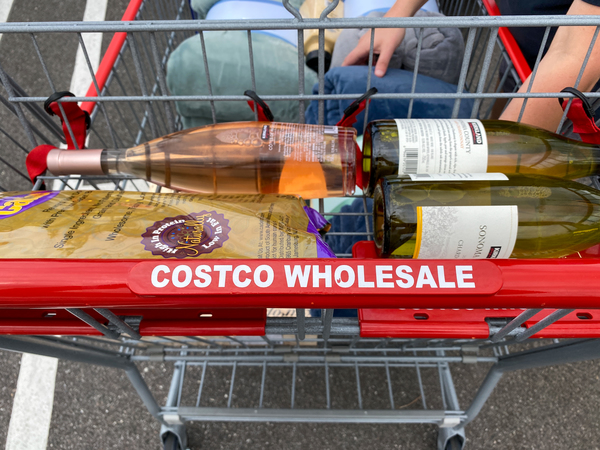 What Does Costco Do With All the Returns?
Like all retailers, Costco receives a significant number of returns in their warehouses. Here's how the retailer deals with such products.
Unused Returns
If there's any unused merchandise, especially non-perishable products, Costco can restock them onto the warehouse floor. For example, outdoor furniture, electronics, or other home goods are put in a clearance section and sold at a discounted price.
However, Costco cannot place the item back on the sales floor if opened or used. Such products go directly to B-stock liquidation actions.
Clothing
Costco doesn't restock returned clothing if the package is already open. Such clothes go to liquidation auctions even if all the labels are intact and the customer hasn't used them.
Open Box Returns
If the item is still in new condition, it'll likely be put back on the shelf and sold at full price. If it's a little worn out, Costco might mark it down and sell it at a discount as "open box," which still guarantees the item will work properly.
When an item doesn't meet those standards, it goes to the manufacturer for refurbishing or a liquidator who sells the product in bulk.
Defective/Damaged Returns
Defective items that are unsuitable for sale go back to the supplier. Costco will dispose of the product if it is entirely unusable or damaged.
Food and Perishable Returns
Food and perishable items aren't sold again due to health and safety reasons, so Costco immediately disposes them. Canned foods are, however, not disposed of unless they are opened or have been tampered with.
Items such as eggs, frozen food, fresh vegetables, milk, and eggs aren't re-shelved but disposed of promptly. However, Costco returns bread to the vendors for credit.
Furniture Returns
When Costco receives furniture returns, they first access their condition. If defective, they're considered unsuitable for sale and returned to the manufacturers or disposed of. Costco also sells such items to several companies that refurbish and sell them. The companies may also sell the furniture on an as-is basis.
Electronics/Appliance Returns
When someone returns an electronic product, it gets sent back to the manufacturer for testing. If there's nothing wrong with it, it's sent back to Costco and put on display again; otherwise, it gets scrapped.
If something is returned with missing pieces or damaged beyond repair, it can be sent back to the manufacturer for credit. However, if there's nothing wrong with it, Costco repackages and sells it at a discount. 
Can You Buy Costco Returns?
Costco gives you an opportunity to buy returned items as long as they are in good condition and safe for use. All unused and undamaged items such as electronics and home goods end up on the Costco store shelves for sale at discounted prices. The only products not sold are perishable food items.
Where Does Costco Sell Their Returns
Costco has a series of third-party companies that take their returns and resell them in stores and online. These items are Grade A/B or C/D liquidated products, restored to their original condition before being sold at auctions. Costco has a strict vetting process that makes sure the eligibility of the returned items.
What are Costco Liquidation Auctions?
A liquidation auction is essentially a chance to buy returned, overstocked, or damaged items at a reduced price. A liquidation sale can also help dispose of an aging inventory that may no longer be popular with shoppers.
B-Stock Solutions Inc. –  an independent company – carries out the auctions at Costco. These liquidations can include any products such as electronics, furniture, food, and more.
How do you bid on returns at Costco?
To bid on returns at the liquidation auction, you need to;
Once approved, go to the auction page and enter your highest bid amount. Enter your amount in the box next to "My maximum bid"

Click on the "Bid Now" button. Note the message at the top of the page, which shows whether your bid is the highest

For each successful highest bid, you'll receive an email confirmation after placing it successfully

If your bid was the highest, you're required to pay within two business days after the close of the auction through wire transfer.
All auctions on the Costco Liquidations occur in Monroe Township, New Jersey. Each auction has a unique title and description that provides the physical location of the merchandise you are bidding for.
What is Costco's Return Policy?
Costco's return policy is one of the most consumer-friendly return policies. The company's "100% satisfaction guarantee" means you can return anything you've purchased from Costco at any time for a full refund.
You only need to make sure the items are in their original packaging and carry the receipt. However, they have a 90-day return policy for electronics and major appliances. The company will also refund your membership fee if you are dissatisfied.
Costco's Covid19 return policy
Costco temporarily adjusted its return policy to protect its employees and members during the Covid19 pandemic. They excluded items that most people hoard, like toilet paper, bottled water, sanitizing wipes, and rice.
They also put a limit on the number of people in their food court at any one time. However, the return policy has since reverted to normal.
Will Costco Pick up returns?
Costco will pick up the items that you need to return. When you initiate a return, the carrier will contact you within 5–7 business days on the phone number given when placing the order.
You can then set up an appropriate time for them to pick up the items. Costco will process your refund once the order is picked up and is in transit back to their warehouse. You may have to wait a few business days to get the refund.
What is Costco's Return Policy Without Receipts?
If you don't have a receipt when you return merchandise to Costco, you can still get a refund or exchange. To receive a refund for any item returned without a receipt, you must have a valid Costco membership card. Refunds are through the same payment method used at the time of purchase.
Will Costco Accept Returns After 90 Days?
Costco will accept returns after 90 days. The exception to this rule is on certain electronics such as televisions, projectors, computers, smartwatches, cameras, and major appliances such as refrigerators. Costco's return policy for these items states that you have to return them within 90 days.
How To Return Products To Costco
You can return an item to Costco at any time for a full refund. In addition to the product, you need the original receipt (optional) and your Costco membership card or number. You can return your items either online or in-store.
Returning Products at a Costco Store
You don't have to go where you bought the items to return your products in-store. Simply return them to your nearest Costco warehouse. Check the nearest Costco outlet using their warehouse locator on their website.
Remember to carry your Costco membership card or number. After accepting your return, Costco will process your refund immediately, including any shipping and handling fees.
Returning Products at Costco Online
To return or ask for a replacement online, follow these steps;
Log in to your account
Go to "Orders and Returns"
Choose the appropriate order you'd like to return
Click on the "Return items" button next to it
Follow the prompts to complete your request
Costco will send you a confirmation email with the return label attached. Where eligible, you can make pick-up arrangements for the items. For large products, you'll receive additional instructions on how to handle returns.
Costco will process the refund and credit the card you used at purchase. You'll also be refunded all shipping and handling charges and won't be charged for the return shipping.
What Items Cannot Be Returned To Costco?
 Items that you cannot return to Costco either in-store or online include;
Cigarettes

Alcohol

Items with a short useful life expectancy, such as tires or batteries

Special kiosk order items

Apple products

Jewelry

Optical goods

Perishable goods

Digital goods and tickets
Does Costco Keep Track of Returns?
While Costco doesn't track your returns, they monitor them to ensure there is no abuse of their return policy. Customers who habitually make returns may be flagged in the Costco system and closely monitored. 
FAQs
Can you return something if your Costco membership has expired?
No, you can only return items to Costco if you are a current member. If your membership has expired, you need to renew it first to return an item. 
Can you get cash when returning items bought with a credit card?
You cannot get a cash refund for items bought with a credit card. Costco will only process the refund to your credit card account.
Can you return gifts to Costco?
You can return items bought at Costco as gifts. However, if someone else purchased the gifts, you'll need to carry the receipt or their membership number.
Is Costco accepting bottle returns?
Yes, Costco has automatic vending machines next to the parking lot where you can return bottles and cans for recycling. For every return, you can earn a small fee that you can redeem in-store at Costco.
Can you return mattresses to Costco?
You can currently return mattresses, air mattresses, and memory foam with or without a receipt to Costco. 
Can you make a return beyond the manufacturer's warranty?
Yes, Costco will let you return items even after the expiry of the manufacturer's warranty period. If you bought a major appliance, Costco extends the warranty by two years.
Can you return something to Costco after two years?
Costco members can return items even after two years. The company has an open return policy that doesn't put limits on the return period except for certain electronic items.
Can someone else make a return for you?
Only persons listed on your membership can make returns on your behalf. Otherwise, you'll have to make the returns yourself.
Does Costco lose money on returns?
Costco doesn't lose money on returns. In most cases, Costco informs the vendors about the items and gets allowances to cover the returns.
Conclusion
Costco will accept returns at all times except for electronics, which you must return within 90 days. Depending on their condition, the retailer will either restock or dispose of the items.
If an item is defective, it's returned to the vendor for repair, while used items go for sale at liquidation auctions. Perishable returns get disposed of immediately for health and safety reasons.