Gorilla Sheds is a high-quality shed brand currently selling their products exclusively through limited Costco sales events (also known as the Costco Roadshow).
Depending on where you live, you can purchase a Gorilla Shed by visiting Costco during a designated Gorilla Sheds sales event. You can view the full events schedule here. At the time this article was written (March 2023), Gorilla Sheds was selling products at Costco Warehouse locations in Arizona and southern California.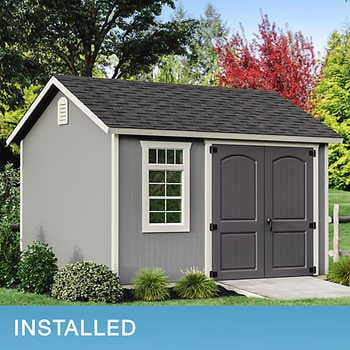 When compared to other popular shed brands like Tuff, Gorilla Sheds are quite a bit more expensive. That said, they also offer an impressive warranty on materials (plus a one-year warranty on labor), which other shed brands can't match. Plus, when you purchase a Gorilla Shed from Costco, you get access to a host of additional services, such as delivery, expert assembly and installation, joint caulking, and more.
Gorilla Sheds offers four different shed models, ranging in price from $4,299.99 to $10,999.99.
Unlike conventional utility sheds, Gorilla Sheds are often used as guest rooms, pool changing rooms, offices, etc. If you're looking for something to use as a simple tool shed, potting shed, or storage unit, it would be worth looking into some less expensive options.
Types of Gorilla Sheds at Costco 
Unfortunately, Costco does not currently sell any Gorilla Sheds directly through their website. The only way to purchase a Gorilla Shed from Costco is to visit a participating Costco Warehouse location during a Gorilla Sheds sales event.
That said, you can always browse through other shed options on Costco.com here, including offerings from brands like Suncast, Everley, and Aberdeen Shed. You can also check out the full selection of Gorilla Sheds on their website here to prepare for a Costco sales event.
The Gorilla Shed models currently being sold through Costco sales events include the following models…
How To Buy A Gorilla Shed At Costco
If you would like to purchase a Gorilla Shed from Costco, follow these steps…
First, check the Gorilla Sheds Costco sales event schedule

here

to find out if there is a sales event happening near you that corresponds with your timeline

To prepare for the sales event, check out the

selection of sheds

on the Gorilla Sheds website to get an idea of what model you might like to purchase

If you have any questions during your research process, you can contact Gorilla Sheds directly at 888-827-9056

Once the sales event begins, visit your local Costco Warehouse during their opening hours and find the Gorilla Sheds sales display

There will be a Gorilla Sheds sales representative there to walk you through the process of placing your shed order
Factors To Consider
Before investing in a Gorilla Shed, it's important to do your research and consider a few key factors. Gorilla Sheds are known for being some of the most costly sheds on the market, so it's definitely a good idea to look into other options if you're on a budget.
Here, we will go over the four most important factors to consider before purchasing a gorilla shed…
Cost
The most important factor to consider before purchasing a Gorilla Shed is the overall cost. Because they are designed to be luxury sheds, they cost quite a bit more than your average shed. However, if you can afford the price tag and you're in need of a pre-built shed of this quality, they could definitely be worth the price in your situation. 
While Gorilla Sheds range in price from about $4,300 to well over $10k, the average cost of a pre-built utility shed in the US is about $2,500.
It's also worth considering that the cost of installation and assembly are included in the price of your shed. This serves as a major selling point for those who don't want to or aren't able to assemble their own shed.
On the topic of cost, it's also important to consider the fact that while Gorilla Sheds are not wired, insulated, or finished when you purchase them. While the exterior of your Gorilla Shed will be finished once it's done being installed, the inside will still be quite bare. If you want to turn your Gorilla Shed into a guest house or office, you will need to pay for the cost of having it wired, insulated, and finished.
If you plan on doing this type of work anyway, it might be less expensive for you in the long run to just build a shed from scratch. Depending on how you source your materials, building a utility shed yourself could cost as little as $500. The cost of insulation, wiring, etc. would increase that investment by $1000 or more.
Warranty Coverage
One of the main benefits of purchasing a Gorilla Shed is that you will be covered by a competitive manufacturer's warranty.
The Gorilla Sheds warranty covers one year on labor, five years on materials, 25 years on certain shingles (lifetime on other shingles), and a 5-50 year warranty on siding and trim. If your shed fails due to any of these elements during these time frames, you can submit a warranty claim and receive free repairs or even a replacement in some cases by Gorilla Sheds.
You can read more about the Gorilla Sheds warranty here.
Cost of Preparing the Shed Site
Another factor to consider when purchasing a Gorilla Shed is that the company will not provide leveling materials or excavation services for your installation. While the cost of installation is covered by the price of your shed, you will need to provide your own leveling materials and prepare the site prior to your installation date. You can purchase optional leveling blocks directly from Gorilla Sheds by calling 888-827-9056.
According to Gorilla Sheds, the following applies to site leveling prior to installation…
The assembly site should be level to within 6 inches (installers will not excavate)

The area must have three feet of unobstructed space on all four sides and above (free of branches, bushes, power lines, etc.)

Electricity must be available within 150 feet of the build
Your shed can be placed directly on soil or grass, but many people choose to set it on blocks or a concrete pad. This is also impacted by regional building requirements, so check with your local authority to find out what the proper practice is. In some places, you might not legally be allowed to place your shed directly on the bare ground.
For information on how to level a shed foundation, check out this article from Heartland Sheds.
Building Authority, Permits, and HOA
Finally, the last key thing to consider before purchasing a Gorilla Shed is that different places are subject to different building requirements, permitting laws, and HOA (homeowners association) guidelines. 
Check with your local building authority to find out what rules you need to follow when preparing to have a shed installed on your property. This will likely require applying for a building permit.
If you are part of a homeowners association, you will also need to check with your HOA to find out how to ensure that your shed meets all HOA requirements. In many places, your shed will be expected to match the color and general aesthetic of your home and any other buildings on your property. However, some homeowners associations do not allow for the construction of freestanding structures at all.
How Long Does It Take To Assemble A Gorilla Shed?
After purchasing your Gorilla Shed, you should receive a phone call from a Gorilla Sheds representative within three to five business days to schedule your installation. If you have been waiting for longer than five business days for your installation phone call, call Gorilla Sheds directly at 888-827-9056.
According to the Gorilla Sheds website, you can expect your installation to be scheduled about four to six weeks out from your purchase date. Once your installer arrives on your install date, you can expect the installation process to take between six and 10 hours.
While you do not need to be home during your Gorilla Shed installation, a designated adult of at least 18 years of age will need to be present when the installation process begins as well as when the process finishes to complete a final walk-through.
Keep in mind that if you do not properly prepare the installation site prior to the arrival of your installer, this could significantly delay or even postpone the installation of your shed. Make sure to follow all of the Gorilla Sheds guidelines when preparing your shed site.
Reviews
For some reason, there aren't many reviews available online from customers who have actually purchased Gorilla Sheds from Costco. So, it was difficult to get a good sense of what customers are thinking.
In fact, believe it or not, we weren't able to find a single review online from a Costco customer who has purchased a Gorilla Shed.
This YouTube video from Riggin Farm claims to review a Gorilla Shed from Costco. However, the shed they purchased was actually from a company called Backyard Products.
If you buy a Gorilla Shed at Costco, consider posting a review about it online to help out other curious shoppers!
Alternative Shed Brands To Consider
If you're not sold on the idea of investing in a Gorilla Shed, consider shopping from other brands that offer better deals.
Some popular shed brands include…
Tuff

Duramax

Lifetime

Suncast (available at Costco)

E-Z Fit Sheds

Arrow (by ShelterLogic)
Some of the sheds from these brands are available for as little as $1,000 or even less.
FAQs
Which storage shed lasts the longest?
There is no one brand of storage shed that shines above the rest. How long your shed lasts will depend on the material it's made of and the weather conditions where you live. In most cases, plastic sheds (specifically resin sheds) are considered the most durable and weather resistant. Wood sheds are susceptible to rot, insect damage, and other weather-related deterioration, while metal sheds are susceptible to rust.
When do Costco sheds go on sale?
There is no hard-and-fast rule, but Costco often offers sale prices on their sheds in the spring, specifically during April and May.
Does Costco deliver fully assembled Gorilla sheds?
No. Costco hosts sales events for Gorilla Sheds, which are delivered directly by the Gorilla Sheds company and their installers. Your Gorilla Shed will need to be assembled and installed on your property after it arrives. The cost of assembly and installation are included in the price of a Gorilla Shed.
Do you need to be home for the shed installation?
Yes. While you don't need to be at home for the entire duration of the installation, you or another designated adult will need to be present at the beginning and end of the installation process.
Is caulking needed with your Gorilla Shed purchase?
Yes. While you don't have to caulk the joints of your shed, choosing not to will severely reduce the weather-proof nature of your shed and could even lead to issues like mold and premature deterioration in the long run.