Aldi Return Policy – Need to make a return to Aldi? Here's the scoop on the return policy for food and merchandise with and without a receipt at Aldi.
One of the reasons why we love shopping at Aldi so much is because of their incredible return policy.
We don't have returns very often, but when we do, Aldi always makes it right!
Where the Aldi return policy really shines is with their Twice as Nice Guarantee on Aldi brands.
Twice As Nice Guarantee
Aldi stands behind their products so much that they have a Twice as Nice Guarantee in place. If for any reason you are not 100% satisfied with the quality of any Aldi brand food item, Aldi will replace the product AND refund your money!
As far as I can tell, there is no set time limit for returns eligible for the Twice as Nice Guarantee.
The Aldi Twice As Nice Guarantee does not apply to non-food ALDI Finds items, alcohol, national brands, and non-quality related issues.
You'll need to bring your receipt as well as the remaining product if you want a refund in the original form of payment.
Aldi Returns No Receipt
If you don't have your receipt, you'll receive an Aldi gift card equal to the current price of the returned item. So if an item is now on sale and you don't have a receipt, you'll get back the amount of the item on sale, regardless of the price you paid.
For non-food ALDI Find items, alcohol*, national brands or non-quality related issues, a replacement or refund will be offered.
Once again, you'll need your receipt if you want a refund in the original form of payment, without it, you'll get the store gift card for the current price of the product.
*Alcohol returns will depend on state laws. Some states do not allow alcohol to be returned once purchased.
Aldi Electrical Returns
The Aldi return policy for computers and electronics is within 90 days of the purchase date with receipt (no exceptions). Computers and electronics must be returned with all contents in original product packaging.
How to Make a Return at Aldi
To make a return at Aldi, simply wait in any checkout line. If manager approval is needed, the cashier will get assistance. If you have your receipt, the return process takes just a minute or two.
If you have shopping to do, you can checkout with your items and do a return at the same time. We usually start with the return and then use the cash back or store gift card to put towards the new purchase.
For the Aldi Twice as Nice Guarantee, if you'd like a new item in addition to a refund we suggest picking it out and taking it to the cashier during the return. This keeps everything streamlined and ensures you get a new product and a refund.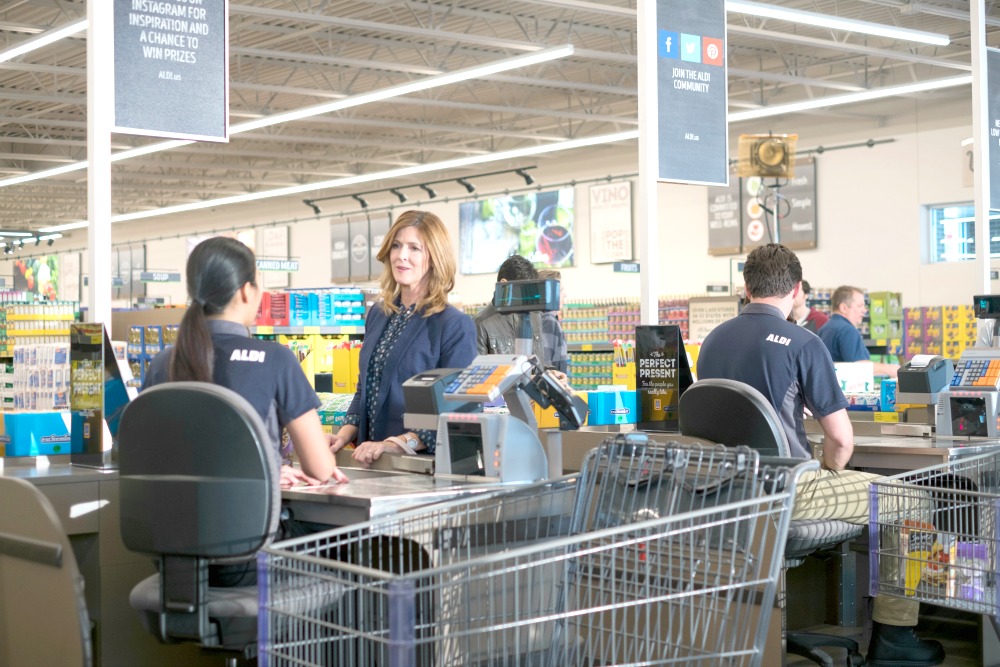 Return Items to Any Aldi Store
You don't need to take your Aldi return to the Aldi that you purchased your item at. If you're like us, you have several Aldi locations in your area– returns can be made at any store with or without a receipt.
OTHER FAQS ABOUT ALDI
Image credits: ALDI Inc.