A USPS post office box (PO box) is a lockable mailbox housed at a US Post Office. These boxes can be rented by individuals or businesses who cannot or would prefer not to receive mail at a residential or commercial address. 
PO boxes are popular among people who travel or move frequently, operate businesses without commercial addresses, or prefer a high degree of privacy. They're also commonly used by people who live in areas without residential mail delivery.
If you have a PO box, you can use it the same way you would use a residential mailbox or delivery address. All of your mail will be delivered to you via your PO box, even mail that typically can't be delivered to PO boxes. USPS offers "street addressing" for most of their PO boxes, allowing customers to receive deliveries from all major mail carriers and courier services, including UPS, FedEx, Amazon Prime, and more.*
You can also pick up your mail any time of the day or night in most cases. However, some post offices may offer limited lobby hours and package pickup options. If you receive mail or packages that are too large to fit in your box, you may find a card in your PO box indicating that you have a package to pick up from the counter, which will need to be done during the post office's opening hours. That said, USPS has also started using parcel lockers inside of their post office locations, allowing customers to pick up packages using one-time-use keys or access codes at any time of the day or night.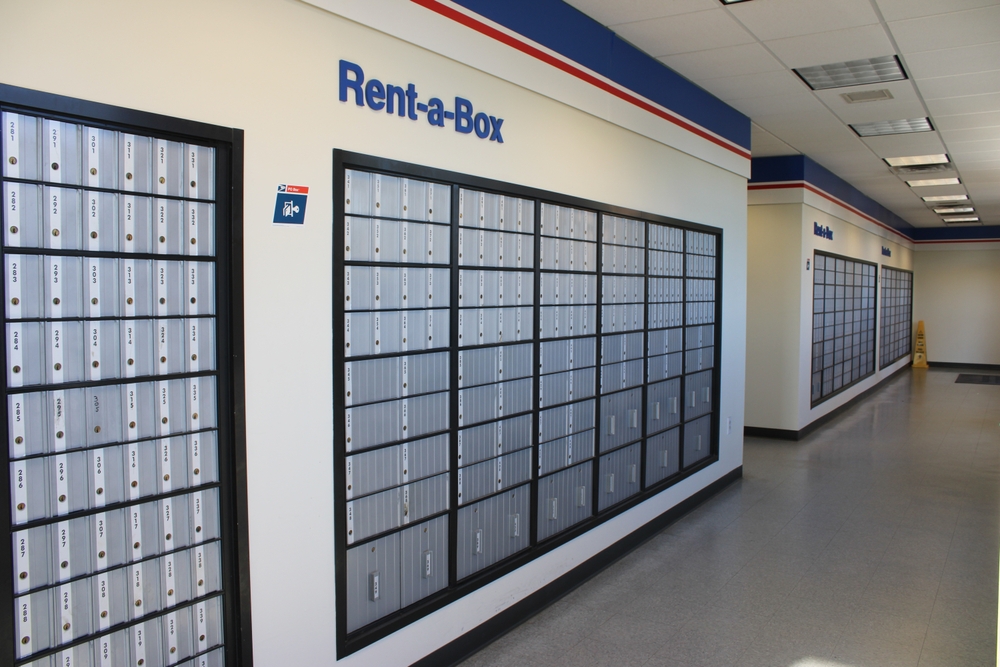 *To find out if your local post office offers street addressing for PO boxes, speak with them directly.
Costs
USPS PO box pricing is infamously unpredictable. As of April 2023, the price you'll pay when you open your box could range anywhere from about $23 to nearly $700 depending on the services and box size you choose. Unfortunately, the pricing as advertised on USPS.com can be pretty misleading.
Here is a look at the basic pricing structure according to USPS.com…
However, the actual price you will pay for your box will be significantly higher than what you see advertised here. Let me explain…
First off, PO boxes can't be rented by the month, despite the fact that the prices are listed as "per month" in the image above. You have to rent for at least three months at a time, and in most cases you'll be required to rent for at least six months, paying in full up front. Also, PO box fees vary by region significantly, and they go up quite frequently as the USPS continues to raise their prices.
Take it from me–I've been a USPS PO box holder for about six years. When I first started renting, I paid about $60 per year for my box. Now, I pay almost four times that amount. I have a small box (size 2), which is advertised as starting at $5.83 per month above. Based on my experiences (and my bank statement), this is extremely misleading.
To see a full list of the USPS PO box prices, click here. Unfortunately, the pricing chart is not very user friendly, and lists over 20 different potential prices per box size, according to "fee groups." It's unclear, however, how consumers are supposed to determine which fee group they're a part of (USPS provides a URL, but it leads to an error page). The chart also severely conflicts with the pricing information provided in the visual shown above.
According to the USPS pricing charts, an XS PO box (size 1) can range anywhere from $17 for three months to $160 for six months, plus a $5 key deposit. At my local post office, an XS PO box currently costs $48 for just three months of service (and to qualify, you have to enroll in auto renewal*, otherwise you have to pay for six months up front).
If you rent a mid-size box (size 3), you can expect to pay anywhere from $32 for three months to $373 for six months depending on where you live. At my local post office, a size 3 box currently costs $96 for just three months of service (auto renewal required).
Finally, if you have an XL PO box (size 5), you could end up paying as much as $639 for six months of service. At my local post office, an XL PO box currently costs $152 for three months of service (auto renewal required).
Considering this mess, I highly recommend simply visiting your local post office to find out how much they'll charge you for a PO box. The USPS website is way more complicated than it's worth in this case. (That said, in the next section we will discuss a method for finding out local PO box prices at individual US Post Office locations across the country.)
*Auto renewal can be canceled up until the 14th of the month prior to your renewal date.
How To Rent A USPS PO Box
In my experience, the easiest way to rent a PO box is to visit your local post office in person. While you can technically start the process online, you'll still have to go to the post office in person to submit your application and open up your box.
If you want to start the process online, you can do that here. Find the search bar that says "Find a PO Box Near You" and enter your residential address, city and state, or zip code.
Next, you'll be shown a list of US Post Offices within a 10 mile radius of your home or city. If there are no post offices within this radius, you will be shown the nearest option.
Depending on availability, you will see "PREMIUM PO BOX SERVICES" listed next to the post office name and address. If you do not see this listed, that means there are no open PO boxes available at your local post office.
Click on the listing for the post office where you wish to rent a PO box. From there, you will be able to see which sizes of box are available, how much each box costs, and what special services are offered to PO box customers at that location. 
For example, these are the services listed for my local post office…
As you can see, my local post office offers street addressing for PO boxes, plus discounts on yearly service, free keys, and 24/7 lobby access hours. Not all post offices will be able to provide all of these services.
Requirements and Restrictions
First, you must be at least 18 years old to rent a US post office box. You must also be able to provide a valid photo ID.
Technically, USPS also requires that you provide a "non-photo ID" when you open your PO box, but this isn't always true in my experience.
According to USPS, examples of non-photo IDs include…
Current lease, mortgage, or deed of trust

Voter registration card

Vehicle registration

Home or vehicle insurance policy
Generally speaking, you will also need to verify your permanent physical address before you can open your PO box. However, some post offices are willing to provide PO boxes to people without permanent addresses as long as there is availability and the person in need can provide a point of contact.
Payment Options
USPS retail locations accept most major payment options, including…
Cash

Checks, money orders, traveler's checks, etc.

All major credit and debit cards (including Visa, Mastercard, Discover, and American Express)

USPS corporate accounts

Apple Pay
If you're interested in enrolling in just three months of PO box service, you will need to sign up for auto renewal, which requires paying with a credit or debit card.
Manage Your USPS PO Box Online
To manage your USPS PO box online, you will first need to sign up for a USPS.com account.
Once you're logged into your account, visit the Manage PO Box page. If your account is new, you will need to claim your PO box to link it to your online account. To do this, click "Link a PO Box."
When your PO box is linked, you will be able to set up or cancel auto renewal online, check when your next payment date is, or cancel your service at any time.
If you need to make changes to the size of your box or manage your PO box keys, you will need to visit the post office in person.
How To Get A Free USPS PO Box
The only way to get a free PO box through USPS is if USPS does not offer mail delivery to your home address. This typically only applies to people with rural addresses. If this sounds like you, you can apply for a no-fee PO box by visiting your local post office and providing verification of your address. At this time, you cannot apply for a no-fee PO box online.
According to this 2018 audit report, about 5% of all USPS PO boxes are provided free of charge to people with non-deliverable addresses.
Is It Worth Getting a USPS PO Box?
If you're in need of a place to receive your mail and you're unable to use a residential or commercial mailing address, a USPS post office box might just be your best option.
Although they can be a bit on the expensive side (especially these days), they are significantly less expensive than mailboxes offered by competing companies like UPS.
USPS also offers many competitive services with their PO boxes that competing companies try to advertise as exclusive.
For example, USPS PO boxes offer…
Street addressing

24/7 lobby access

Parcel lockers for 24/7 package pickup
Of course, not all post offices can offer these services, but many can.
FAQs
Is USPS or UPS better for a PO box?
USPS PO boxes are significantly less expensive and offer the same general services as a UPS mailbox. UPS tries to advertise their mailboxes as superior, emphasizing the fact that they can accept mail deliveries from all carriers, are accessible 24/7, and provide a real street address for deliveries. However, all of these things are true about the majority of USPS PO boxes as well.
What is the cheapest PO box you can get from USPS?
An XS size 1 PO box is the smallest and most affordable box you can get at a US Post Office. These boxes are big enough to hold about 20-25 letters or about two magazines or catalogs.
How do you get a PO box without an address?
If you do not have a physical address, you may still be able to get a USPS PO box under certain circumstances. This is up to the discretion of the postmaster at your local post office. In most cases, if you are a known member of the community and/or if you can provide ID and a reliable point of contact (such as a shelter, social service office, or place of employment), you should be able to qualify for a PO box. If not, you may qualify to receive mail via general delivery at your local post office instead. You can read more about the USPS policies on PO boxes for unhoused individuals here.