Trader Joe's has been in the flatbread business for a long time. They first introduced their original Trader Joe's Flatbread and Middle Eastern Flatbread back in the early 2000s, and both are still available on store shelves today.
But flatbread is a word used to describe food from all over the world from India to Italy. Here, we'll dive into all of the different types of flatbread sold at Trader Joe's in 2023.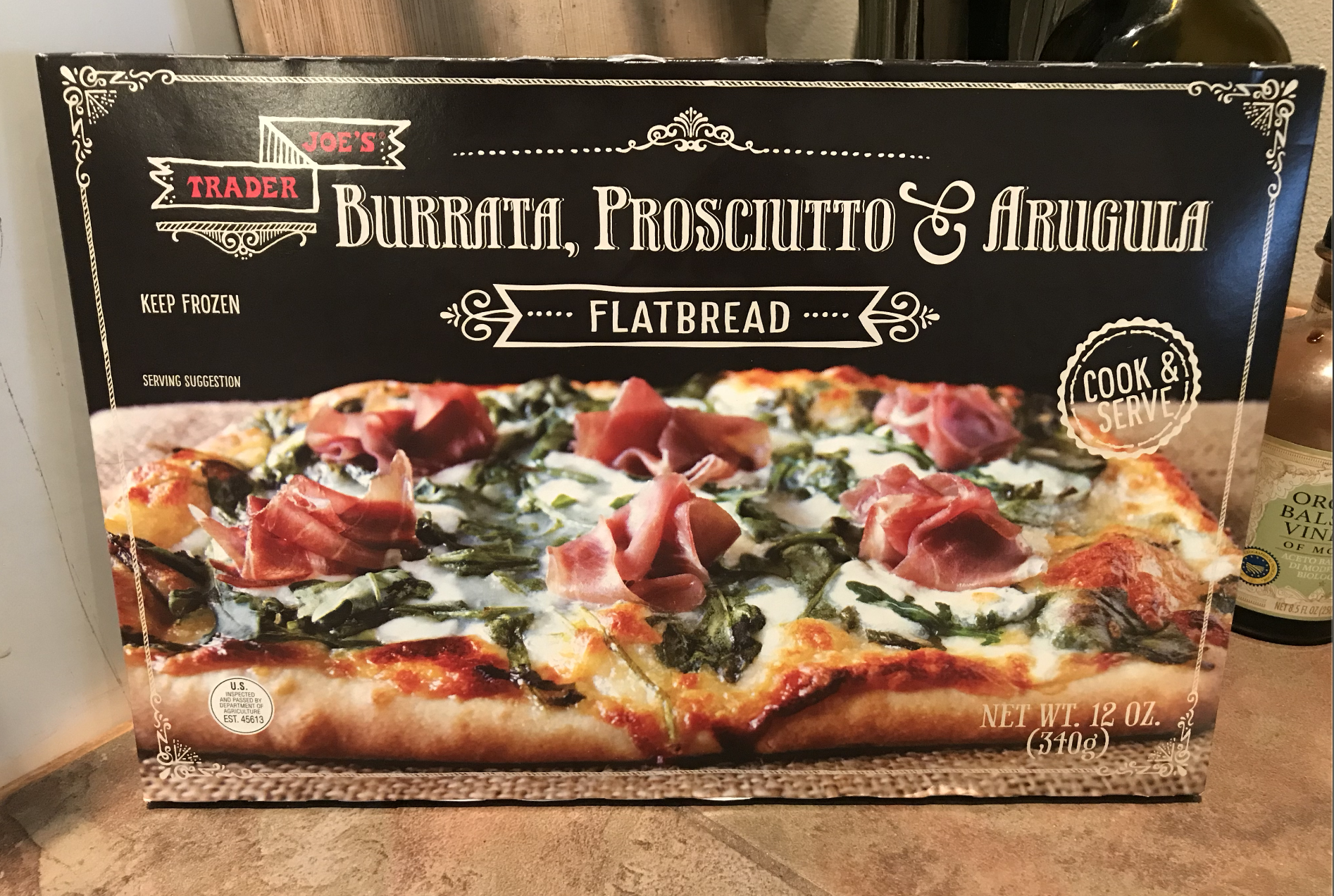 Types of Flatbread at Trader Joe's
The following French and Italian-style flatbreads can be found in the TJ's frozen section…
Mushroom & Black Truffle Flatbread

Burrata, Prosciutto & Arugula Flatbread

Tarte aux Champignons

Tarte au Brie et aux Tomates
When it comes to traditional flatbreads similar to pita or naan, Trader Joe's also carries several different varieties.
The following Indian and Middle Eastern-style flatbreads can be found in the bread section…
Flatbread

Indian Style Flatbread

Garlic Indian Style Flatbread

Middle Eastern Flatbread
Also in the frozen section, you can find frozen naan and frozen garlic naan with TJ's other Indian cuisine-inspired foods.
All of Trader Joe's Indian and Middle Eastern-style flatbreads are vegan.
Trader Joe's also used to carry a Gluten-Free Par-Baked Flatbread Pizza Crust. However, this product appears to have been discontinued in 2020. As of 2023, Trader Joe's does not currently sell any gluten free flatbread products.
Trader Joe's Flatbread Pizza Hacks
Flatbread pizza has been a buzzworthy topic online lately, but there's debate about what this actually means…
Is a flatbread pizza a pizza? Or is it a flatbread?
It's either!
Trader Joe's ready-to-bake pizza crusts are proving to make great bases for DIY flatbread recipes, just like TJ's Flatbread can easily turn into a gourmet pizza with just a few additions.
Here's a flatbread pizza hack from The Kitchn using a plain bag of Trader Joe's Flatbread.
And if you want to check out some ideas for making your own flatbread using TJ's pizza dough and all your favorite toppings, check out this YouTube video from House of Ells.
My TJ's Flatbread Reviews
At my local TJ's, I decided to pick up two of their frozen flatbreads–Mushroom & Black Truffle Flatbread and Burrata, Prosciutto & Arugula Flatbread.
Both flatbreads were the same price–$4.99.
I found them in the frozen section at the center of the store next to the frozen pizzas.
Keep reading to find out what I thought of each one!
Mushroom & Black Truffle Flatbread
Ingredients & Nutrition
According to the box, one flatbread equals two servings, which means that one serving is half the box. I'd say this is pretty accurate, as I ended up eating half at one meal, and half at the next.
Each serving contains 360 calories from 14 grams of fat, 20 mg of cholesterol, 760 mg of sodium, 46 grams of carbs, 4 grams of sugar, and 13 grams of protein.
This flatbread is made with wheat flour, yeast, sunflower seed oil, mozzarella cheese, mushrooms, truffle sauce, extra virgin olive oil, and salt. (See image below for full ingredients list.)
This flatbread contains both wheat and dairy, meaning that it is not gluten free or vegan.
Cooking Instructions
According to the box, there is just one way to prepare this flatbread–in the oven. Do not attempt to prepare this bread in the microwave or airfryer, as you'll end up with something that's either rubbery and soggy or way crispier than intended.
First, remember that this flatbread should not be thawed prior to cooking. Simply keep it in the freezer until you're ready to bake.
To prepare, preheat your oven to 425°F and bake the flatbread on the center rack for about eight minutes. I think I left mine in for 10, because I didn't let my oven preheat as long as I should have (I was hungry!). 
The box says that you can place the flatbread directly onto your oven rack without a pan. However, I was afraid the cheese would melt into my oven, so I opted to place it on a baking sheet anyway. I noticed that the edges cooked much faster than the center, which probably wouldn't have been a problem if it had been on the rack.
This photo makes the flatbread look enormous, but my pan is actually just very small. I'd say this whole flatbread was about the size of an elongated personal pizza. I easily ate the whole thing by myself across two meals.
The finished result! (You can see here how the middle isn't as well-cooked as the edges.)
Taste Test
On first glance, I was a bit surprised by the disproportionate relationship between the cheese and the… mushrooms? Where are the mushrooms?
Despite being a mushroom flatbread, there are no whole or sliced mushrooms on this bread. Instead, the mushrooms appear to be pureed. It's more of a tapas-like spread over the top of the flatbread beneath the cheese.
The truffle flavor was very strong, so I'd stay away if that isn't your thing. Luckily for me, I love truffles, so I thought this flatbread was delicious.
Because of the strong mushroom flavor and the relatively mild flavor of the mozzarella, the ratio between the two ingredients actually turned out to be spot on.
In retrospect, I would have liked to pour some red chili flakes on top of this flatbread, or maybe even drizzle it with some Crunchy Chili Onion.
Overall, I think this stuff is great, and I would definitely buy it again.
Burrata, Prosciutto & Arugula Flatbread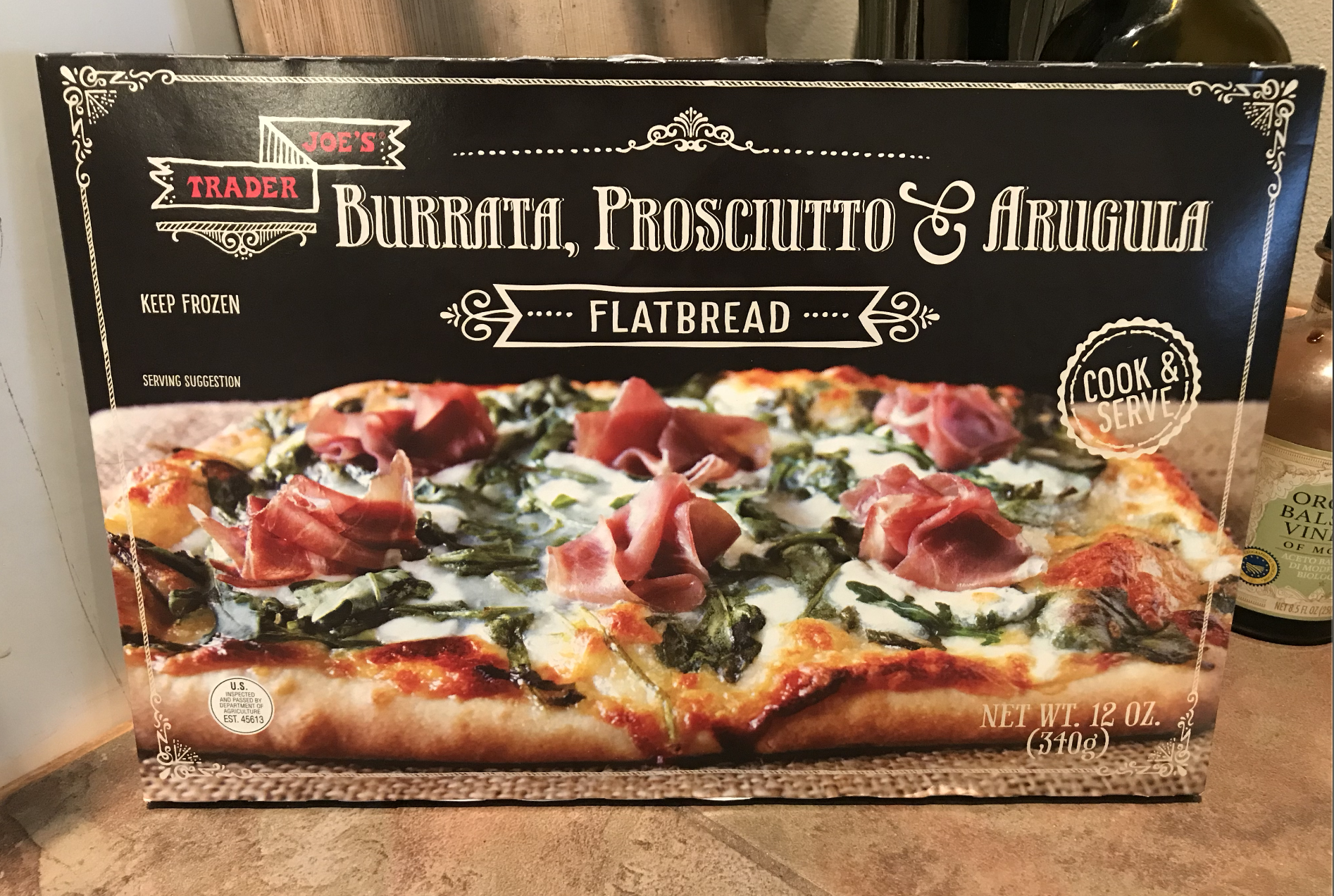 Ingredients & Nutrition
This flatbread is made with wheat flour, water, burrata cheese, prosciutto, mozzarella cheese, mascarpone, arugula, olive oil, pecorino romano cheese, parmigiano reggiano cheese, salt, yeast, fontal cheese, sunflower oil, sugar, vegetable fiber, malted wheat flour, whey, extra virgin olive oil, garlic, and parsley. 
That's right… This flatbread is made with five different types of cheese!
In each serving of this flatbread (⅓ of the package), you'll be consuming 290 calories from 12 grams of fat, 35 mg of cholesterol, 670 mg of sodium, 30 grams of carbs, 3 grams of fiber, 2 grams of sugar, and 13 grams of protein.
Because it contains wheat and dairy, this flatbread is neither vegan nor gluten free. The prosciutto comes packaged separately, so you could theoretically make this vegetarian if you wanted to by leaving off the meat.
Cooking Instructions
When you first remove your flatbread from the box, you'll notice that the meat is packaged separately from everything else. This is because prosciutto is a cured meat that does not require heating or cooking prior to serving. According to the box, the prosciutto is packed with a "paper backing." However, mine came packaged entirely in plastic.
To prepare the flatbread, preheat your oven to 450°F for at least 20 minutes. During this time, unwrap the flat bread and let it sit out on a baking sheet while the oven preheats.
When the oven is ready, place the baking sheet onto the center rack. Set the timer for 12 minutes and let it bake.
Once your flatbread is ready to serve, remove it from the oven. Open the prosciutto and tear or cut it into smaller pieces to arrange over the bread.
This flatbread should not be prepared in the microwave or airfryer. A conventional oven or adequately sized toaster oven are the only suitable methods for heating this flatbread.
Always remember to remove your foods from plastic packaging before exposing them to heat.
Taste Test
Despite containing several ingredients that are usually rich with flavor, I found this flatbread to be impressively underwhelming. The most flavorful part of the whole thing was the burrata, which isn't saying much since burrata is a fairly mild cheese to begin with.
The prosciutto had much less flavor than I was expecting, and the arugula had no bite to it at all.
The texture was nice and the base sauce was also pretty good, but I wouldn't bother buying this stuff again. Or if I do, I'll add some spices and other toppings to make it a bit more memorable.
This flatbread would be good with some sliced kalamata olives on top, some red chili flakes, or even some chopped crispy bacon.
Between this one and the mushroom truffle flatbread, I preferred the mushroom one by far.
One thing I will say about this flatbread is that they give you a generous amount of prosciutto. Unfortunately, it's just not the tastiest prosciutto in the world…