If there's anything true about me, it's that I'm a freak for green juice. Honestly, I'm surprised my skin isn't green. Name a company that produces green juice and you can almost guarantee I've tried all of their products. So… how does Trader Joe's Green Juice hold up to the taste buds of this green juice connoisseur? Let's find out.
For this review, I tried three different kinds of green juice from Trader Joe's–their Organic Cold-Pressed Green Juice, Very Green 100% Juice Smoothie, and their "To The Power Of 7" Green Organic Juice Beverage. I definitely ended up with a favorite, and if you're a green juice fanatic like me, I suspect you'll feel the same way.
Let's dive in…
Trader Joe's Organic Cold-Pressed Green Juice
I liked the look of this one right away, particularly because it's organic and boasts loads of healthy fruits and vegetables on the label. Each bottle of this stuff contains one whole cucumber, two stalks of celery, a quarter of a grapefruit, a quarter of a head of green leaf lettuce, one leaf of green chard, one lemon wedge, one kale leaf, four spinach leaves, six sprigs of parsley, and one teaspoon of mint tea. That's a lot!
Flavor
I was worried it would be too minty with the addition of spearmint leaves on the ingredients list, but I was pleasantly surprised. You do get a slight hint of coolness in the aftertaste, but it definitely doesn't overwhelm any of the other flavors.
TJ's Organic Cold-Pressed Green Juice is nice and tangy, containing both grapefruit and lemon. Personally, I love it when green juice is combined with citrus, so this really worked for me.
That said, if you're looking for a strong "green" flavor, you won't find it here. This stuff tastes more like grapefruit juice than green juice if you ask me, but you still get a decent amount of nutrition in each serving.
Nutrition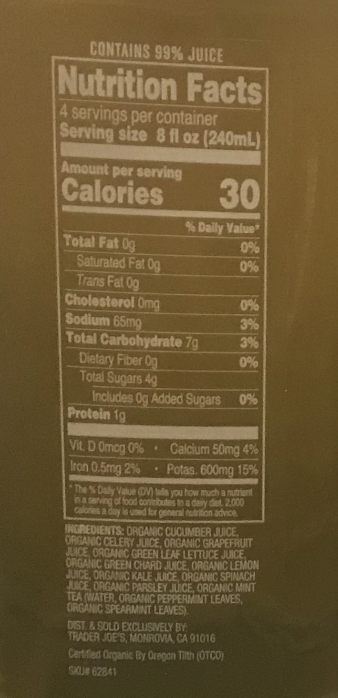 When you check out the label on this green juice, you might be a bit surprised to find, well… not much. It lists calcium (4% DV), potassium (15% DV), and iron (2% DV), but it doesn't say anything about vitamins C, A, B, or anything else you might expect to find in a juice like this.
I'm not sure why they decided to leave those markers off the label, but I suspect there's actually more nutrition content in this juice than the label claims. I mean, with grapefruit, lemon, chard, kale, and spinach all among the ingredients, there has to be some vitamin C floating around in there somewhere, right?
Taste Test
When it comes to both taste and texture, I'm a big fan of this juice. Like I said, it's got the perfect balance of tangy and green flavors, and it's not at all sweet (I personally hate it when green juices are too sweet).
The texture is perfect, too–it's truly a juice, so you don't get any pulp. Of course, this means there's also no notable fiber content, but that's alright.
Final Words
Trader Joe's Organic Cold-Pressed Green Juice comes in 32-oz bottles in the refrigerated section of the store. These generously sized bottles are just $5.99. While this might seem a bit spendy for TJ's, consider that most other organic green juices sell for between $5 and $6 for a 12-oz bottle. At almost three times that size, this is a major deal if you ask me.
Be sure not to confuse these with the 15-oz bottles of Trader Joe's Cold-Pressed Green Juice found in the same section, which is not organic and has a shorter ingredients list.
Trader Joe's Very Green 100% Juice Smoothie
As far as smoothies go, I honestly wouldn't call Trader Joe's Very Green Smoothie much of a smoothie at all. The texture is much closer to a juice, although it does contain whole fruit material (mostly in the form of puree).
What really strikes me about this smoothie is how sweet it is. On my first sip, I was a little shocked at the overwhelming sweet flavor, so I checked the nutrition label. Sure enough, there's a whopping 56 grams of sugar in each one of these 16-oz bottles, not to mention some "natural flavors." Granted, there's no added sugar, which is great, but it's still good to be aware of the overall sugar content
Of the three TJ green juices I tried, the Very Green 100% Juice Smoothie is definitely the most fruity. This makes sense considering that the main ingredient is apple juice, followed by banana puree, mango puree, pineapple juice, and kiwi puree. You actually don't encounter a vegetable on the ingredients list until you get to the very last ingredient, which is a "dried greens blend."
In defense of this sweet, watery smoothie, you do get quite a lot of vitamins and minerals from each bottle. A bottle of Very Green offers 11% of your daily value of fiber, 8% DV of iron, 15% DV of potassium, 25% DV of Vitamin A, 30% Vitamin C, and 20% Vitamin B6.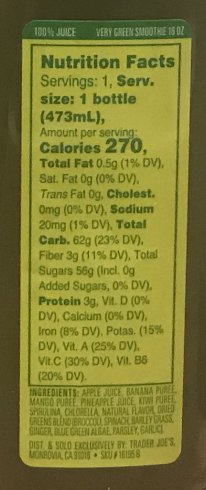 Still, three grams of fiber isn't enough to make that much sugar worth it in my opinion. Especially since none of the ingredients are organic. Of the three green juices I tried from Trader Joe's, I'd say this one is definitely the least healthy.
Each 16-oz bottle of TJ's Very Green 100% Juice Smoothie costs just $2.99 and can be found in the refrigerated beverage section near the other juices and smoothies. These smoothies are flash pasteurized to ensure beverage safety.
Trader Joe's "To The Power Of 7" Green Organic Juice Beverage
On first glance, Trader Joe's "To The Power of 7" Green Organic Juice Beverage has a lot going for it (excluding its confusing mouthful of a name). It's organic, contains seven organic juices (hence the name), and it costs just $4.99 for a 34-oz bottle, making it the green juice with the best value available at TJ's.
But unfortunately, I think this green juice is struggling to find its way a bit. The texture reminds me a bit of apple sauce, which definitely wasn't what I was expecting (or wanting). But it's also not smooth or thick enough to feel like a smoothie. So, it's kind of lost somewhere between the two.
There honestly isn't much flavor to this green juice either, aside from a kick of something that tastes like mint, which is nowhere to be found on the ingredients list. (Seriously, why does this stuff taste so minty?)
Speaking of the ingredients list, this "juice" supposedly doesn't contain any purees, blended ingredients, or anything else that might explain the chunky texture. So, I'm left scratching my head on that one.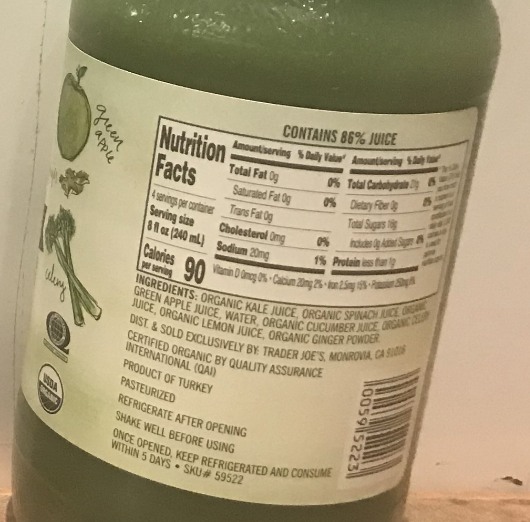 Nutrition wise, TJ's "To The Power of 7" Green Organic Juice Beverage contains just 86% juice, which is less than the other two varieties I sampled. It lists some calcium (2% DV), iron (15% DV), and potassium (6% DV) content on the label, but skips over vitamins C, A, B, etc. This could be because the content is insignificant.
Apparently there's a rumor circulating that TJ's discontinued their Power of 7 Juice, but I'm here to confidently tell you that as of December 2022, it's still on the shelves, for better or worse.
Trader Joe's "To The Power of 7" Green Organic Juice Beverage is fully pasteurized and is a product of Turkey. It is a shelf-stable product until opened, so you can find it in the same aisle where the other shelf-stable beverages are kept.
Final Thoughts

Personally, I think Trader Joe's should stick to their Cold-Pressed Organic Green Juice, which is really where they're succeeding. It has the best flavor, the best list of ingredients, and the best value for the quality. Not to mention, it's definitely the healthiest option available at TJ's as far as I can tell.
Plus, TJ's cold-pressed green juices are not pasteurized due to the safety of their high-pressure processing method. So, you can be sure you haven't lost any nutrition to pasteurization.
As with all green juices and smoothies, make sure you shake your beverage well before drinking. As they say, separation is natural!