Almond butter is an all-around nut butter with nutrients like magnesium, calcium, potassium, and iron.
Perhaps, you're an almond butter fan, and you've come across some varieties while shopping for nut butter. Whether you've already been buying almond butter or are just a beginner, you must try one brand that is popular on the market – Trader Joe's Almond Butter.
Trader Joe's has a lot to offer when it comes to almond butter. So, in this piece, we'll go over all the details, from ingredients  and price, to nutrition and some ways to use it at home. We're saving you the time of having to do all the research on your own!
Ingredients in Trader Joe's Almond Butter
Trader Joe's Almond Butter is made from sea salt and almonds, either raw or roasted almonds, depending on the type. The varieties can further be classified into creamy vs. crunchy and salted vs. unsalted. 
Trader Joe's Almond Butter is gluten-free and is among the registered Trader Joe's Vegan products. So, if you're worried about excess food additives, this almond butter is meant for you. After all, your health should always come first. 
What Kind of Almond Butter Does Trader Joe's Sell?
Trader Joe's sells almond nut butter, which is of different types. Their almond butter offerings range from creamy to crunchy, salted to unsalted. Recently, Trader Joe's added another variety of their almond butter, the organic option containing organic almonds.
Their Almond butter is made from California Almonds in the USA. However, the actual manufacturer of these product(s) is still unknown. 
Trader Joe's Almond Butter Products

Let's review Trader Joe's Almond Butter products and see what you'll be paying for if you purchase any of them.
Trader Joe's Creamy Almond Butter
This 16oz almond butter contains 190 calories, and 17g grams of total fat content, for every two tablespoons. Trader Joe's creamy almond butter(16oz) also carries other nutrients like sodium (100mg), protein (7g), fiber (3g), and 2g of sugar. It goes for around $11.99 on Amazon, and that's a modest price, keeping in mind the nutritional benefits it offers. Anyone would grow a healthy body by incorporating this into their daily diet.
Trader Joe's Organic Creamy Almond Butter
Trader Joe's Organic Creamy almond butter is either salted or with no salt. The salted nut butter is made with organic almonds and sea salt.
On the other hand, the non-salted product contains organic almonds only.
This creamy organic butter is among the popular almond butter, maybe that's because it's an organic spread. For two tablespoons, it has 190 calories, 17g of fat, 7g of protein, 3g of fiber, 90mg of calcium, 230 mg of potassium, and 2g of sugars. You can get it at Trader Joe's for as little as $3.99 per 12 Oz.
Trader Joe's Crunchy Almond Butter
 The ingredients in this crunchy almond butter include roasted almonds and less than 1% roasted cashews. There are 190 calories, 2g of sugar, 17g of fat, and 3g of fiber for two tablespoons. This product has no added oils, in case you're wondering. A pack of two 16-ounce jars costs $15.12 on Amazon for the unsalted package, whereas the salted one costs $25.50. Sometimes, the costs vary depending on the store, but we promise there won't be a huge difference.
Trader Joe's Raw Almond Butter Crunchy
 The raw almond butter crunchy has unroasted almonds. Two tablespoons of this almond butter carry 190 calories, 16g of fat, 7g of protein, 1g of sugar, and 4g of fiber. Oil separation occurs in this spread, so you're advised to stir before use. And don't forget to refrigerate it after opening to keep it safe for consumption. If you want to enjoy the super-crisp crunch of this almond butter, be ready to pay $14.92 for two packs of 16 Oz each.
Trader Joe's Raw Almond Butter Creamy
Trader Joe's Raw Almond Butter Creamy comprises raw almonds, sea salt, and less than 1% cashews. This product isn't short of nutrients as it contains 7g of protein, 4g of fiber, and 1g of sugar. It's also rich in calories, where 2 tablespoons contain 190 calories. A 16 Oz jar of the unsalted version costs $12.99 on eBay Finally, remember to stir before consuming it and refrigerate after unsealing it.
Trader Joe's Almond Butter Granola
The almond butter granola contains the following ingredients: almonds, rolled oats, almond butter, honey, cane sugar, brown rice syrup, canola oil, coconut flakes, mixed tocopherols, and sea salt. Each serving gives you 220 calories, 9g of fat, 100g of sodium, 9g of sugars, and 4g of fiber.  For only $17.95, you can walk away with a pack of two (12 Oz each) on Amazon.
Dark Chocolate Almond Butter Cups
The almond butter cups made with dark chocolate and almond butter are a healthy treat you can enjoy. Other ingredients added to the butter cups are coconut oil, vanilla extract, maple syrup, and flaky sea salt. Each dark chocolate almond butter cup serving contains 190 calories, 13g of fat, 3g of protein, 50mg of sodium, and 19g of carbs. The item costs around $0.38 per ounce.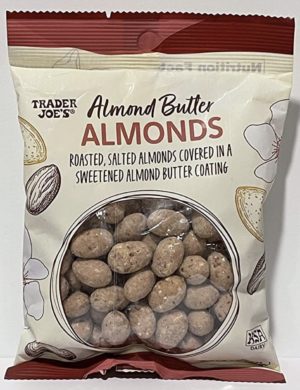 If you don't fancy plain almonds, you can try the almond butter almonds. The sweetened almond butter added to the almonds takes things to a new level.
Trader joe's almond butter almonds are made with an almond butter coating, palm oil, roasted almonds, and sunflower lecithin. It's rich in calories, fat, and sodium, and this treat is high in sugar and fat because it's a sweetened nut product.
An 8-ounce bag will cost you $3.99, which is worth it.
One more thing, however, there are a few allergy warnings. The coating is mixed with wheat and soy, so read the warning keenly so you don't suffer a reaction if you have food allergies.
Which Trader Joe's Almond Butter is the Best?
The best overall almond butter at Trader Joe's is the creamy almond butter (with no salt). Its nuts are roasted well before grinding, giving this nut butter a unique flavor. Perhaps you're asking yourself, why unsalted? While salt can help neutralize some bitter notes from nuts, this almond butter is well balanced without salt. 
If you're making sandwiches, go for the organic creamy salted almond butter. The salted almond butter balances well with fruit jams, and its texture is superior.
The bottom line is that every almond butter from Trader Joe's is of excellent quality and won't disappoint. But, flavors combine differently; you need to narrow down depending on your needs.
How Should You Store Trader Joe's Almond Butter?
Trader Joe's almond butter may go bad after opening it; therefore it must be refrigerated. First, if the almond butter has oil separation, make sure you stir it before refrigeration since it's easier to stir it at room temperature.
The almond butter will keep in the refrigerator for months. If you don't have a fridge, a cooler with block ice will serve the same purpose.  
Are you suspecting your almond butter is spoiled? If it has lost its nutty aroma and smells sour, don't keep it anymore. Second, if it tastes off, discard it.
Do Customers Like Trader Joe's Almond Butter?
Yes. Customers love the good quality almond butter from Trader Joe's, and they often drop positive reviews. Here's what they say:
Never doubt Trader Joe's almond butter!
 Was There a Recall In Trader Joe's Almond Butter?
Trader Joe's almond butter cups were recalled after numerous reports of allergic reactions. The label indicates that the product "May contain some traces of peanut," but after these reports all products had to be removed from sale. 
Customers who purchased these products were allowed to return them to the Trader Joe's store they got them, for a total refund. 
Is Almond Butter Healthier Than Peanut Butter?
Almond butter and peanut butter have an almost similar nutritional value. However, almond butter beats peanut butter because it contains more minerals, vitamins, and fiber.
Here's how both kinds of nut butter compare:
Both are the same in terms of calories per ounce. If you take two tablespoons of either almond butter or peanut butter, you'll get slightly under 200 calories, so there's no difference in calories.
Consuming fiber makes you feel full faster, which allows you to maintain a healthy weight. Almond butter beats peanut butter in fiber content. 
Almond butter emerges at the top once again if you compare the vitamin and mineral content. It contains twice as much iron and nearly seven times more calcium than peanut butter.
This one is a bit tricky. Although almond butter contains less sugar, natural peanut butter and almond butter are significantly low in sugar. But you must be careful because some nut butter brands are packed with added sugars for sweetening.
Whatever nut butter you aim for, focus on the natural one.
FAQs
Does Trader Joe's Almond Butter Have Added Sugar?
Trader Joe's almond butter contains only natural sugars. Most of its ingredients are natural so this almond butter is healthy for your body. 
Is Trader Joe's Almond Butter Whole30 Compliant? 
Whole30 foods are whole and unprocessed, with minimal refined sugars and additives. The Almond butter at Trader Joe's is Whole30 compliant since it only contains almonds and some natural salts. Other Whole30 compliant products at Trader Joe's include canned coconut milk, most spices, Turkey burgers, salmon, mashed sweet potatoes, grilled cauliflower and more.
Is Trader Joe's Almond Butter Roasted?
Trader Joe's sells both roasted and unroasted almond butter. The roasted butter is made with roasted almonds, whereas the unroasted one contains raw almonds. There may be a slight difference in taste between the two, but that doesn't mean low quality. 
Are Trader Joe's Dark Chocolate Almond Butter Cups Vegan?
Trader Joe's Dark Chocolate almond cups contain some milk products like milk fat in the chocolate, so it's not vegan. Anyone sensitive to dairy products should avoid this product. 
Does Trader Joe's Have Unsalted Almond Butter?
Trader Joe's has both salted and unsalted almond butter.  For every salted almond butter, there's an unsalted alternative.  The unsalted almond butter includes Trader Joe's almond butter creamy unsalted, Trader Joe's raw almond butter creamy unsalted, and Trader Joe's Crunchy unsalted almond butter. 
Conclusion

Trader Joe's almond butter is worth a test. Trader Joe's offers healthy and delicious almond butter. To get the best experience, pair it with fibrous fruits or complex curbs. Lastly, as much as this product tastes good, never overindulge.