Some say there are two types of people in this world–people who put creamer in their coffee (or tea), and people who don't. 
Personally, I've always been a creamer person. I definitely enjoy the taste of black coffee and tea, but I love the smooth sweetness that a bit of cream adds to my hot morning drink.
So, I headed to Trader Joe's recently to try to find their popular brown sugar creamer, which was first released in March 2022. This creamer is actually a bit unconventional, as it's completely vegan and made from oat milk.
The release of this Non-Dairy Brown Sugar Oat Creamer came after TJ's discontinued their previous line of non-dairy creamers back in 2021. Vegan Trader Joe's shoppers everywhere have been very excited to have a reliable creamer option yet again.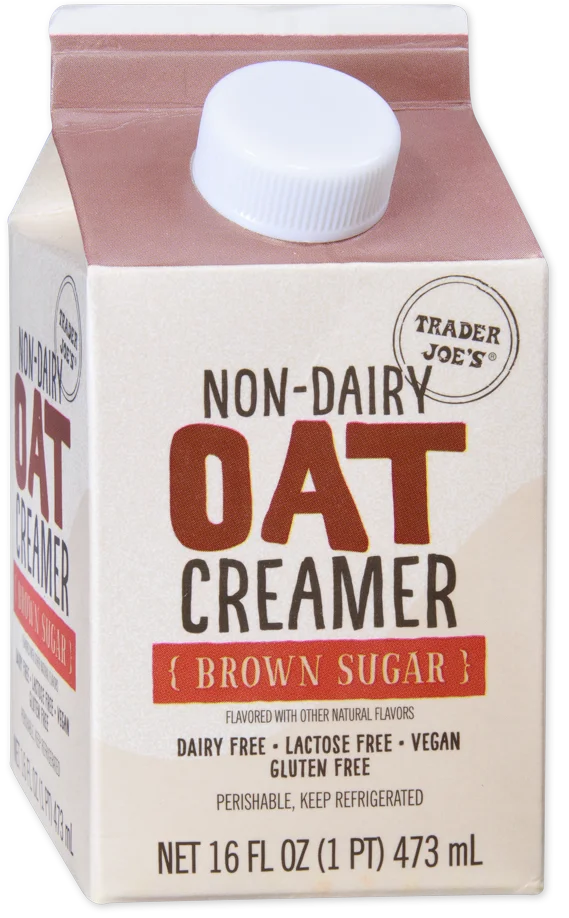 Non-Dairy Creamers at Trader Joe's
It's worth noting that Trader Joe's doesn't just sell Non-Dairy Brown Sugar Creamer. They actually have a whole line of vegan creamers, including a coconut creamer and an almond and coconut creamer flavored with vanilla. That said, their Brown Sugar Creamer definitely seems to be the favorite among vegan and lactose-averse shoppers.
Unfortunately, due to its extreme popularity,  I was unable to find any of this non-dairy creamer in stock at either of the TJ's locations near me. So, I did some research instead to bring you all the info you'll need on this popular TJ's product.
As of December 2022, Trader Joe's Non-Dairy Oat Creamer is available for just $1.99 for a 16-oz carton. When it's in stock, you can find it in the refrigerated section near the other non-dairy and dairy creamers and milks.
This non-dairy creamer contains quite a few ingredients, which is pretty common for plant-based dairy alternatives. The ingredients include water, hydrolyzed oats, sugar, sunflower oil, and 2% or less of brown sugar, pea protein and sunflower lecithin (emulsifiers), gellan gum, salt, potassium citrate, sodium bicarbonate, and natural flavors.
Despite containing oats (which are commonly contaminated with gluten), Trader Joe's Non-Dairy Brown Sugar Oat Creamer is entirely gluten free.
Is Trader Joe's Non-Dairy Creamer Healthy?
Unfortunately, many Trader Joe's shoppers have expressed concern and dissatisfaction over the inclusion of sunflower oil on the list of ingredients for the Non-Dairy Brown Sugar Oat Creamer. Apparently, sunflower oil has high aldehyde content, which has been linked to an increase in cancer risks. But upon doing some of my own research, I discovered the story might not be as simple as "sunflower oil is bad for you."
According to Healthline.com, sunflower oil may only release toxins when heated above 356°F. This means that even though sunflower oil is often touted as a great oil for deep frying, it probably shouldn't be used as a frying oil if you're concerned about its aldehyde content.
But since you're probably not going to be deep frying with your coffee creamer, it's probably pretty safe in this context.
Nutrition Facts
Now that we've settled the score on sunflower oil, let's take a look at the other nutrition information for this non-dairy creamer.
As you can see, if you add about a tablespoon of creamer to your coffee or tea, you'll be ingesting just one gram of fat and four grams of sugar, which isn't bad for a sweetened creamer. That said, you're also getting 25 mg of sodium which is important to be aware of especially if you struggle with high blood pressure or heart disease. Still, a healthy diet can include as many as 2,300 mg of sodium per day, so 25 mg doesn't make much of a dent.
Overall, no one should be feeling guilty for adding a bit of Trader Joe's Non-Dairy Creamer to their morning beverage. While it shouldn't be considered a health food by any means, it's really no less healthy than most other plant-based creamers on the market.
That said, if you're serious about sticking to the healthiest options available, it's probably best to look for an unsweetened non-dairy creamer elsewhere. Unfortunately, Trader Joe's does not sell any unsweetened vegan creamers as of 2022.
Is Trader Joe's Non-Dairy Creamer Good?
Unfortunately, I wasn't able to try this creamer myself due to a lack of stock at my local TJ's, so I combed the internet instead to find some reviews from other shoppers.
According to a reviewer from WhatsGoodAtTraderJoes.com, this creamer doesn't necessarily taste that much like brown sugar. "Mostly, it's just sweet," they said. The same reviewer also shared that it has a wholesome "nutty and oaty" flavor.
One Reddit user had this to say about TJ's Brown Sugar Creamer:
On the other hand, Reddit User mrs_traderjoes only gave this creamer a 6/10 rating, but she also admits that she generally doesn't care much for coffee creamers:
And lastly, this Reddit user shares that a thicker texture might help this creamer work better overall:
For what it's worth, TraderJoesReviews.com gives the Non-Dairy Brown Sugar Oat Creamer a strong 4.2-out-of-5 star rating.
Conclusion
While this may not be the most amazing coffee creamer in the world, it's definitely a great option if you're vegan and/or lactose intolerant and shop at Trader Joe's frequently. Otherwise, you might not need to go out of your way to try it, as there are plenty of other tasty vegan creamers available at other stores. In the long run, Trader Joe's would probably benefit from bringing back something similar to their old standby soy creamer which they discontinued in 2021. Some shoppers would probably also appreciate an unsweetened dairy-free creamer, but it's unlikely that TJ's will introduce one any time soon.