The holiday season is a time for cheer, family, and of course, delicious food. Hosting a holiday gathering can seem daunting, but with these top five Trader Joe's items, you'll not only impress your guests but also simplify your preparation process. Let's dive into the world of Trader Joe's and discover the hidden gems that will transform your holiday hosting!
Brie en Croute
Start your holiday feast with Trader Joe's Brie en Croute, a crowd-pleaser for sure. This luxurious appetizer features creamy brie cheese wrapped in a puff pastry that, once baked, becomes a warm, oozy delight. Pair it with a selection of crackers or bread, and you've got a simple yet sophisticated starter that will have your guests swooning.
Cornbread Stuffing Mix
No holiday meal is complete without a delicious stuffing. Trader Joe's Cornbread Stuffing Mix is a must-have. With its savory blend of herbs and vegetables combined with sweet cornbread, this stuffing mix is sure to impress. Just add butter and water (or chicken stock for more flavor), and your irresistible side dish is ready.
Oven Roasted Turkey Breast
The star of your holiday meal could very well be Trader Joe's Oven Roasted Turkey Breast. Pre-cooked and seasoned, all you need to do is heat it up. Tender, moist, and packed with flavor, it's a time-saving centerpiece that doesn't skimp on taste.
Harvest Gorgonzola Tarte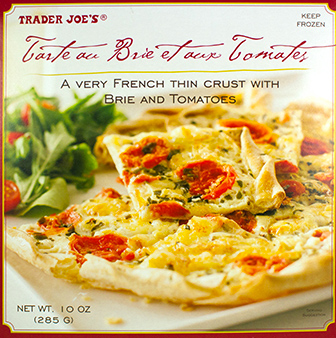 This tarte is an exceptional blend of sweet and savory flavors – creamy gorgonzola cheese, sweet pears, and crunchy pecans. It's an elegant side dish that adds a gourmet touch to your holiday spread.
Mini Hold the Cone! Ice Cream Cones

 
Peppermint Flavored: End your holiday feast on a sweet note with these festive mini ice cream cones. They're the perfect size for an after-dinner treat and their peppermint flavor screams holiday spirit.
Remember, holiday hosting is all about sharing love and joy with your family and friends. Trader Joe's is here to help you make this experience stress-free and memorable. With these top 5 items, you're sure to wow your guests and truly elevate your holiday hosting!