One of the most popular baked treats at Trader Joe's are the kringles from O&H Danish Bakery in Racine, Wisconsin. These award-winning kringles follow a traditional Danish recipe to create these oversized flaky pastries filled with almond, pecan, raspberry, and cheesecake fillings.
If you're wondering what a kringle is, it looks something like this…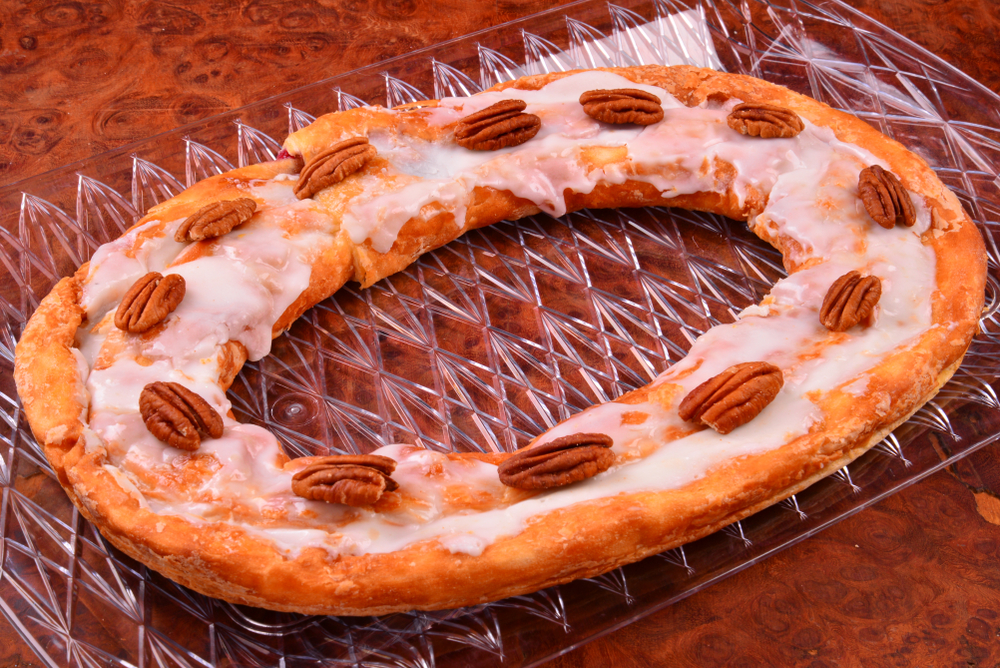 What's The Story On O&H Danish Bakery?
Family-owned since 1949, O&H Danish Bakery has been supplying traditional Danish kringles to Trader Joe's for as long as I can remember. Baked from scratch in the midwestern United States, these kringles are some of the most popular in the country…
The bakery is owned and operated by the Olesen family, who are the original founders. Today, the bakery is operated by the grandchildren of the original baker, Christian Olesen. Made with a variety of ingredients from around the world, each O&H Kringle weighs well over a pound.
Because of O&H Danish Bakery, Racine, Wisconsin, has become known as the kringle capital of the United States, and the kringle has been dubbed the official pastry of Wisconsin. 
Danish Kringles at Trader Joe's
Despite being a TJ's fan favorite, kringles haven't always been so easy to find at Trader Joe's. Due to shifting seasonal product availability and supply-chain shortages, O&H Danish Kringles have become an especially hot commodity in recent years, often difficult to find by TJ's shoppers across the country.
But as of April 2023, raspberry kringles from O&H Danish Bakery are back on the shelves at Trader Joe's stores across the US. 
While O&H sells a wide variety of their famous kringles and kringle cakes starting at about $24 through their website, you can find a 24-oz kringle at Trader Joe's right now for just $7.99.
Are Trader Joe's Kringles Seasonal?
Theoretically, Trader Joe's offers O&H Danish Kringles all year. But the flavors vary depending on the season.
As far as we can tell, this is the basic kringle flavor schedule at Trader Joe's…
Pecan – February and March

Raspberry – April and May

Cheesecake – June through August

Pumpkin Caramel – September and October 

Almond – November and December
Based on this calendar, the two most common kringle flavors sold at Trader Joe's are cheesecake and almond. However, many TJ's shoppers have reported seeing all five flavors at their local stores outside of the standard seasons. So, it's really anyone's guess!
Some sources claim that TJ's also carries apple kringles, cinnamon kringles, and pumpkin spice kringles (as opposed to pumpkin caramel), but we haven't been able to confirm any of these claims. The only five kringle flavors confirmed to be sold at Trader Joe's are the ones listed above.
Product Shortages
If you've been having trouble finding O&H Kringles at your local TJ's recently, supply-chain shortages could be to blame.
In fact, according to some sources, O&H has discontinued cheesecake kringles altogether due to the lack of availability of crucial ingredients. Because of this, some TJ's shoppers have reported seeing zero kringles on the shelves at their local TJ's stores for as long as a year in some cases.
TJ's shoppers in Seattle recently reported that the pecan kringles from O&H also seem to be on the chopping block. According to this Reddit thread, O&H Pecan Kringles aren't expected to be available at Trader Joe's at all in 2023 (at least not here in the PNW). Instead, shoppers started spotting raspberry kringles on the shelves as early as February 3rd this year, which is about two months earlier than usual.
Trader Joe's Kringles Ingredients & Nutrition
Make no mistake–kringles are not a healthy food. But that doesn't matter, because they're totally delicious. 
Each kringle from Trader Joe's contains between 2160 and 2760 total calories, depending on the flavor. According to the nutrition label, each kringle is designed to feed 12 people, so the calories per serving are listed as between 170 and 230.
The O&H Danish Kringle with the lowest calories per serving is the raspberry kringle, and the one with the most calories per serving is the pecan kringle, followed by the almond kringle.
The ingredients used in each kringle also differ depending on the flavor, but here is the ingredients list for the raspberry kringle, which is the flavor currently available at Trader Joe's…
As you can see, these kringles contain wheat, butter, palm oil, soybean oil, cane sugar, cornstarch, corn syrup, eggs, yeast, modified corn starch, and hydrogenated soybean oil, ingredients which might raise red flags for some shoppers.
It's important to note that these kringles are not gluten free or vegan. They also contain a GMO (modified cornstarch). 
The Best Way to Eat Kringles 
When you snag a kringle from Trader Joe's, you might have a hard time getting it home before you eat at least part of it. The good news is, you can eat these pastries straight from the bag! They're delicious at room temperature and can be enjoyed on their own or alongside a hot cup of coffee or tea.
If you want to heat up your kringle, preheat your oven to 350°F and heat the kringle on a baking sheet for about 3 minutes.
According to O&H, these kringles freeze well, but you'll want to thaw them fully before eating. To thaw, simply remove your kringle from the freezer and let it sit out on the counter overnight before popping it in the oven or serving at room temperature.
How To Store Your Kringles
Trader Joe's kringles can be stored at room temperature for up to a week. But don't be surprised if they get a bit stale after a couple days.
If you plan to hold on to your kringles for more than 2 or 3 days, I recommend sticking them in the fridge or freezer in a sealed plastic bag or container. They'll stay relatively fresh in the freezer for about 3-6 months, but they will eventually dry out if you store them for too long.