If you're a fan of sweet, tangy, refreshing drinks on a hot day, then you've got to try Trader Joe's Sparkling Lemonade this summer. They have six different flavors to choose from, all at a low price.
Types of Sparkling Lemonade at Trader Joe's
For several decades, Trader Joe's has been selling their classic one-liter glass bottles of Sparkling Lemonade, Sparkling Pink Lemonade, Sparkling Berry Lemonade, and Sparkling Limeade…
These bottles are available for $3.49 each and can be found in the shelf-stable drinks aisle all year round.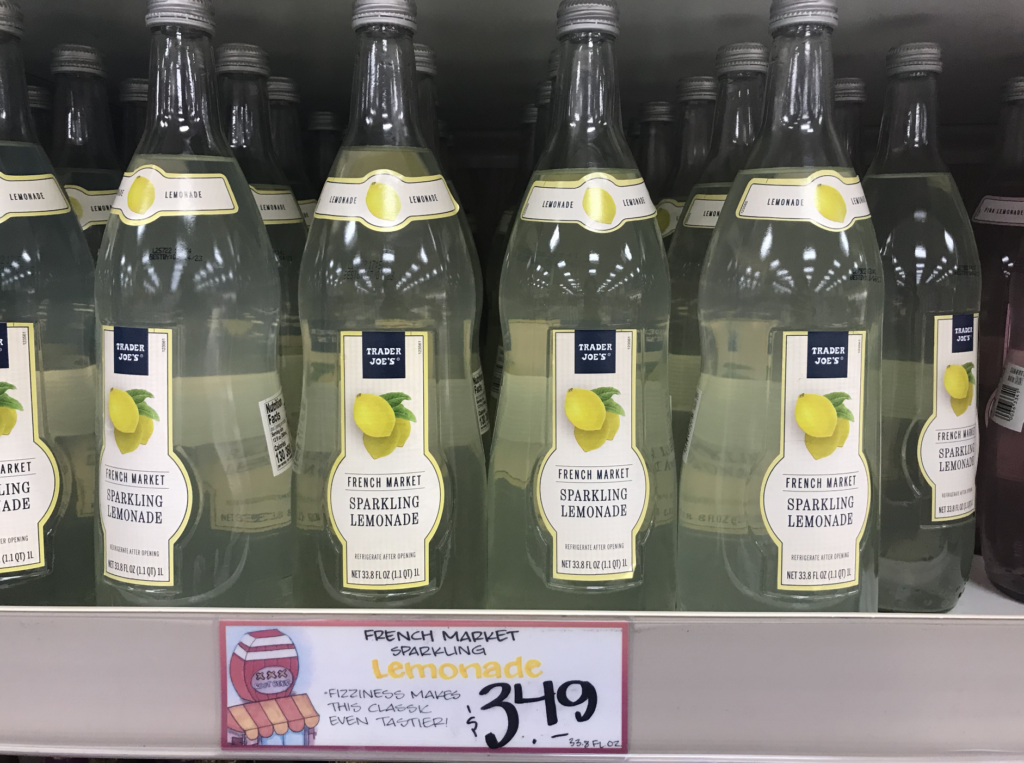 But the sparkling lemonade options at TJ's don't stop there…
These cans of Trader Joe's Sparkling Lemonade were first released in 2021 and have quickly become a big hit with shoppers. They're currently a summer seasonal item, so you can expect to see them on shelves starting in May or June. When they're available, you can find four-packs in the shelf-stable drink section for just $3.99.
You can also find 12-oz cans of TJ's Organic Sparkling Lemon + Strawberry Apple Cider Vinegar Beverage in the refrigerated section at your local Trader Joe's all year round. This unusual beverage might sound a little strange, but it's actually so good! If you like a combination of fruitiness, tang, and just a little sweetness in your fizzy drinks, then I definitely recommend giving this one a try. They're currently priced at just $1.69 per can.
Last but not least, Trader Joe's Sparkling Tropical Lemonade was first released in summer 2022, and it's expected to return to shelves once again this summer. It's similar to the standard cans of Sparkling Lemonade but with an added dash of passionfruit, pineapple, and guava.
Unfortunately, Trader Joe's has yet to release any hard lemonade options. All of the drinks discussed in this article are non-alcoholic. And if you're looking for info about sparkling water (aka seltzer) instead of sparkling lemonade, you can check out our post about TJ's Sparkling Water here.
Trader Joe's Sparkling Lemonade
Unfortunately, the only sparkling lemonade options I was able to find at my local TJ's this time of year were the classic one-liter bottles that have been around since the early days of Trader Joe's. To find the other ones, I'll have to wait until we get a bit closer to summer.
Nutrition & Ingredients
As you can see, this sparkling lemonade contains just 2% juice. It's made primarily from carbonated water and sugar, plus lemon juice concentrate, sugar syrup, orange juice concentrate, and a few preservatives, acidifiers, stabilizers, and flavors.
Due to the ingredients, this sparkling lemonade has extremely high sugar content–a whopping 32 grams per 12-oz serving. In fact, this beverage is made up entirely of sugar and sodium (salt)–yikes!
When compared to the cans of TJ's Sparkling Lemonade, there's not much of a difference when it comes to salt and sugar content, although the recipe is quite a bit simpler for the canned beverages.
Here's the nutrition information for TJ's seasonal cans of Sparkling Lemonade…
Keep in mind that the one-can serving is just 8.45 ounces. The good news is that the cans don't contain any preservatives, stabilizers, or acidifiers, unlike the glass bottles. The lemonade in the cans is made from just five ingredients–carbonated water, sugar, lemon juice concentrate, and natural flavors.
Cocktail Recipes
Although sparkling lemonade can certainly be enjoyed on its own straight from the bottle or can, it also makes for a perfect ingredient in a cocktail or mocktail.
This Lemony Gin Refresher recipe comes straight from Trader Joe's and calls for their own Sparkling Lemonade.
You can also try this Trader Joe's Giggle Juice Cocktail recipe from Food Is A Four Letter Word, which calls for both the Sparkling Pink Lemonade and Sparkling Limeade.
Finally, Pat Cooks has a great idea for a Sparkling Lemonade Watermelon Tea cocktail using a can of Trader Joe's Sparkling Lemonade alongside some Tito's Vodka and fresh watermelon. Yum!
Remember that you can also make tons of amazing mocktails using Trader Joe's Sparkling Lemonade if you're keeping things alcohol free!
Customer Reviews
Personally, I've tried most of the sparkling lemonade options at Trader Joe's, except for the seasonal cans of Sparkling Lemonade that come out in the summer.
My opinion of the one-liter glass bottles is that they're way too sweet. I prefer my lemonade to be quite tart, so this stuff just misses the mark for me. That said, if you prefer a sweet lemonade, then chances are you'll be a fan! 
I also love TJ's Sparkling Lemon + Strawberry Apple Cider Vinegar drink. It's not super sweet and has a really satisfying tang to it. That said, if you don't like the taste of vinegar, it might not be for you.
When it comes to the seasonal cans of Sparkling Lemonade at Trader Joe's, shoppers have been pretty happy with this new product for the most part.
This commenter on Reddit likes TJ's Sparkling Lemonade so much that she stocked up on it when it was available during the summer…
Unfortunately, not everyone is a fan of TJ's cans of sparkling lemonade…
When it comes to Trader Joe's Sparkling Berry Lemonade, shoppers are pretty pleased (which is probably why this product has been around for so long)…