Coconut cream is a rich, decadent alternative to traditional cream. Derived from, well, coconuts, coconut cream is a popular choice for vegan whipped cream and can be used in baking and cooking.
It's an incredibly versatile food, and it's worth becoming a staple in your pantry.
Trader Joe's sells 13.5-ounce cans of full fat Organic Coconut Cream for $2.29 a piece.

These cans are shelf stable, so they can be found in the same aisle at TJ's as other shelf-stable canned goods.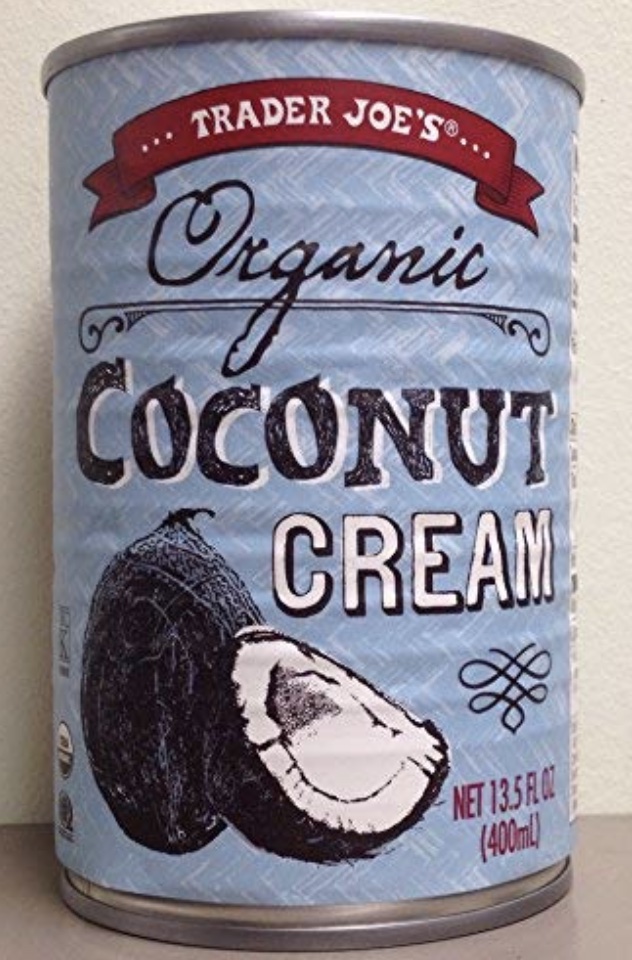 How Do You Use Trader Joe's Coconut Cream?
Coconut cream is quite literally one of the most versatile pantry foods ever. Don't believe me?
Here's a list of things you can make using coconut cream:
Vegan whipped cream
Pumpkin pie
Vegan frosting
Cakes and cupcakes
Butternut squash soup
Curry
Smoothies
Chocolate tart or pie
Pavlova
Fudge
Pudding
Mousse
Trader Joe's Coconut Cream Recipes
If you're looking for some cooking or baking inspo, check out these recipes that all call for coconut cream:
Trader Joe's Coconut Cream Nutritional Information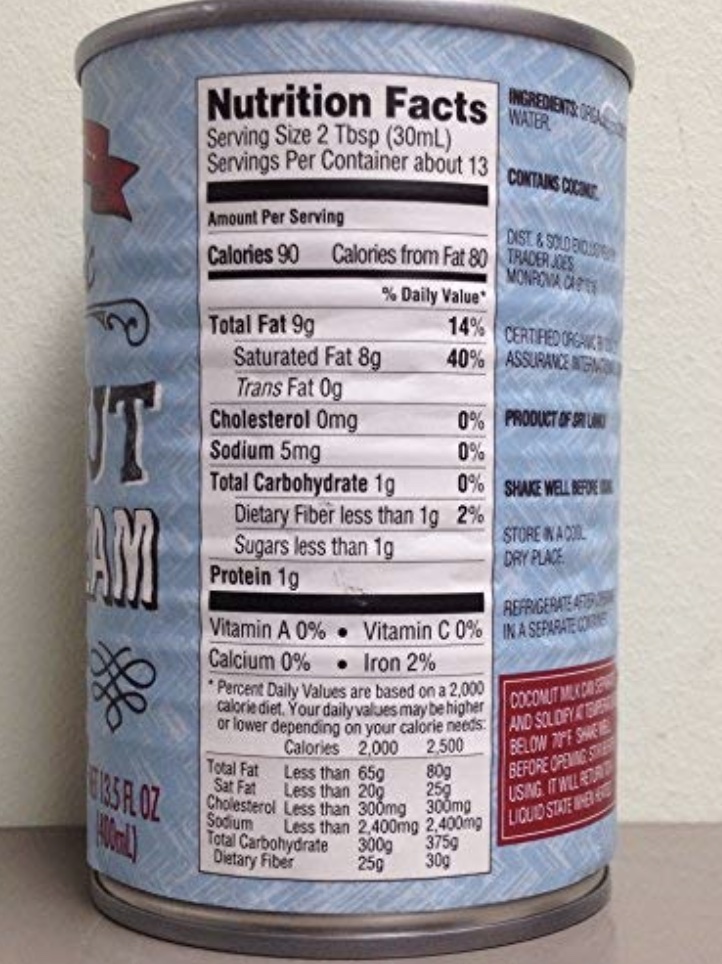 In a 2-tablespoon serving of Trader Joe's Organic Coconut Cream, you'll be consuming the following:
As you can see, coconut cream is an extremely high calorie food made up mostly of fat.
Trader Joe's Coconut Cream Reviews
The reviews for Trader Joe's Coconut Cream are frankly… all over the place.
We found a full range of reviews from 1 stars to 5 stars, so we'll let you decide what the final verdict is.
Here are some takes from users on traderjoesreviews.com, running the gamut from amazing to… not so much: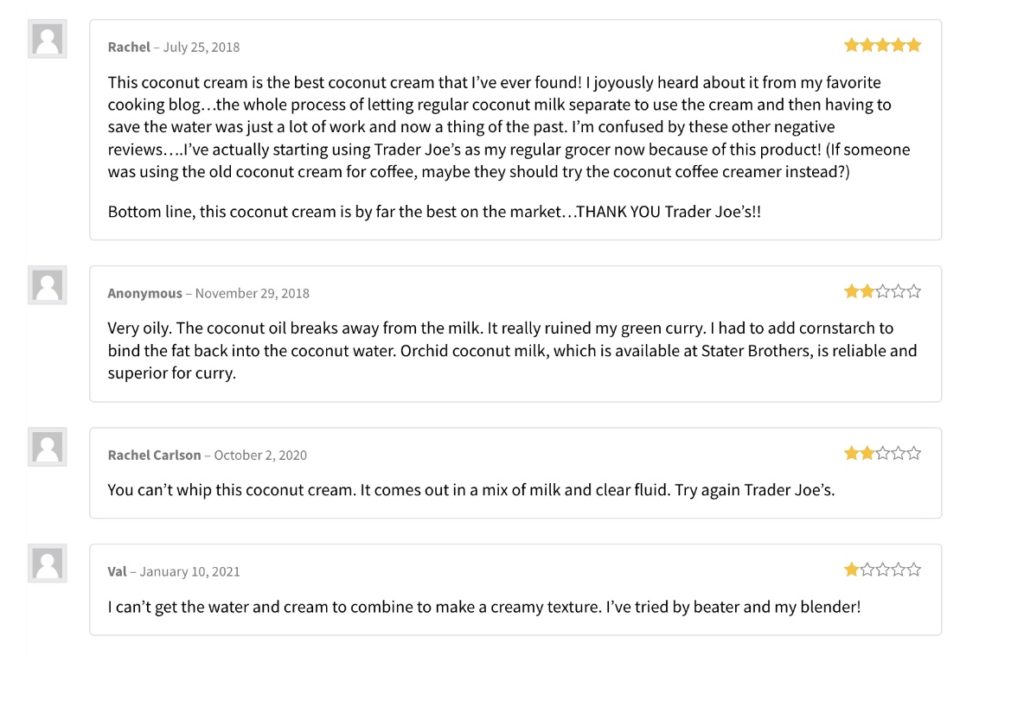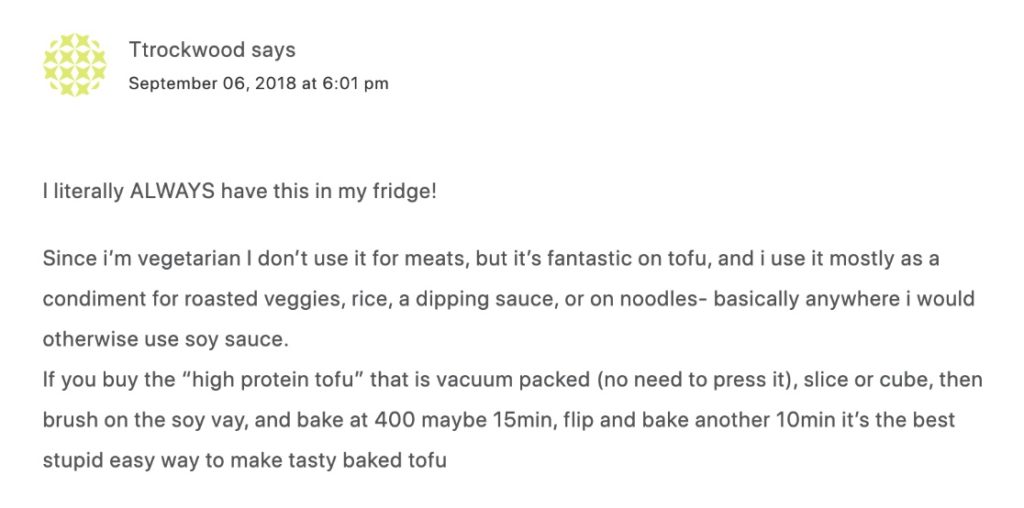 But here is a super happy customer sharing her review on Influenster: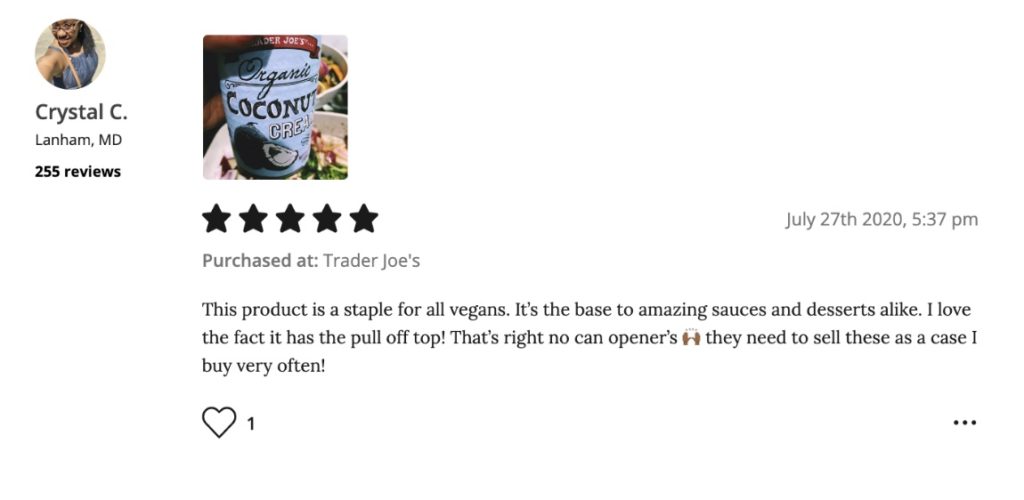 What do you think? Will you try out this coconut cream next time you're at Trader Joe's?
FAQs
Is Trader Joe's Coconut Cream healthy?
Not exactly. Although it's organic and made with quality ingredients, coconut cream in general shouldn't be regarded as a health food. Coconut cream is essentially a solid lipid (fat), and the type of fat contained in coconuts is saturated. The same type of fat found in full fat butter and dairy, saturated fat has been shown to contribute to heart disease. That said, not everyone is concerned with fat consumption and some people might even be looking for ways to increase their intake of whole food fats. In that case, Trader Joe's Coconut Cream could be a good option.
Is Trader Joe's coconut cream gluten free and dairy free?
Yes. Trader Joe's Organic Coconut Cream does not contain any gluten or dairy.
Is Trader Joe's coconut cream Kosher for Passover?
Yes! Trader Joe's Coconut Cream is certified kosher.
Are Trader Joe's coconut cream cans BPA-free?
Yes! Trader Joe's is very clear that their coconut cream is canned in BPA-free cans.
Can I whip Trader Joe's coconut cream?
Yes. Coconut Cream can be whipped using a handheld mixer. Check out this recipe for coconut cream whipped cream.
Conclusion
Coconut cream in general is a very versatile food that can be used in everything from soups and curries to smoothies, pies, and fudge. Trader Joe's sells cans of organic coconut cream for a decent price, but the jury is still out on whether this coconut cream lives up to other brands or previous varieties sold by TJ's. Some customers love it, especially those who are dedicated vegan cooks and bakers, but other shoppers have found it to be too watery to be considered a true coconut cream.