If you're a fan of Trader Joe's, then you already know that they've made a tradition out of releasing hundreds of new products each year. But this level of variety comes at a cost. 
Everytime Trader Joe's releases a new set of products, they have to decide which existing products are ready to be phased out. As a result, Trader Joe's discontinues products often, resulting in some pretty severe disappointment among loyal customers.
In fact, Trader Joe's does not currently carry any of the same products they sold when they first opened in the late 60s. Their current longest-standing product is their canned Whole Kernel Corn, which was first introduced in 1982. So, I guess the lesson here is that every Trader Joe's product you love is almost guaranteed to disappear at some point.
Here's a roundup of five of the discontinued TJ's products customers miss most.
Thai Green Curry Simmer Sauce
When asked which discontinued items TJ's shoppers miss the most, this sauce gets mentioned over and over. This sauce was flavorful and authentic, making it super easy to prepare a Thai green curry dish at home any time. So, why did it disappear?
According to Trader Joe's, this isn't the first time they've discontinued a version of their Green Curry Simmer Sauce. The original recipe contained soy and wheat, so they discontinued it in favor of a more accessible version. That's when they introduced the more recent Thai Green Curry Simmer Sauce. Unfortunately, this one found its way to the chopping block in 2021 for unknown reasons.
As far as we can tell, Trader Joe's doesn't have any plans of bringing back their Curry Simmer Sauce, despite frequent complaints from customers.
Eggplant Hummus
Trader Joe's carries a wide variety of dips and sauces, including several different types of hummus.
But despite being one of the most popular hummus offerings Trader Joe's has ever had, TJ's Eggplant Hummus was discontinued in 2021 for unknown reasons. The closest thing I've been able to find to an explanation is that Trader Joe's had to hold the product back temporarily for quality control reasons, but then the product disappeared all together.
If you're craving one last taste of Trader Joe's Eggplant Hummus, try this copycat recipe from NikkiVegan on YouTube.
Shakshuka Starter
Shakshuka is a traditional Northern African dish made by poaching eggs in a spiced tomato sauce. The dish has gained tons of popularity in recent years with the recent renaissance of home cooking and the rise of food inspo videos on TikTok and Instagram.
Unfortunately, Trader Joe's Shakshuka Starter was discontinued recently, potentially due to a lack of popularity. However, now that it's gone, customers online are making a stir. Apparently it was more well loved than the company realized.
Now that it's been completely discontinued, some TJ's fans have recommended using Trader Joe's Spicy Chunky Tomato and Pepper Pasta Sauce as a replacement base.
Gorgonzola Crackers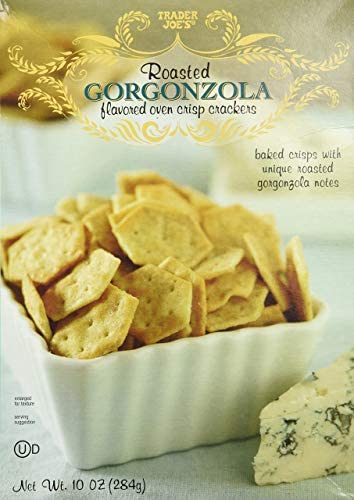 Trader Joe's Gorgonzola Crackers were one of the longest-running and most loved snacks at TJ's. They were little hexagonal bursts of flavor and, if you're a fan of flavorful cheese, they were completely addictive. So, why did they get discontinued?
According to Trader Joe's, these crackers simply weren't selling well enough, so they decided to clear them out to make room for something new. Gorgonzola is a pretty powerful cheese, so the flavor might have been a bit too much for some shoppers.
Unfortunately, many TJ's customers had been buying these crackers for years (I remember eating them for the first time about twenty years ago), so it's quite a blow to the long-time fans to see them disappear forever.
Cultured French Butter
For a long time, Trader Joe's sold their Cultured French Butter akin to cultured butters found throughout many parts of Europe. In the US, most butter is uncultured, resulting in a milder butter flavor. 
Trader Joe's Cultured French Butter was one of their most popular butter products while it was available. Some shoppers called it even better than Kerrygold, a popular cultured butter from Ireland.
Now that it's gone, other shoppers recommend trying the Italian cultured butter from Costco as an alternative.