Curbside pickup is one of the hottest trends in grocery shopping. Not only does it offer the convenience of shopping at your own time, but you also get to choose when to pick up your order.
Kroger is one of the largest grocery stores, but do they offer pickup services? Read on;
Does Kroger Do Curbside Pickup?
Yes, Kroger offers curbside pickup. Here, you can order your items online from your local grocery store and pick them up within a few hours. You won't even need to get out of your car as a Kroger associate will load the items for you.
Curbside pickup is an online ordering and fulfillment method where you pick up your order outside the store. First, you need to place an order on the store's website or app and select a specific time to pick up the order.
At your selected pick up time, park in the designated area and alert the store that you have arrived to receive your order. The store's representative will then bring the order and load it into your car.
The majority of Kroger stores offer curbside pickup, but not all. Currently, over 1000 Kroger store locations offer the service across the US. The easiest way to check if your store provides curbside pickup is by searching the Kroger website.
To do this, choose "pickup" as your preferred shopping method. After entering your zip code, you'll see all the pickup locations available in your area.
Is Kroger Curbside Pickup Free?
Yes, Kroger curbside pickup is free. Before the Covid-19 pandemic, Kroger charged $4.95 for all orders below $35. Later, the company decided to waive the fee to cushion their customers. Now, each pickup order includes free delivery if you spend $35 or more.
How does Kroger Curbside Pickup Work?
Kroger curbside pickup allows you to order items from your local store and then pick them up without leaving your car.
Here's how it works:
Log in to Kroger.com or through the Kroger app
Select your pickup location – Kroger stores nearest to you that offer curbside pickup services
Order your groceries
Select your preferred pickup window
Kroger employees or associates do all the shopping for you. You need to show up at the designated pickup area during your selected time slot
Go to the store at your scheduled time and park in a dedicated curbside pickup spot
A store associate will bring your groceries to your car and load them into your trunk or backseat
A Step-by-Step Guide on How to Order Groceries From Kroger Online
1) Setting up a Kroger account or downloading the Kroger app
You'll need to set up a Kroger account at Kroger.com or download the company's mobile app. Once you have an account, log in to start shopping.
2) Enter zip code and choose a preferred store
Enter your zip code in the search box on the left side of the screen and select a store name from the drop-down menu. Choose "Pickup" and click on "Start Shopping."
3) Start shopping
Start your online shopping by browsing the items on the website. You can browse by category, department, or brand. If you're looking for something specific, use the search bar to find it.
4) Add Digital Coupons
To check the digital coupons available, click on "Popular" and select "Digital coupons."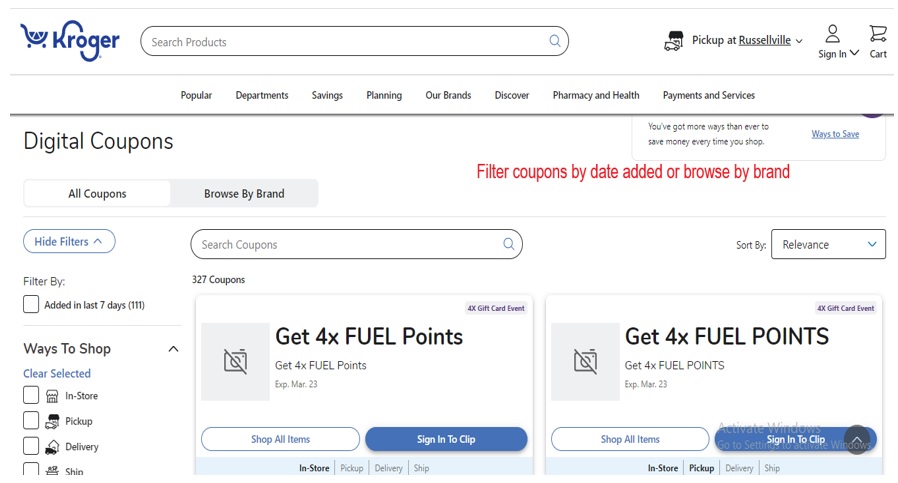 5) Select Kroger pickup time
Once satisfied with your order, select your pickup time. Typically, pickup hours are Monday through Sunday from 7 am to 9 pm. When you sign up for a time slot, know that you have a 60-minute window to show up and pick up your groceries.
If you cannot pick up your order, Kroger will return it to the store, and you will have to place another order.
6) Modify your order
To substitute a missing item with a similar commodity in your cart, go to the "Allow substitutions" option. You can replace item-by-item, meaning that you can modify your order to your liking.
After placing the order, your ability to modify it depends on your selected pickup time.
Same-day pickup orders can't be changed once submitted. For example, if you forgot an item or need to make changes, you can only cancel your order and submit a new one. Keep in mind that this may result in losing your reserved time slot.
If you opt for next-day pickup, you can edit your order until midnight of the day before your pickup date. Click on "My Purchases" to modify your order, and Kroger will email you an order status update shortly after.
7) Track your order
Log into your account and click on my orders to know your order status. Enter your email address and the order number and click on "View order status."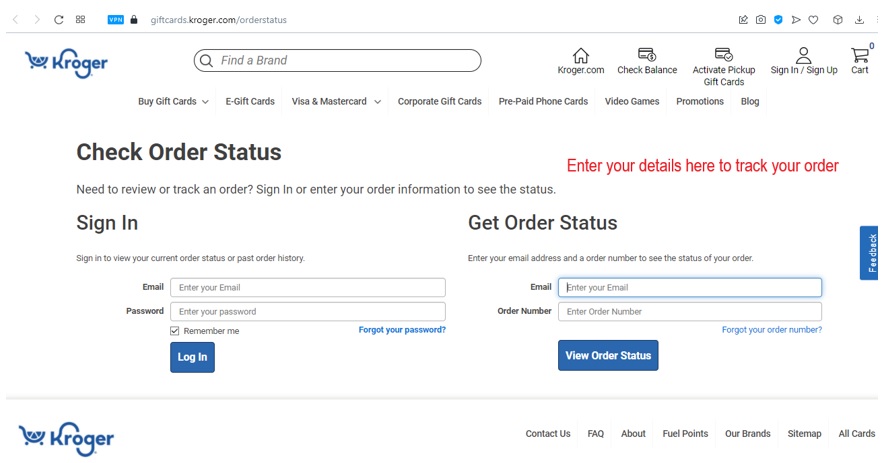 8) Park at the designated Kroger curbside location
When it's time to pick up your groceries, pull up at the designated pickup area of the parking lot. Follow instructions on the sign, and a Kroger employee will load your groceries into your car.
9) Receive Your Order
During pickup, your Kroger associate will do a thorough check of your order to ensure it includes everything. If you have any questions about your order, don't hesitate to contact the store. You can find your digital receipt in your account or through the app.
Do you Tip Kroger Curbside Pickup?
Unlike other stores, Kroger employees do not accept tips for curbside pickup services.
Payment Methods for Kroger Curbside Pickup
Kroger does not accept cash as a form of payment for curbside pickup orders. You can either pay through a debit card, credit card, and EBT card.
How to Pay Through EBT
Follow these steps to pay through EBT at curbside pickup;
Select your items for purchase online
Choose a time for pickup
Ensure you choose your local Kroger as the store you're shopping at
Choose EBT as your mode of payment
Pick up your items at the store with an EBT card
Swipe your card and input your four-digit PIN to complete the transaction
Is Kroger's Curbside Pickup Worth It?
Kroger does a good job fulfilling orders and loading them into your car. Therefore, it saves you time since you pick up your order at your most convenient time.
Kroger says they don't add markups to your order when you pick up and have it delivered. This means if you buy online, prices are the same as when you buy in-store.
According to customer reviews, some stores have had trouble with curbside pickups, including incorrect and missing items and longer waiting times.
What Items are Available for Kroger Curbside Pickup?
Any item available online is eligible for Kroger curbside pickup. This includes groceries and household essentials like laundry detergent, paper towels, and cleaning products.
What Alternative Stores Offer Curbside Deliveries?
Best Buy
Walmart
Wegmans
Whole Foods Market
Sprouts Farmers Market
Bed Bath & Beyond
The Home Depot
FAQs
Is Kroger curbside pickup through Instacart?
Kroger partners with Instacart to offer same-day pickup and delivery services to its customers across the US and Canada.
When did Kroger start curbside pickup?
Kroger began its curbside pickup service in November 2014. Since then, it has experienced tremendous growth. The company now has over 1000 pickup stores across the US.
What is the phone number for Kroger pickup?
Kroger's pickup line is 1-800-576-4377. You can reach Kroger representatives Monday to Friday from 8 am to 12 am EST and 8 am to 9.30 pm EST on Saturday and Sunday.
Can you use coupons and food stamps with Kroger curbside pickup and delivery?
Yes, Kroger accepts digital and paper coupons for pickups. These include loyalty, manufacturer's coupons, and special store coupons.
What happens if you miss your Kroger pickup time?
If you cannot pick up your order at the appointed time, Kroger cancels it and returns the items to the store. You'll need to place another order if you still want the products.
Does Kroger also deliver groceries at home?
Yes, Kroger delivers groceries at home. Just order what you need and choose a delivery time. A Kroger associate or a personal shopper will pick up your groceries and deliver them for $6.95.
Can you pay cash with Kroger curbside pickup?
Kroger does not allow cash payments at pickup. You'll have to pay with your credit or debit card or your SNAP EBT card.
Can you return Kroger curbside pickup items?
Yes. If you find a mistake on your order after receiving it, you can return it to the store. You can also contact Kroger at 1-800-576-4377. Kroger may require you to show proof of purchase in such a case.
Conclusion
Overall, Kroger's curbside pickup service is convenient to the chain's many other offerings. It's especially beneficial for people with busy schedules who don't have time to shop, older shoppers, or those with mobility limitations.
With this service, you don't even have to get out of your car. Just drive up to the designated waiting area, and your order is brought right to your vehicle. The best part is that it's free for orders $35 and above.
Although Kroger's curbside pickup is not available in all its stores, the service is gaining popularity among its customers.